Good morning and welcome to episode 736 of 'Talking Bull'. In this video/podcast we cover the main headlines and what to expect from the day ahead. 
We take a technical look at key markets that are likely to be impacted by today's events. Also, we participate in a 'Gun to the head' challenge where each of us calls a live trade. These will expire at 9pm tonight and we will keep track of the progress over time.
We hope you enjoy it!
For a selection of free educational content, join our Discord server at – https://discord.gg/Db4UWVFvF6
Show notes:
Steve made 0.46R on Oil yesterday. Joe was offside 0.14R on Bitcoin.
We have included an illustration based on a £1000 account. This will follow the combined return of our morning trades by risking 1% of the trading capital per trade. The 1% risk is a variable monetary amount and will rise and fall based on the success of the calls.
We are currently up 213.50% collectively since we began recording Talking Bull on the 30th October 2019.
News
German IFO expectations improve
The German IFO business confidence index recovered further to 86.3 for November from a revised 84.3 previously and significantly above consensus forecasts of 85.0. The current conditions component dipped to 93.1 from 94.2 previously, but there was a significant improvement in the expectations index to 80.0 from 75.9 in October.
According to the IFO, the German economy is sending signals of hope and there was a net easing of supply bottlenecks. Nevertheless, close to 50% of companies are looking to increase prices within the next three months, maintain concerns over inflation pressures.
Hawkish rhetoric from ECB's Schnabel
ECB council member Schnabel stated that the central bank will probably need to raise rates into restrictive territory while incoming data suggests that the room for slowing down the pace of interest rate adjustments remains limited. She added that there is a risk that monetary and fiscal policies will pull in opposite directions.
She added that there was no sign of an actual wage-price spiral, but that it is much worse to underestimate the persistence of inflation rather than over-estimate it.
BoE's Mann watching wages
Bank of England MPC member Mann stated that the UK wage and price dynamics are not consistent with the 2% inflation target, but there is not a spiral in progress. She added that expectations were too high ahead of the November meeting, but offered little in the way of fresh guidance.
Deputy Governor Ramsden stated that he expects further interest rate increases will be required and he was not convinced that domestically-generated inflation pressures are starting to ease. He added, however, that he would consider the case for cutting rates if the economy develops differently.
Dollar attempts to stabilise
The dollar remained under some pressure during Thursday following the weaker than expected PMI data and dovish hints within the Fed minutes.
The US currency did manage to recover from intra-day lows with a reluctance to chase the currency lower.
Low trading volumes
Overall trading volumes will remain low on Friday with limited US activity following the US Thanksgiving holiday.
Riksbank hikes 75 basis points
The Swedish Riksbank increased interest rates to 2.50% which was in line with consensus forecasts and indicated that rates would be increased further, although there was an important element of uncertainty.
Data Today
US early market close
Key events over the next week
December 1st: US ISM manufacturing index
December 2nd: US employment report
December 2nd: Canada employment report
Gun to head challenge – Update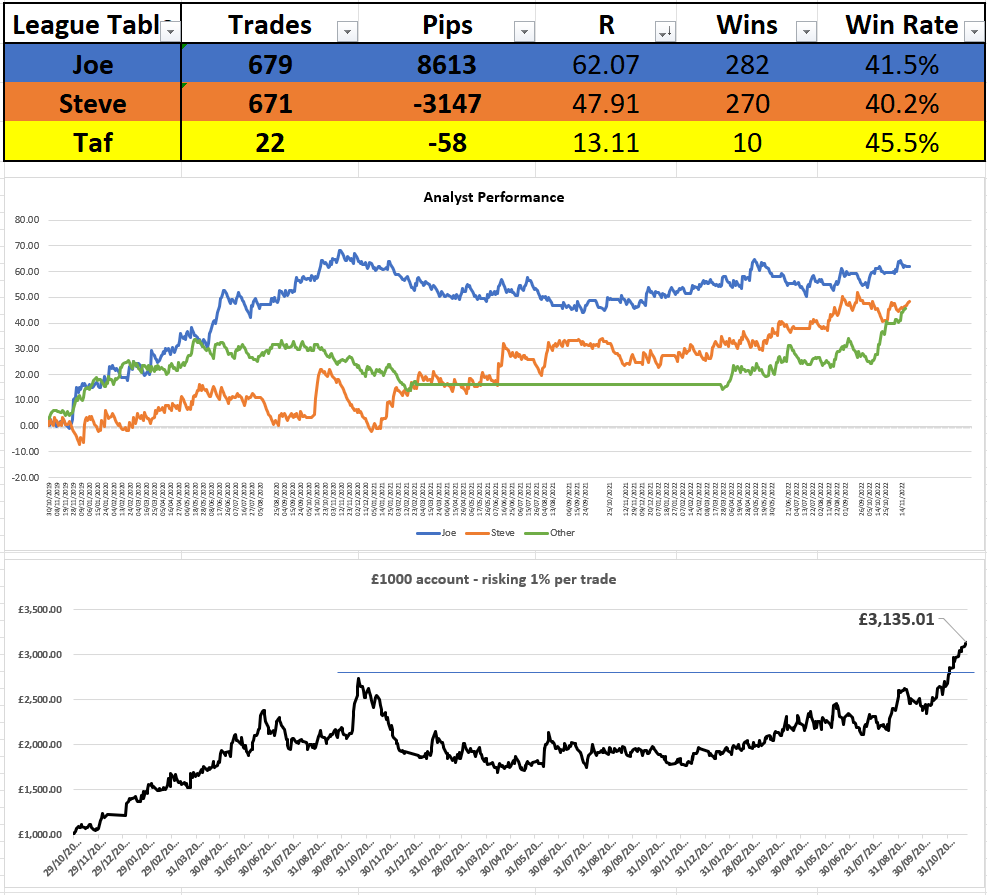 Today's trade idea

Have a great week everyone.
Get award-winning FCA regulated signals and levels on over 30 markets, as well as education resources so you never trade alone.