Here is an in-depth look at 10 stocks we believe will perform exceptionally well in 2018…
Bodycote (BOY)
Company Description
Bodycote PLC is a holding company. The Company, through its subsidiaries, manufactures and distributes metal technology, operates isostatic pressings, and provides metallurgical coatings.
Technical Analysis
Bodycote is trading in a long term uptrend. The weekly chart below shows a large period between July 2014 – April 2017 where the shares moved sideways without making any real ground. The key resistance at 830p had capped any upside advances until July this year when the shares finally broke to new highs. In recent weeks we have seen the shares consolidate back towards the breakout level, which we believe will be a platform for further gains.
Fundamentals Analysis
In the 3 quarter results Bodycote demonstrated accelerating growth since the 1st half of the year. The Year to Date organic sales growth of 6.2% appears to be fairly broad based. The broker consensus generally remains positive and the sector as a whole continues to perform well.
Target: 1000p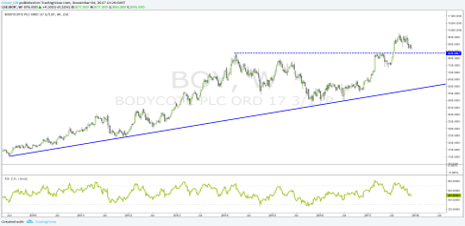 Just Group (JUST)
Company Description
Just Group PLC provides financial services. The Company specializes in de-risking solutions, retirement income products, mortgages, financial advice, and guidance services to individual customers, financial intermediaries, corporate clients, and pension scheme trustees. Just Group serves customers worldwide.
Technical Analysis
Just Group is in the process of forming a large base on the charts. The key resistance at 160p is the level that needs to be overcome in order to keep the bullish momentum going. These type of patterns are usually very powerful reversal indicators. We believe a break above 160p could lead to a significant move higher over the medium to long term.
Fundamentals Analysis
Just Group is benefiting from growth in the lifetime mortgage market, which has recently prompted broker Panmure Gordon to place a 'Buy' rating on the specialist in retirement services. According to Panmure the company has a 'sustainable competitive advantage' over new entrants such as Legal & General and Nationwide. The market has grown at an annual rate of 25 per cent over the past 6 years, with a similar level expected going forwards.
Target: 230p

Ocado (OCDO)
Company Description
Ocado Group PLC distributes a wide range of retail consumer products.  The Company provides home delivery of a wide range of products including food and drink, toiletries and baby, household, pet care, and holiday products.
Technical Analysis  
Ocado has been a favourite of short sellers for many months and the long term downtrend has made them an easy target. The price however has ;largely been moving sideways between July 2016 to November 2017 indicating a slowing in the bearish momentum. Earlier this moth we saw Ocado sign a new deal and as result a large short squeeze took place as the shares smashed through resistance at 327p. The shares have now formed a base and we expect the 327p to provide support going forward.
Fundamentals Analysis
Ocado shares soared in recent days as the company finally stuck a deal to supply its technology to a major international supermarket chain. Ocado has agreed to help French giant Groupe Casino build an automated warehouse near Paris and also license the use of its online shopping interface and delivery management software. They hope to strike similar deals going forward to and for profitability to grow in 2019 and beyond.
Target: 420p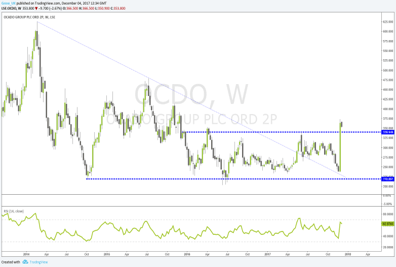 Royal Bank of Scotland (RBS)
Company Description
The Royal Bank of Scotland Group Public Limited Company accepts deposits and offers commercial banking services. The Bank provides business term, professional practice, and consumer loans, asset and invoice finances, commercial and residential mortgages, credit cards, and financial planning services, as well as life, personal, and income protection insurance.
Technical Analysis  
Technically the shares have been trending steadily higher since hitting the lows post-Brexit. The move has been technically very neat. The recent break above resistance at 270p sent price moving towards the 300p mark. We have since seen a pullback to retest the support at 270p and this has successfully held. We expect the 270p to act as a platform towards further gains over the medium term.
Fundamentals Analysis
RBS hasn't reported an annual profit for nine years and continues to attract negative headlines. However the price continues to move higher in recent weeks as a the company looks to settle on a multi-billion pound deal with the US Department of Justice over legacy issues. This will tip the company into a full year loss but this should be the last of the big legacy issues facing the bank. This should improve the overall outlook and with dividends set to be resumed in 2018, the troubled state owned bank could be about to turn the corner. RBS currently trades on a forecast P/E of 11.
Target: 300p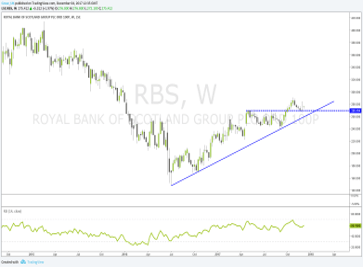 Kingfisher (KGF)
Company Description
Kingfisher plc is an international home improvement company that operates in stores and online across Europe.
Technical Analysis  
Kingfisher has been trading in a range between 285 to 385p since late 2015. The latest move to the lows at 285p held very nicely and a decent rally has since taken place. The shares have completed a bottom pattern after a mini consolidation and now look ready to start heading higher, possibly towards the top end of the long term range. With a deal edging closer on Brexit, we could see UK domestic stocks begin to rally after a tough couple of years.
Fundamentals Analysis
Following the most recent trading statement we have began to see some life creep back into the shares of Kingfisher. Jefferies International upped their stance to 'Buy' following the update. They believe the companies investment attractions are improving as disruption reduces and there is evidence of a positive sales response to its ONE product builds. We believe the shares are undervalued here and could surprise on the upside.
Target: 370p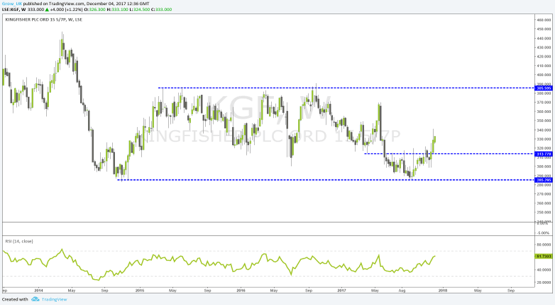 EasyJet (EZJ)
Company Description
easyJet plc, a low-cost passenger airline, conducts operations throughout the United Kingdom and mainland Europe. The Company sells the majority of its tickets through its Web site.
Technical Analysis  
Its been another solid year for easyJet as it continues on this path of recovery from the 2016 lows. The shares are now starting to break above resistance at 1430p, which could open the way for a fresh test of the all time highs up at 1900p. Further upside is expected over the medium term
Fundamentals Analysis
easyJet has been hit by currency headwinds in 2017. Previous growth estimates of 2% per year through 208-19 could now be revised up due to an improvement in sterling. This could rise as much as 3% towards 5%. The industry trends remain encouraging and with competitors leaving the market, easyJet is well placed for further growth over the medium term.
Target: 1900p
ITV (ITV) 
Company Description
ITV PLC provides broadcasting services. The Company produces and distributes content on multiple platforms. ITV serves customers in the United Kingdom.
Technical Analysis  
ITV has had a year to forget with any rallies typically attracting short sellers. The momentum appears to be slowing a little and this comes inline with the long term uptrend. The shares have found support at around 150p and we could now see some further consolidation, which may lead to the formation of a bottom. Its at a key level and one that is bound to attract some value hunters.
Fundamentals Analysis
ITV is trading at less than 10x next years forecast earnings which makes it the cheapest its been on a relative basis for 10 years. The ITV hub is attracting strong numbers according to Jefferies and with the World Cup set to take place in Russia in 2018 as well as the latest season on Love Island, its set to be a good year for ITV. There is also the possibility of a potential takeover at some stage form Liberty Global that hold 10% of the shares.
Target: 220p

Johnson Matthey (JMAT)
Company Description
Johnson Matthey PLC is a specialty chemicals company which manufactures catalysts, pharmaceutical materials, and pollution control systems. The Company also refines platinum, gold, and silver, and produces colour and coating materials for the glass, ceramics, tile, plastics, paint, ink, and construction industries. Johnson Matthey has operations around the world.
Technical Analysis  
Johnson Matthey is in a long term uptrend but the last 2 years have been quite volatile. The shares have made numerous attempts at breaking through the key 3500p resistance level. The shares are in corrective mode at present and appear ready to re-test the long term uptrend. This also marries up with some key Fibonacci retracement levels. We therefore believe this may attract some value hunters ready to push the shares back up to and beyond the 3500p level.
Fundamentals Analysis
The company posted a 15% rise in reported revenue to £6.5bn in the most recent trading update. The headline was "strong operational momentum continued and full-year outlook confirmed". The shares are trading on a P/E of 15.5 with a prospective yield of 2.5%, which is attractive for a medium term growth outlook. There appears to be huge potential in new products such as the worlds first cobalt-free battery. We rate the stock as a buy at these levels.
Target: 4000p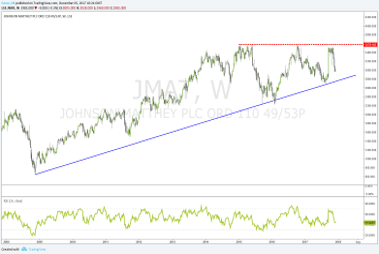 Persimmon (PSN) 
Company Description
Persimmon plc designs, develops, and builds residential housing units. The Company constructs residential homes ranging from studio apartments to executive family homes throughout the United Kingdom.
Technical Analysis  
Technically since hitting the lows of around 1170p post-Brexit, Persimmon and other house builders have been on a fantastic run. There is no sign of this slowing down and demand remains strong. Dips continue to attract buyers and the uptrend is very neat. We see no immediate threat of this changing and continue to recommend buying into weakness.
Fundamentals Analysis
Fundamentally Persimmon is yielding close to 4% and has a fantastic balance sheet. The company has no debt and a huge cash position. This could mean a hike to dividends in 2018. The housing situation in the UK is still delicate and with favourable incentives available in the sector we expect to see continued growth.  The outlook remains very stable and further upside is expected.
Target: 3000p