10 Stocks to Buy for 2019
Posted: 17th December 2018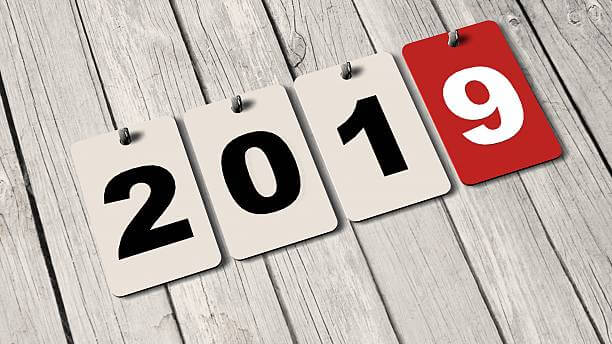 2018 Summary
2018 has been a tough one for stock market participants with the FTSE 100 having traded in a large range. The year began with much promise as the FTSE 100 index was trading at all-time highs, this was then followed with a sharp 12% sell off which bottomed out in March. The subsequent recovery was equally as sharp with a 15.2% rally taking place in the space of 8 weeks from March to May.
A new all-time high of 7904.4 was set on the 21st May 2018 and since then the FTSE 100 has been in gradual decline with constant uncertainties surrounding Brexit and global trade wars driving investors away.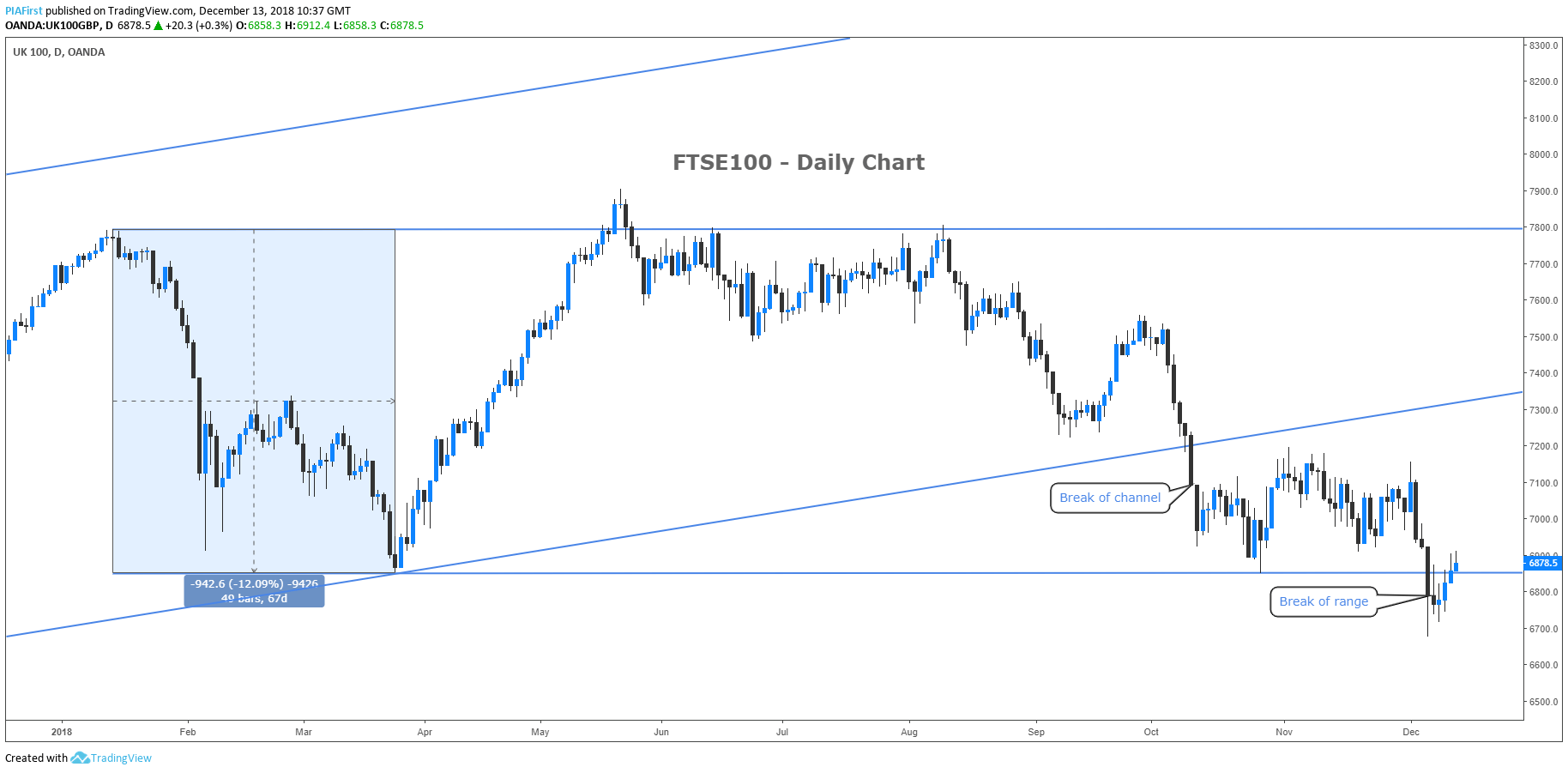 The index has traded within a large range throughout 2018 although there has been a break below the critical support at 6851. The warning signs began to emerge in October following the break of the long-term bullish channel at 7221. Typically, the break of a range is bearish and would signal further downside over the medium term.
Without question, the macroeconomic and geopolitical backcloth right now is more perilous than it was 12 months ago. Trying to predict the behaviour of London's main index in the year ahead is a difficult task.
The UK officially leave the EU on the 29th March 2019 and it's hard to see beyond this at present. The conditions for the UK's exit are likely to have a significant impact on Sterling, which in turn will affect major FTSE100 components.
Potential risks to the market in 2019?
End of the economic boom?
The Federal Reserves has increased interest rates 8 times since 2015 and as the US nears full employment levels there is increased danger of rising inflation and consumer prices. Higher interest rates make it harder for consumers and weaker companies with high debt levels meet their obligations.
Markets are cyclical and interest rate hikes have preceded over 10 economic recessions in the past 40 years.
Brexit
Fears of a mismanaged Brexit appears to be becoming more realistic by the day. If Brexit goes badly wrong, then there is the potential for a house price crash and significant economic slowdown. If the worst-case scenarios do indeed play out, then there is certainly a danger that the stock market could crash.
Trade wars
Given the politically-charged and complex nature of the trade war issue between the US and China, it could lead to a bumpy ride for investors. Growth has already showed signs of slowing in China. The tariffs have not been the sole reason for the slowing, but its certainly had a big impact. Once the tariff freeze expires early next year, markets could be braced for another sharp sell off.
Excessive global debt
The issue of excessive global debt may be reaching an inflection point as central banks across the globe continue monetary policy tightening campaigns, suspended asset purchase programs and initiated/accelerated efforts to unwind and liquidate their balance sheet holdings. The Fed's monetary policy tightening campaign may have a pronounced effect on countries with debt that is benchmarked against or denominated in US dollars.
Uncertainties aside, in this report we have highlight 10 stocks that we believe offer excellent value and potentially fantastic rewards for investors in 2019.
10 Stocks to buy in 2019
BT Group (BT.A)
BT Group PLC provides telecommunications services. The Company offers local and long-distance telephone call products and services in the UK, international telephone calls to and from the UK, broadband network solutions and web hosting to corporate customers, network ADSL, ISDN, and IP services to communication companies and narrowband and broadband internet access and related services.
Fundamental View
The US investment bank Goldman Sachs upped BT's rating from 'Neutral' to 'Buy' on December 4th, 2018 and lifted its target price to 320p. This implies upside potential of around 25%. The bank pointed out that the shares are trading at a 10% discount to its peers which is looking 'increasingly unwarranted'. In recent months BT has altered its strategy with fibre investment and multi-year cost transformations. The outlook is increasingly positive.
Quantitative View
BT ranks above its peers in our fundamental model, which considers over 20 different financial metrics. The shares score exceptionally well on value and momentum metrics.

Technical View
The BT share price has lost over 50% over the past 2 years and the price action has been contained within a long-term bearish channel. In recent weeks the shares have broken from the channel and appear to have formed a bottom pattern. The break above resistance at 252p confirmed the bottom pattern and implies an upside target of 291p and in extension of that 319p.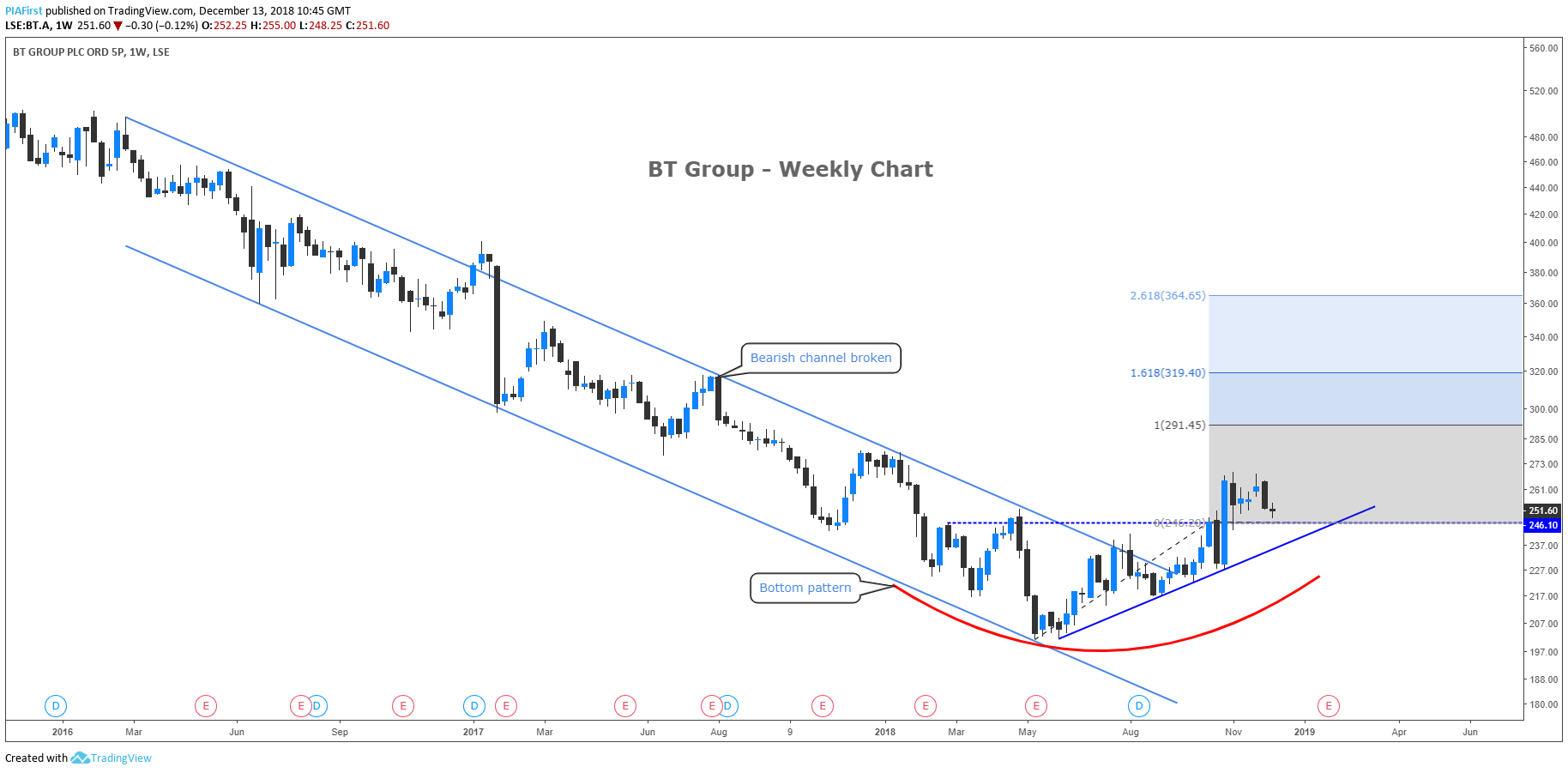 Randgold Resources (RRS)
Randgold Resources Limited provides mining services. The Company offers acquisition, development, and exploration of gold and other precious metal in Africa.
Fundamental View
Barrick gold is merging with Randgold Resources in a deal that will create the planet's largest gold company, with half of the top 10 mines and the industry's lowest total cash costs among the large players in the sector. Barrick Gold has strength in the Americas, while Randgold has expertise in Africa. As a result, the combined company should be able to capitalize on opportunities in many of the world's top gold regions. Barrick also has significant copper interests. Gold has trended higher in recent weeks amid ongoing concerns about Brexit and a potential trade war between the U.S. and China.
Quantitative View
When ranked against other stocks in their sector Randgold holds it own. Gold miner Centamin and silver miner Fresnillo outscore Randgold on fundamentals but do not look so appealing on a price action basis. Randgold has above average scores on quality, momentum and profitability metrics.

Technical View
Rangold's share price has risen sharply in recent weeks and has broken above a long-term downtrend resistance level. The strong demand amid uncertainty in global markets highlights the company's characteristics as a safe haven. If markets continue to be unsettled by Brexit, Trade wars and other European matters, then expect Randgold to benefit. Initial targets are for a retest of the 2017 highs at 8256p.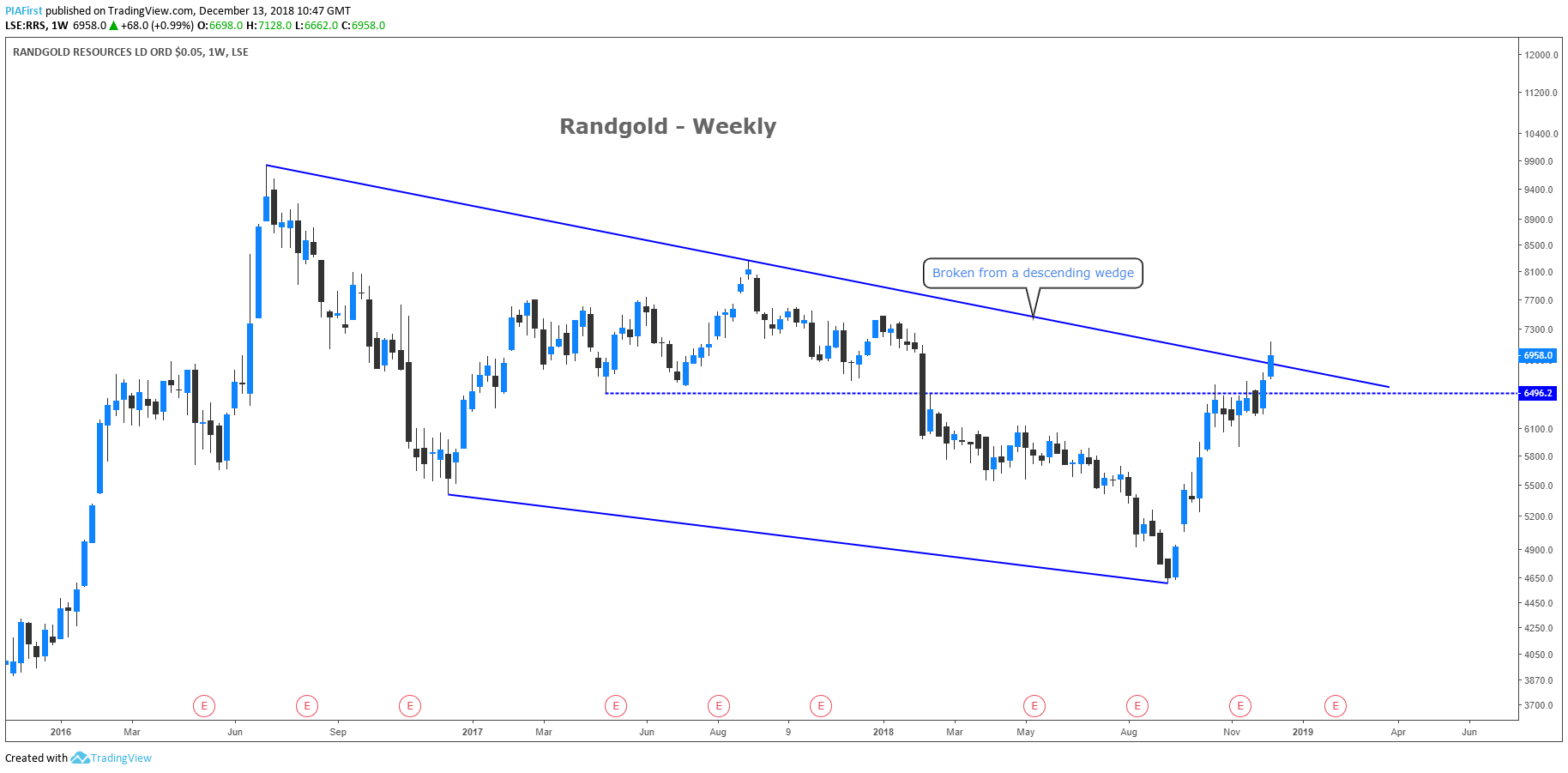 Smith & Nephew (SN.)
Smith & Nephew plc develops and markets advanced medical devices. The Group is involved in orthopaedics, endoscopy, and advanced wound management.
Fundamental View
Morgan Stanley recently upgraded Smith & Nephew shares to 'overweight' suggesting that the new management team can 'reinvigorate top-line performance'. In the most recent update to the market Smith & Nephew raised their organic sales growth assumptions for 2019 and 2020 to reflect growing conviction that core weakness will be addressed. Analysts at Deutsche bank raised their view from 'sell' to 'neutral' further highlighting a shift on analyst consensus.
Quantitative View
Smith and Nephew ranks very well overall in our fundamental model with exceptional scores on quality, momentum and profitability metrics. Its scores just below sector peer NMC Health, although Smith and Nephew does have a superior value score.

Technical View
Smith & Nephew is trading in a fantastic long-term bullish channel. Any pullbacks to test the lower boundary of the channel is invariably met with strong buying interest. The shares have broken to new all-time highs in recent weeks, despite the ongoing economic concerns and sharp correction in FTSE100. This underpins their strength and we expect to see this dominant uptrend persist towards 1600p and beyond.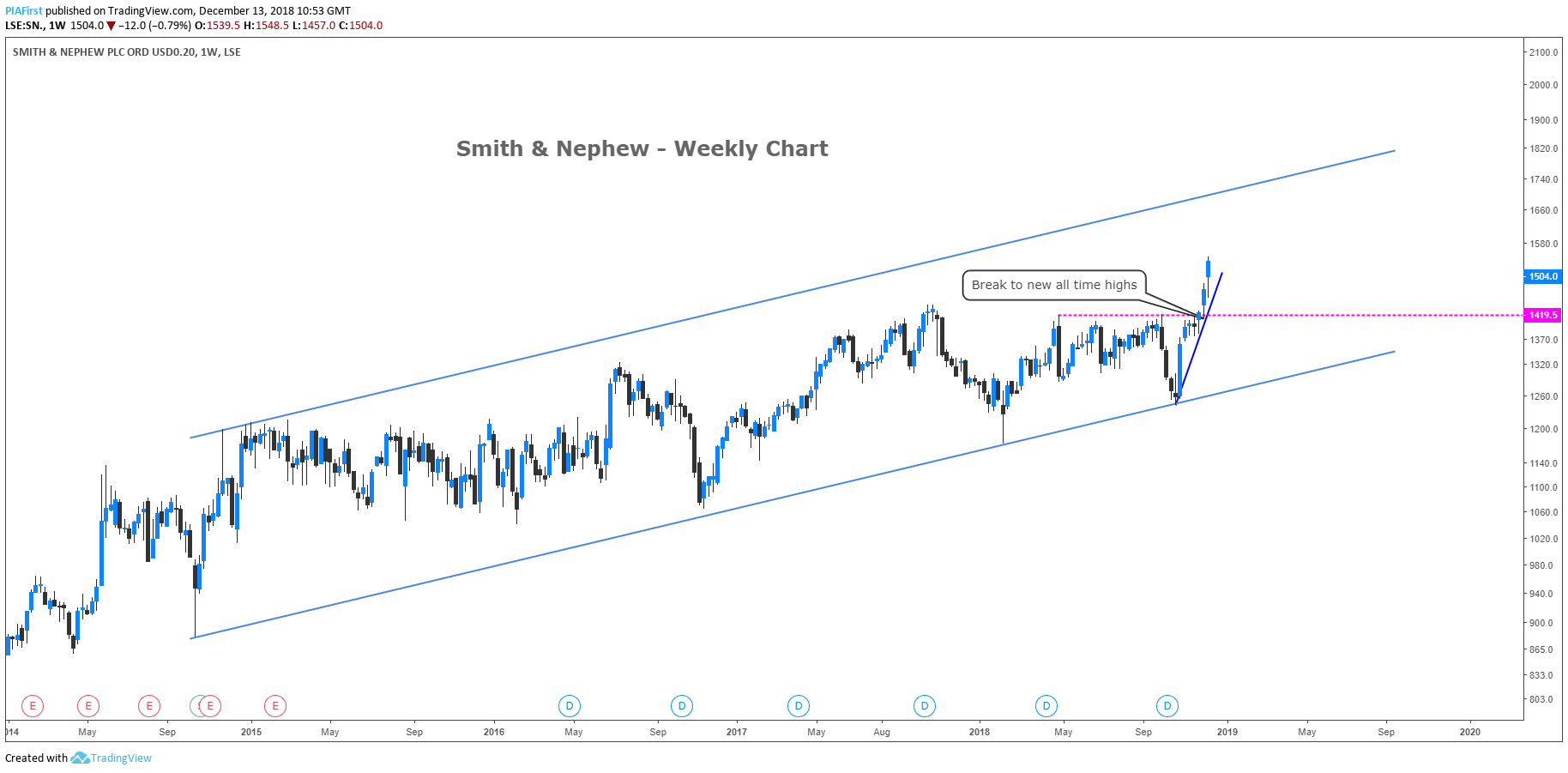 Whitbread (WTB)
Whitbread PLC is a British multinational hotel, coffee shop and restaurant company headquartered in Houghton Regis, Bedfordshire, United Kingdom. The company has its origins in brewing. Its largest division is Premier Inn, which is the largest hotel brand in the UK with over 785 hotels and 72,000 rooms. Its Costa Coffee chain has 3,401 shops across 31 countries and is the world's second-largest international coffee shop chain. Its other brands include the restaurant chains Beefeater, Brewers Fayre and Table Table.
Fundamental View
Whitbread announced plans to sell Costa Coffee to The Coca-Cola Company back in August 2018. Once the £3.9bn deal completes, it will leave Premier Inn as the group's sole focus. Management still believe there is further scope for expansion. The company has a pipeline of new hotels and will add an extra 13,000 rooms to its existing 74,000. There is also plans to start expanding into Germany and the Middle East. The picture is likely to become clearer once the Costa Coffee split has completed, but overall the company looks to be in a good spot.
Quantitative View
Whitbread ranks very well overall in our fundamental model and scores above its sector peers. The shares score very well on quality, momentum and profitability metrics.

Technical View
Whitbread broke out of a well-established range and price appears to have been accepted above the previous resistance, which is now support. The range formation implies an upside target of 5250p over the medium term. Further upside is expected from here.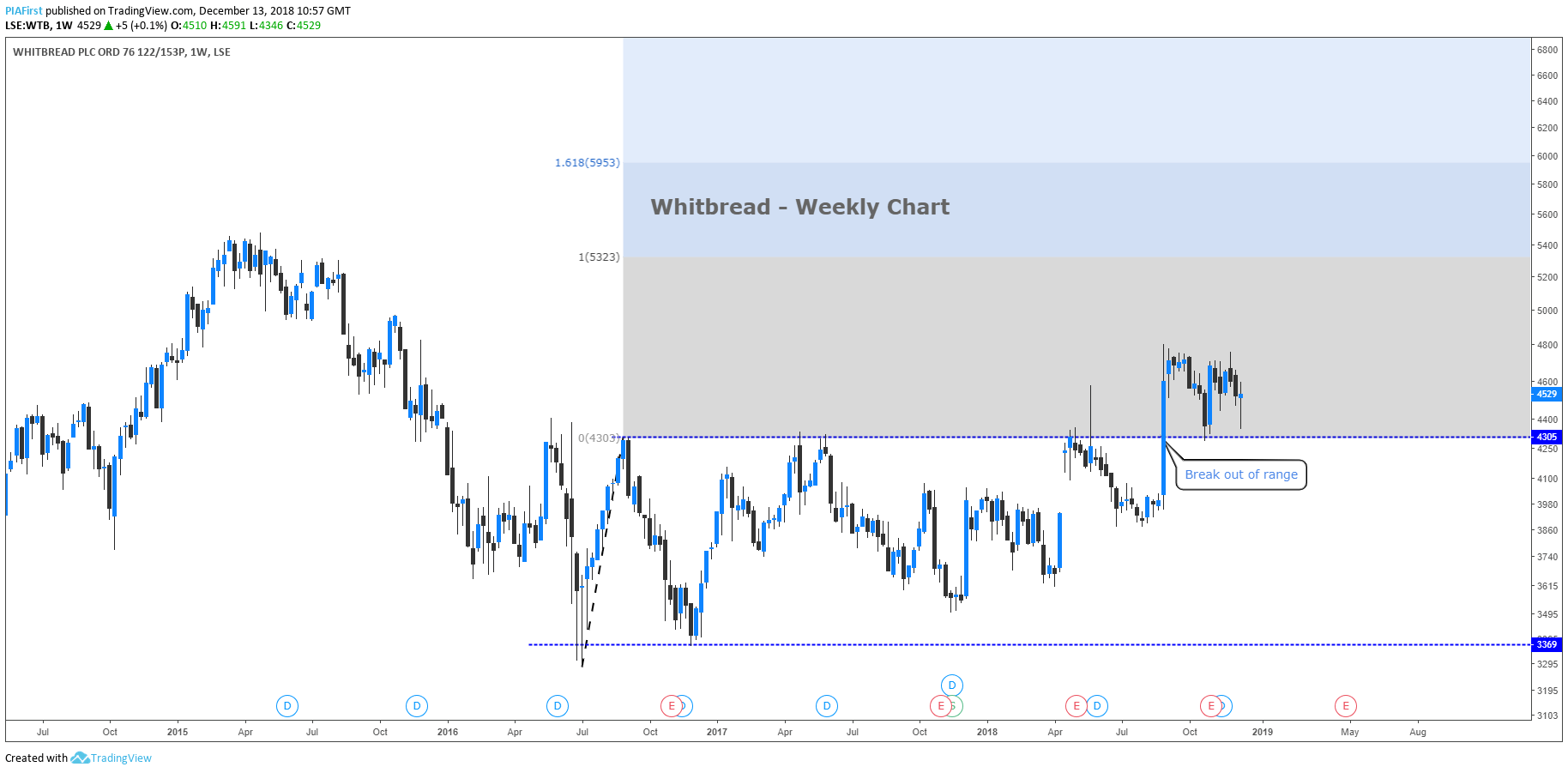 Diageo (DGE)
Diageo plc is a British multinational alcoholic beverages company, with its headquarters in London, England and offices on six continents. It was the world's largest distiller until being overtaken by China's Kweichow Moutai on 9 April 2017.
Fundamental View
Diageo has long been a favourite for long-term investors thanks to its high levels of profitability. The shares never score well on value metrics and with Diageo it's a case of you get what you pay for, a high-quality company. Last year the company generated an operating profit of 30% and earnings of 118.6p per share. The broker consensus is for the stock to trade on a forecast P/E of 22 and a dividend yield of 2.5%.
Quantitative View
Diageo consistently ranks above its sector peers and scores exceptionally well on growth, quality, momentum and profitability metrics.

Technical View
Diageo is one of the most consistent long-term performers on the FTSE100. The shares are trading in a neat bullish channel and pullbacks are typically attract buying interest. The shares pulled back to the lower end of the channel and found buyers. The bullish engulfing candle on the weekly chart is bullish for near term sentiment. A move higher towards the upper end of the channel is expected over the medium to long term.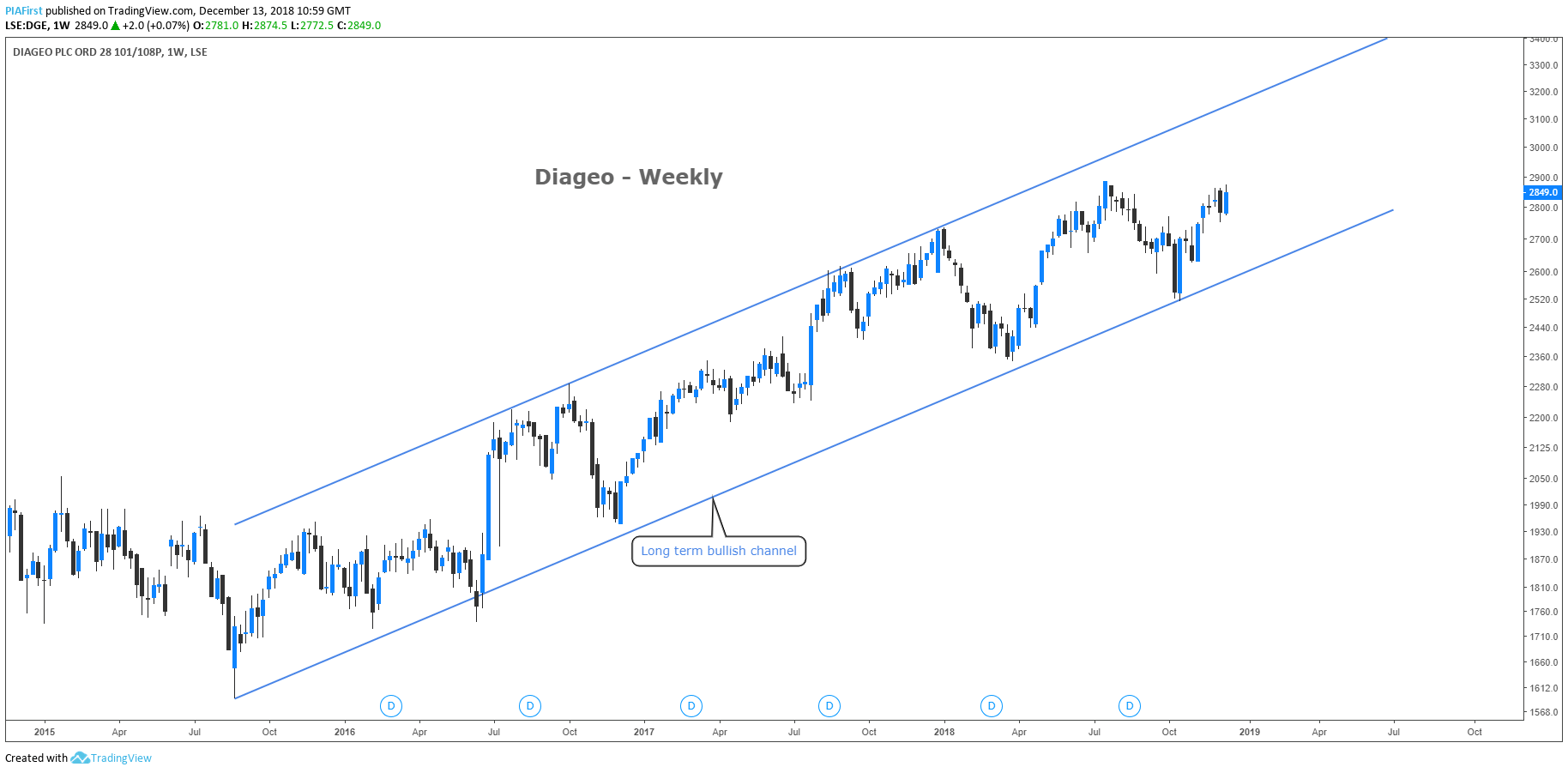 National Grid (NG.)
National Grid plc is a British multinational electricity and gas utility company headquartered in Warwick, United Kingdom. Its principal activities are in the United Kingdom and North eastern United States. It has a primary listing on the London Stock Exchange and is a constituent of the FTSE 100 Index. It has a secondary listing on the New York Stock Exchange.
Fundamental View
Markets are set to remain volatile for the foreseeable future as the UK approaches the Brexit deadline. National Grid often offers investors a defensive option and by currently being priced with a P/E of around 14 times earnings and a dividend yield of 5.8%, it looks attractive here. A little security ahead of Brexit is something to strongly consider.
Quantitative View
National Grid ranks below average overall in our fundamental model, the company however, does score exceptionally well on momentum and profitability metrics.

Technical View
National Grid shares have had a tough couple of years as investors neglected defensive stocks in favour of riskier assets. The decline has stabilised in recent months, which coincides with the sharp selloff seen in the UK and the US. The long-term uptrend support line has underpinned the situation and continues to attract buying interest on re-tests. The shares appear to be in a consolidation process, which could mean there is a bullish shift about to take place. Our first target is for the shares to recover 50% of the sell off that began in May 2017 to the lows in February 2018 at 915p.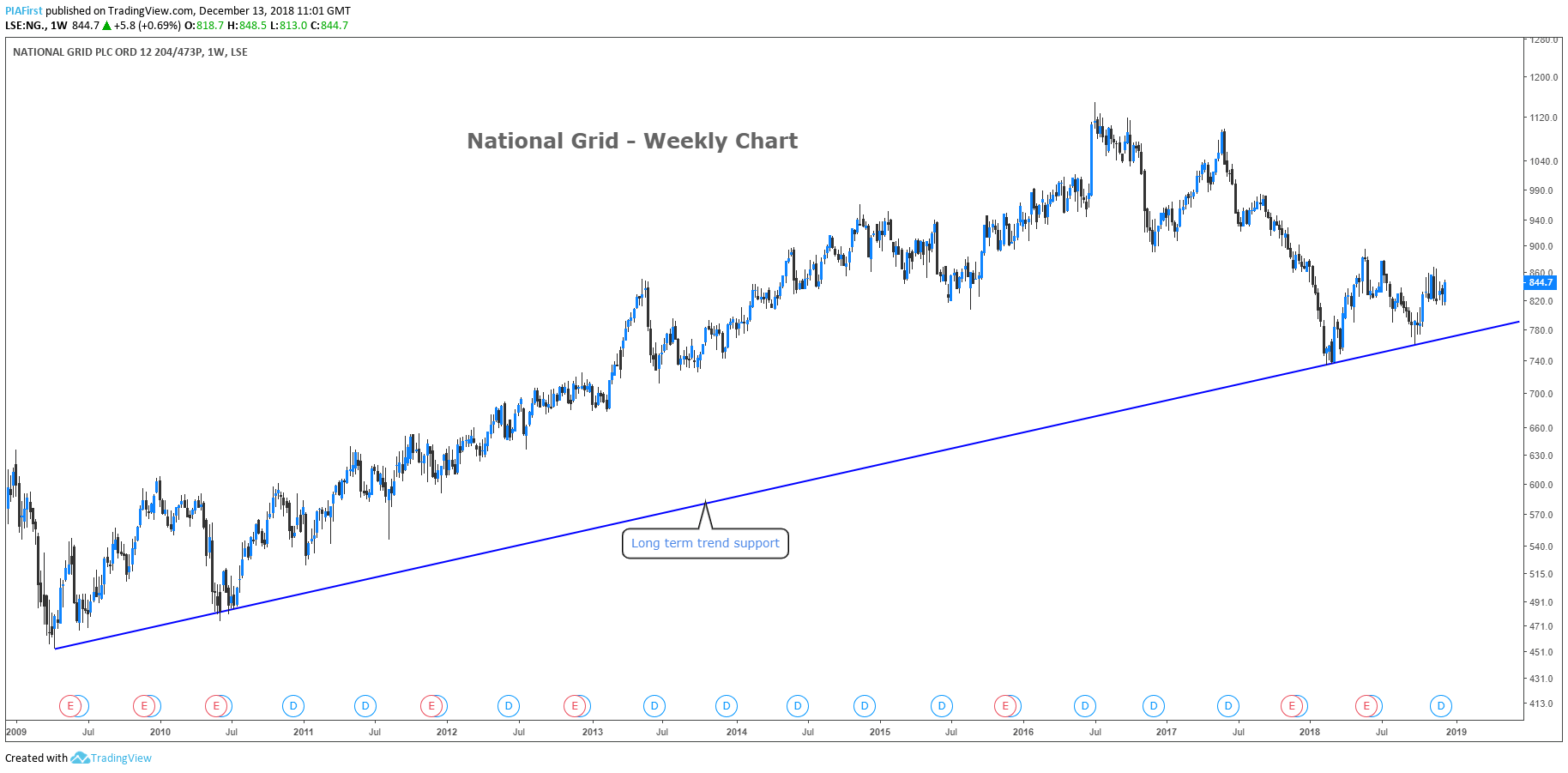 Ashtead (AHT)
Ashtead Group plc is a British industrial equipment rental company formerly based in Leatherhead, Surrey, but which has since moved to new offices in the City of London. It is listed on the London Stock Exchange and is a constituent of the FTSE 100 Index.
Fundamental View
Ashtead recently delivered an upbeat set of interim results and increased its full-year outlook. Revenue has climbed by 19% and pre-tax profits surged to £633 million from £537 million a year earlier. The share price has lost around a third of its value in recent months, which offers an excellent entry point for investors to get exposure to a dominant force in the US rental market.
Quantitative View
Ashtead ranks exceptionally well in our fundamental model with fantastic scores on growth, quality and profitability metrics. Only Intertek ranks above Ashtead on a peer comparison basis.

Technical View
As previously touched upon, Ashtead shares have lost almost a third of their value in recent weeks. The unwinding makes the prospect of buying the shares a lot more attractive. The shares have retraced 50% of the move from the 2016 lows to the September 2018 highs. This could be a decent area to begin accumulating shares in the hope that the impressive long-term uptrend can reassert itself.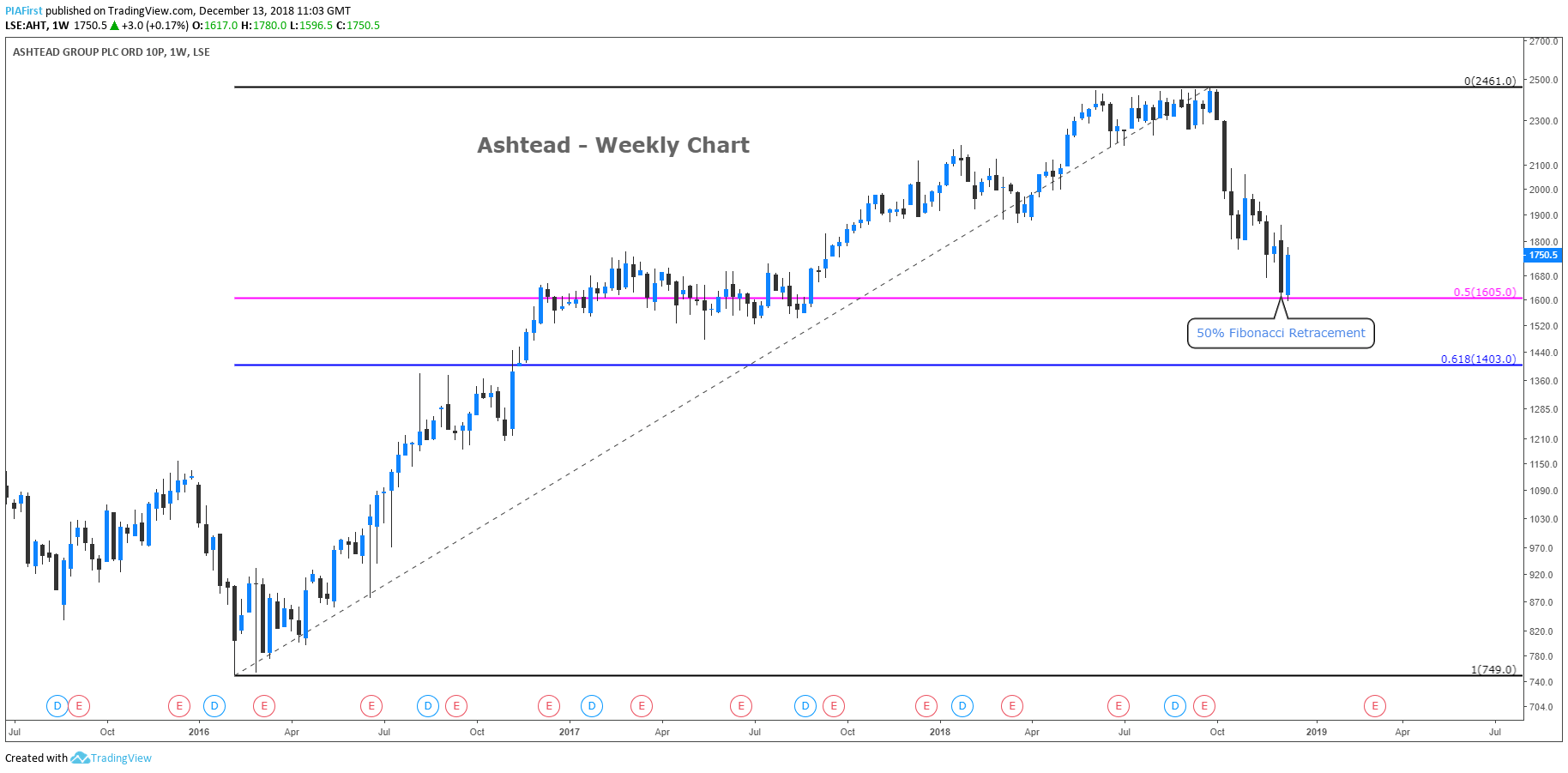 Tesco (TSCO)
Tesco plc, trading as Tesco, is a British multinational groceries and general merchandise retailer with headquarters in Welwyn Garden City, Hertfordshire, England, United Kingdom. It is the third-largest retailer in the world measured by gross revenues and ninth-largest retailer in the world measured by revenues. It has shops in seven countries across Asia and Europe and is the market leader of groceries in the UK, Ireland, Hungary and Thailand.
Fundamental View
Tesco is forecast to post double-digit earnings growth in the next 2 years. Its continued focus on efficiency and improved product quality could help improve its sales growth and margin over the medium term. Tesco clearly faces strong competition, but they seem to have found a strategy that will produce reasonable growth in the long term.
Quantitative View
Tesco ranks above average in our fundamental model and is the top ranked stock within its sector. The shares score exceptionally well on vale, growth and profitability metrics.

Technical View
Tesco's share price ground higher throughout most of 2018 before coming unstuck with the rest of the equity market. The sell off appears to be running out of steam at the previous lows set in 2018 at 190p and the lower end of the long-term bullish channel. The indecisive candles posted on the weekly chart suggest that a corrective bounce could shape from here and possibly continue higher towards the upper end of the channel at around 300p.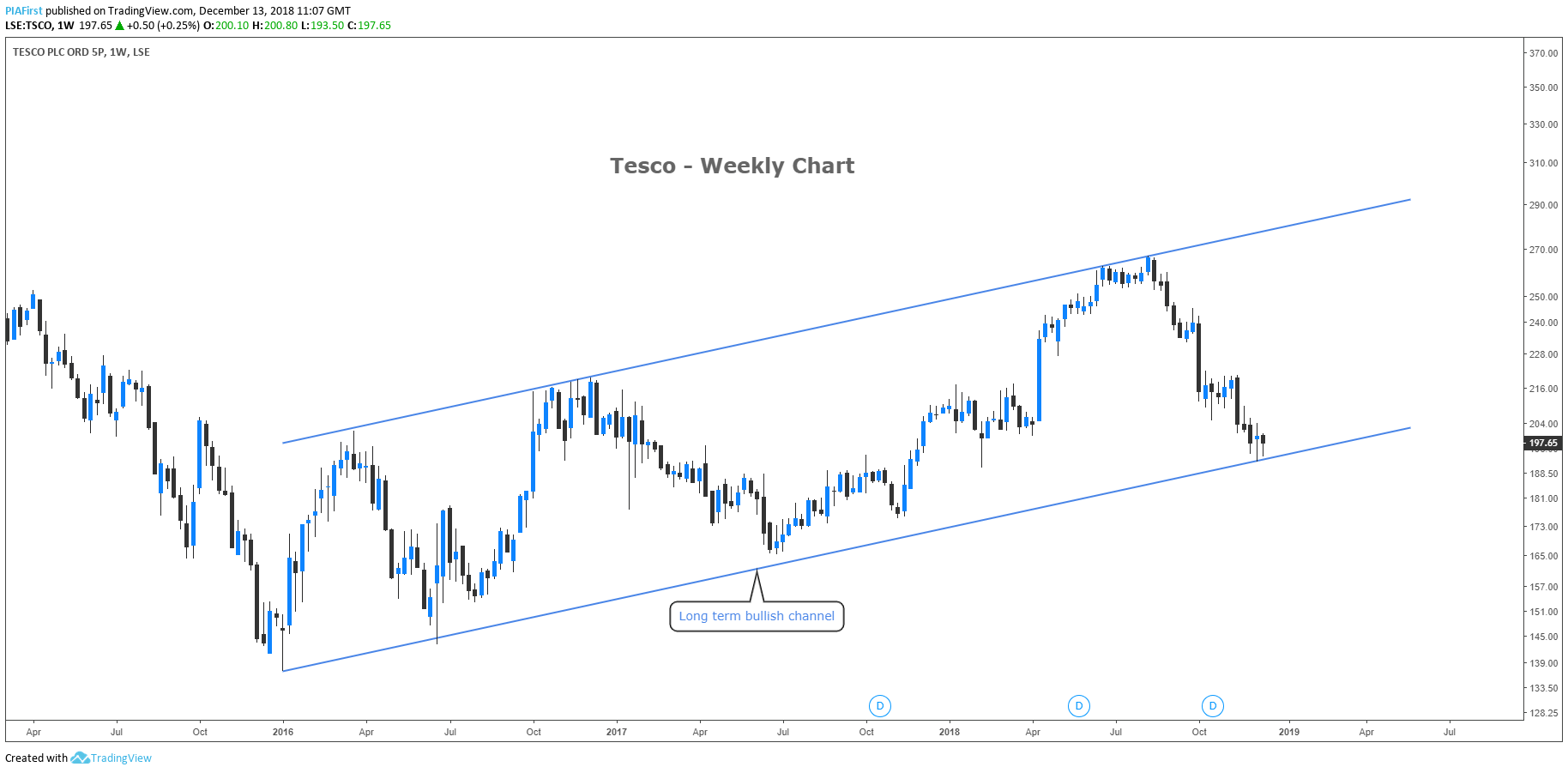 Informa (INF)
Informa is a leading business intelligence, academic publishing, knowledge and events business, operating in the Knowledge and Information Economy. Listed on the London Stock Exchange and a member of the FTSE 100.
Fundamental View
Informa shares have fallen sharply in recent weeks, which on the face of it looks a little unfair. The stock is trading on a forward P/E of 15.3 with a dividend yield of 3%. The company has an exceptional record of growing its dividend through all environments with an average annual growth rate of 7.7%. Informa recently bought UBM, which increased its event count. The integration makes further large deals unlikely for a couple of years. Therefore, organic growth can come from adding space at existing events, taking existing formats to new regions or introducing entirely new exhibitions.
Quantitative View
Informa ranks well overall in our fundamental model. RELX and WPP have superior scores but there is not a lot between them. The technical view on Informa was favoured.

Technical View
Informa is trading in an excellent long-term bullish channel which began in 2011. Since then pullbacks to the lower end of the channel have been rare. These corrective moves have typically been met with strong buying interest and we expect the latest pullback will be met with similar enthusiasm. The upper end of the channel comes in at around 1000p as it stands.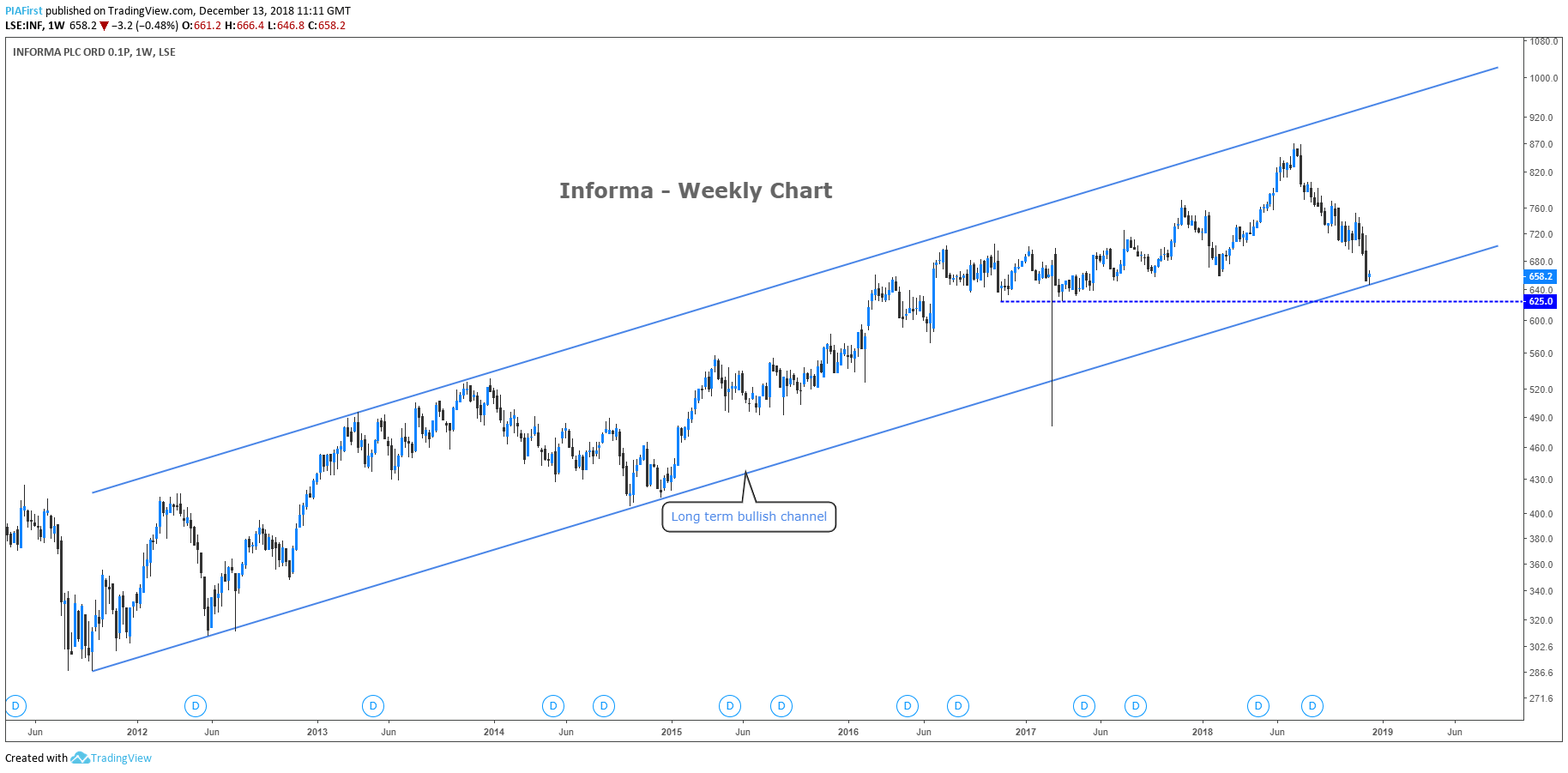 Hikma (HIK)
Hikma Pharmaceuticals is a multinational pharmaceutical company based in Jordan, that manufactures non-branded generic and in-licensed pharmaceutical products. It was founded in Amman, Jordan in 1978 by Samih Darwazah. It is listed on the London Stock Exchange and is a constituent of the FTSE 250 Index.
Fundamental View
Hikma recently announced a licencing and supply deal with Chinese pharmaceutical group, Hansoh. The 5-year deal provides Hikma with exclusive rights to market a suite of Hansoh's injectable oncology medicines within the US. Following the deal broker Jefferies increased its rating from 'hold' to 'buy' pointing out that Hikma's low teens' margins for US generics in 2018 is impressive and think that further cost savings and its pipeline can boost them further.
Quantitative View
Hikma ranks slightly below average in our fundamental model but scores exceptionally well on momentum metrics. On a comparison basis Hikma scores towards the top of the list only surpassed by GlaxoSmithKline.

Technical View
2017 was one of the worst on record for Hikma shareholders as the shares traded lower throughout the year. 2018 seems to have got things back on track with a solid performance. As it stands the shares appear to be in consolidation mode above support at 1635p. Providing this support level can hold then it could act as a launchpad towards further gains. The comeback from the 2018 lows has been impressive, can they continue this and gun for the previous highs at 2700p? We see no reason why they can't.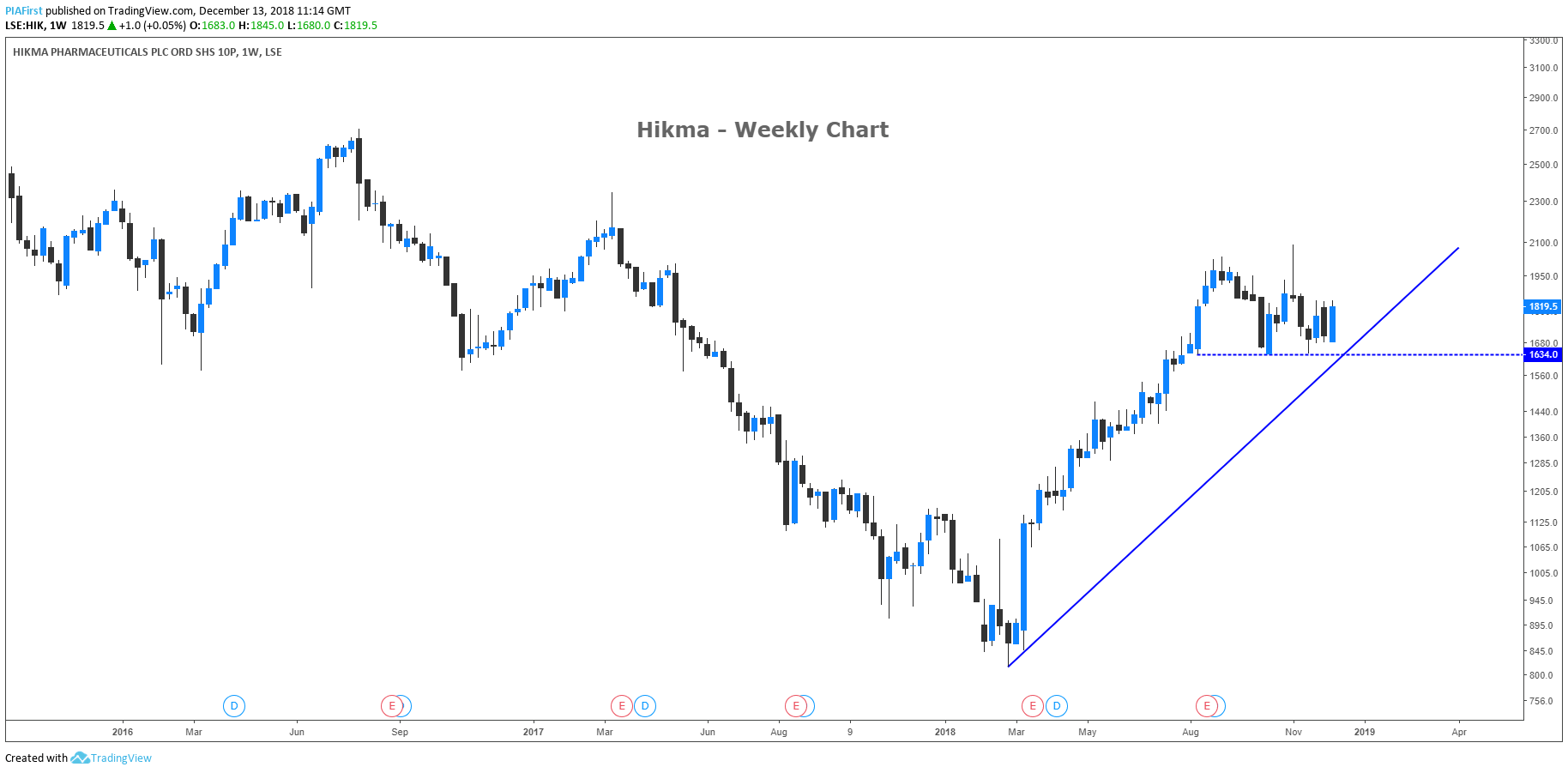 There will be more equity based content from Signal Centre in 2019, check back regularly for more.
Signal Centre wishes everyone a great Christmas and prosperous 2019.