Signal Centre's 2018 ISA Stock picks
2018 has got off to a choppy start and as a result a few bargains appear to be on offer.
Defensive areas of the market have been hit hard by rising interest rates as for so long their attractive dividend yields have been used as a proxy for bonds while rates have been so low. Money has flowed out of these stocks over the past few months and the move lower now appears overdone.
We are rapidly approaching ISA season and with limits up to £20,000 for the year ahead we think it's a great time to pick up some big names and discount prices.
There is a nostalgic feel to our ISA picks this year as we have opted for corporate giants that we believe offer an excellent mixture of growth potential alongside impressive levels of income.
We are recommending BP, Diageo, GlaxoSmithKline, Unilever and Vodafone for the 2018 ISA allocation and here is a glimpse at why.
The chart below is the collective performance of these 5 giants over the past 5 years versus the return of the FTSE100 in the same period (Orange line)
Since 2016 this basket of stocks has significantly outperformed the UK benchmark, at one point hitting a 5-year collective return of 150%. Over the past 8 weeks this has sharply unraveled back to what we believe is a sensible level to begin investing once again.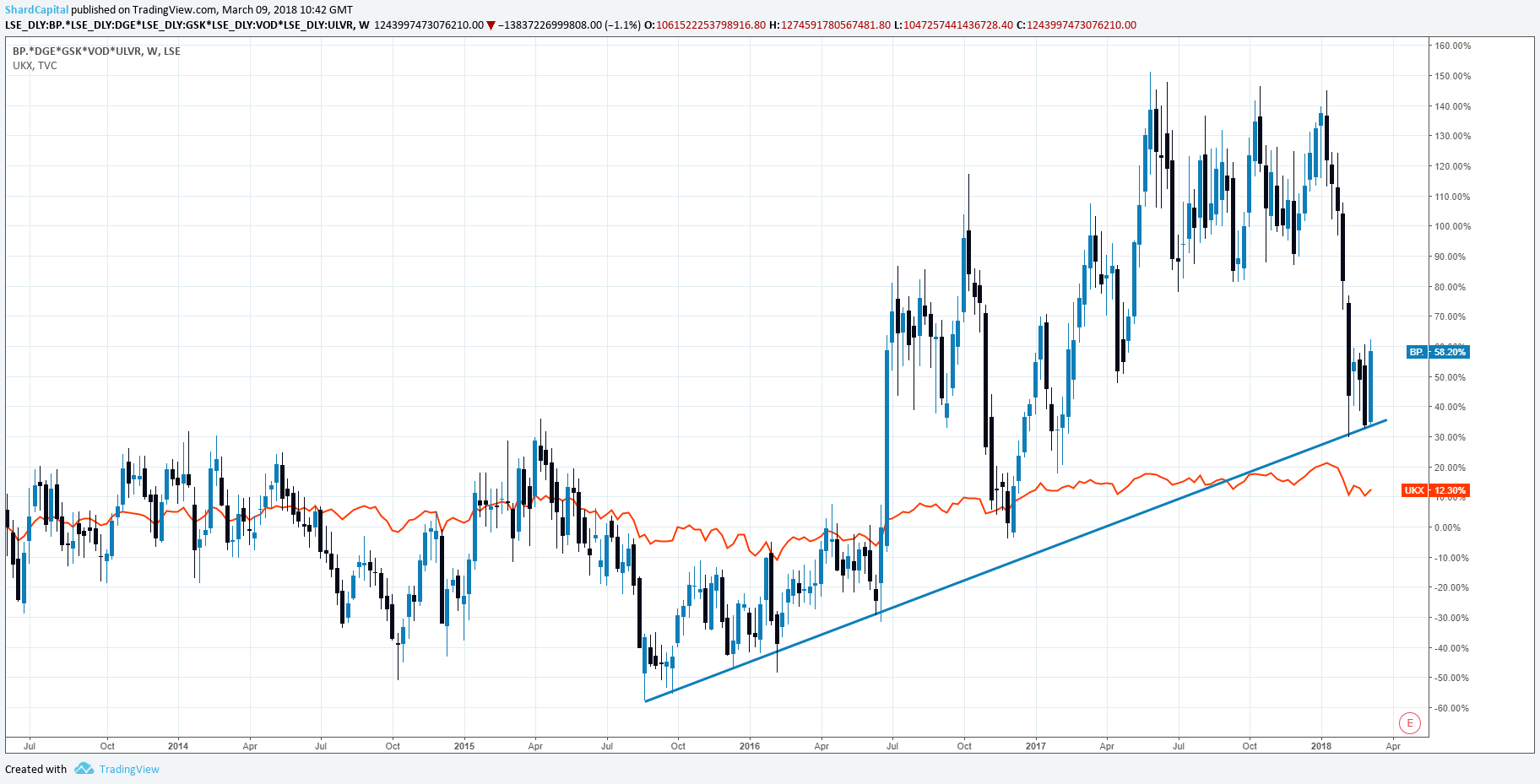 Buy BP (BP)
Target: 740p
Description: BP plc is an oil and petrochemicals company. The Company explores for and produces oil and natural gas, refines, markets, and supplies petroleum products, generates solar energy, and manufactures and markets chemicals. BP's chemicals include terephthalic acid, acetic acid, acrylonitrile, ethylene, and polyethylene.
Fundamentals: Growing production volumes and better market conditions mean BP Plc's asset base will throw off more cash in 2018, that's the view of RBC Capital analyst Biraj Borkhataria who has today upgraded the oil 'supermajor'. The Canadian bank raises BP to 'outperform' and lifted its price target to 570p from 550p. The price of oil continues its impressive recovery and we believe any push beyond $60 should be sustained. The dividend yield of around 6% is also very attractive.
Technical Analysis: BP has traded largely sideways since 2014 with the resistance between 520-540p continuing to cap upside advances. The most recent attempt at overcoming this level came at the beginning of 2018 and the shares retreated sharply following the failure. We believe a fresh attempt will be seen, which will be the 5th attempt at breaking higher. Could it be 5th time lucky? We think so and expect to see the price accelerate sharply once this overhead resistance is broken. The bottom pattern formation predicts an upside target of 740p over the medium to long term if 536p is clearly overcome.
P/E: 38.10
Dividend Yield: 5.99%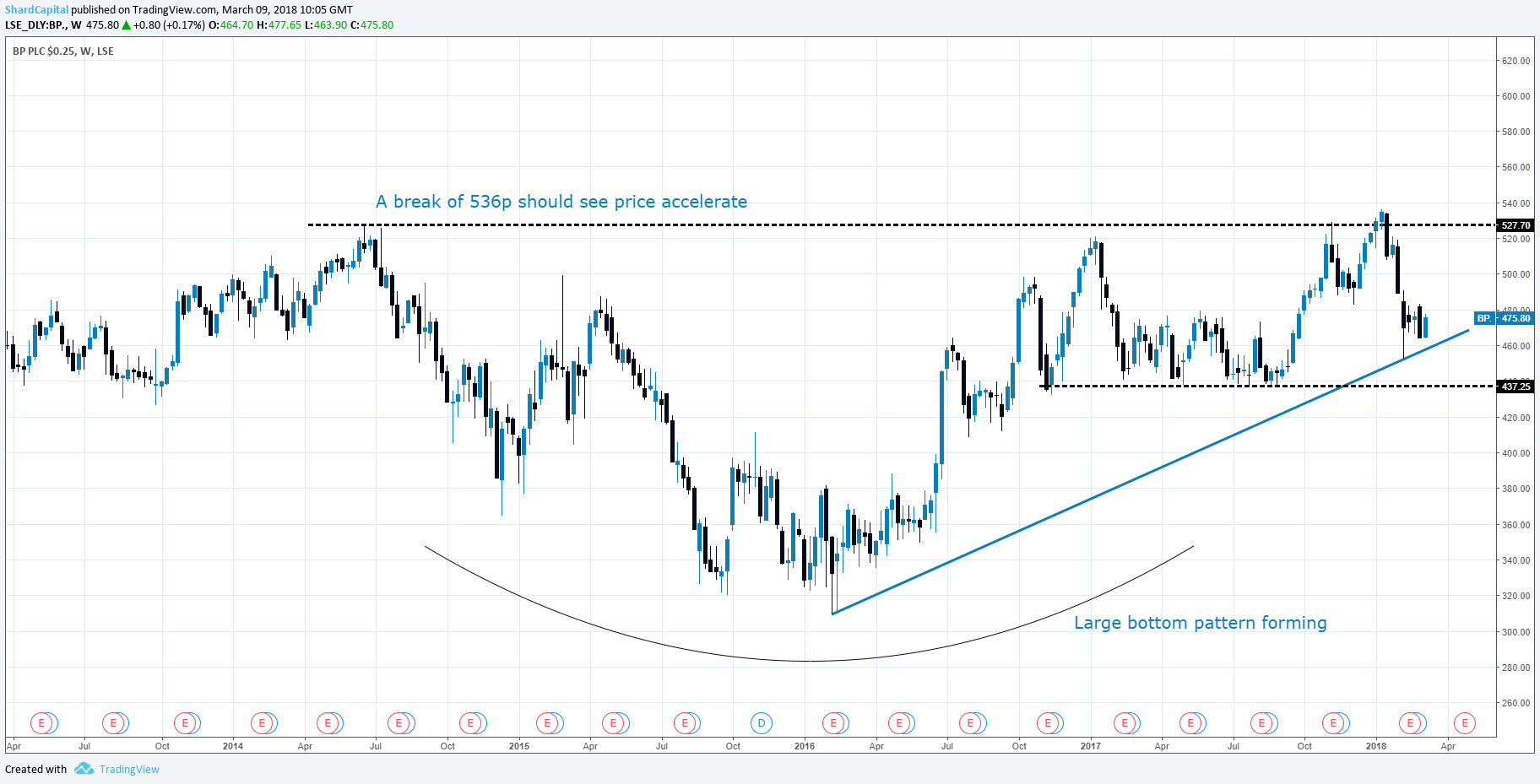 Buy Vodafone (VOD)
Target: 240p
Description: Vodafone Group PLC is a mobile telecommunications company providing a range of services, including voice and data communications.  The Company operates in Continental Europe, the United Kingdom, the United States, Asia Pacific, Africa, and the Middle East through its subsidiaries, associates, and investments.
Fundamentals: Vodafone has largely been moving sideways for many years and appeared overvalued for the last couple of years. The price however has fallen to a key level of support. During this phase of choppy price action operating profits and cash flow have been rising, suggesting progress in the underlying business. ity analysts following the FTSE 100 stalwart have quite robust-looking expectations for forward earnings growth of around 11% for the year to March 2019 and 24% for the year after that. The dividend yield of 6.3% is worth collecting while waiting for some growth.
Technical Analysis: In the space of 8 weeks Vodafone has fallen 17% to find support at just below the 200p level. A move of this magnitude is quite uncharacteristic, and we believe it throws up a great opportunity for value investors to tuck some shares away for the long term. The price action is not renowned for excitement but with shares attracting buying interest at the lower end of the long-term price range, we believe there is decent value on offer. A move back to the 2018 highs of 240p is the target.
P/E: 21.05
Dividend Yield: 6.30%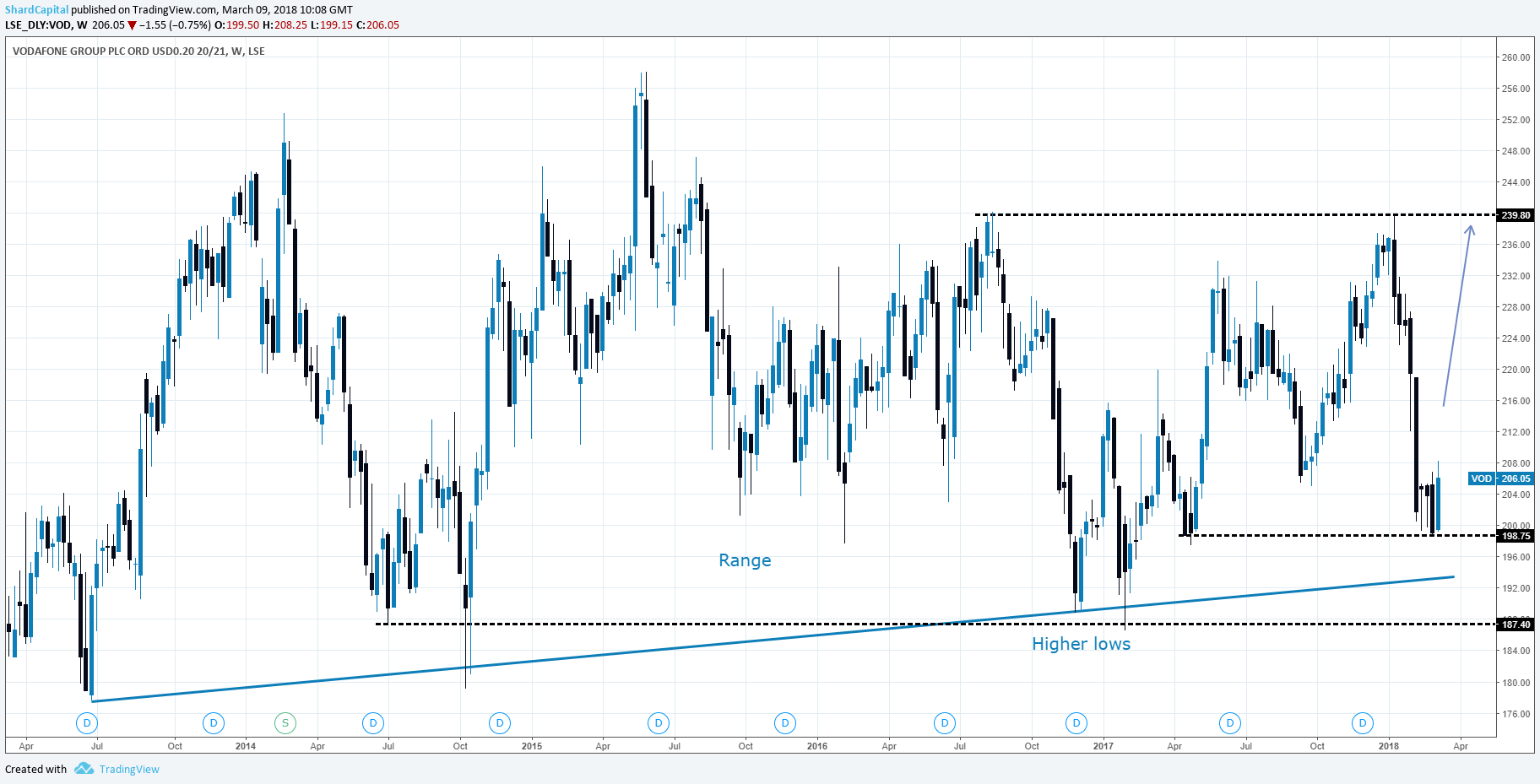 Buy Diageo (DGE)
Target: 2800p
Description: Diageo plc produces, distils, and markets alcoholic beverages. The Company offers a wide range of branded beverages, including vodkas, whiskeys, tequilas, gins, and beer.
Fundamentals: Diageo has invested heavily in emerging markets and this should lead to some impressive growth in the coming months and years. Diageo is expected to grow earnings by 18% in fiscal 2018. The maker of Guinness, Baileys and Johnnie Walker also pays a dividend currently yielding a healthy 2.6%. Goldman Sachs recently upgraded the stock to 'Neutral' with a 2550p price target.
Technical Analysis: Diageo is approximately 13% cheaper that it was at its highs set in January 2018. The chart clearly depicts a bullish channel which has contained all of the price action since July 2016. The corrective move to the lower end of the channel offers an excellent opportunity to buy the shares. We expect to see the long-term trend persist and are targeting a move back to the previous all-time highs.
P/E: 19.04
Dividend Yield: 2.60%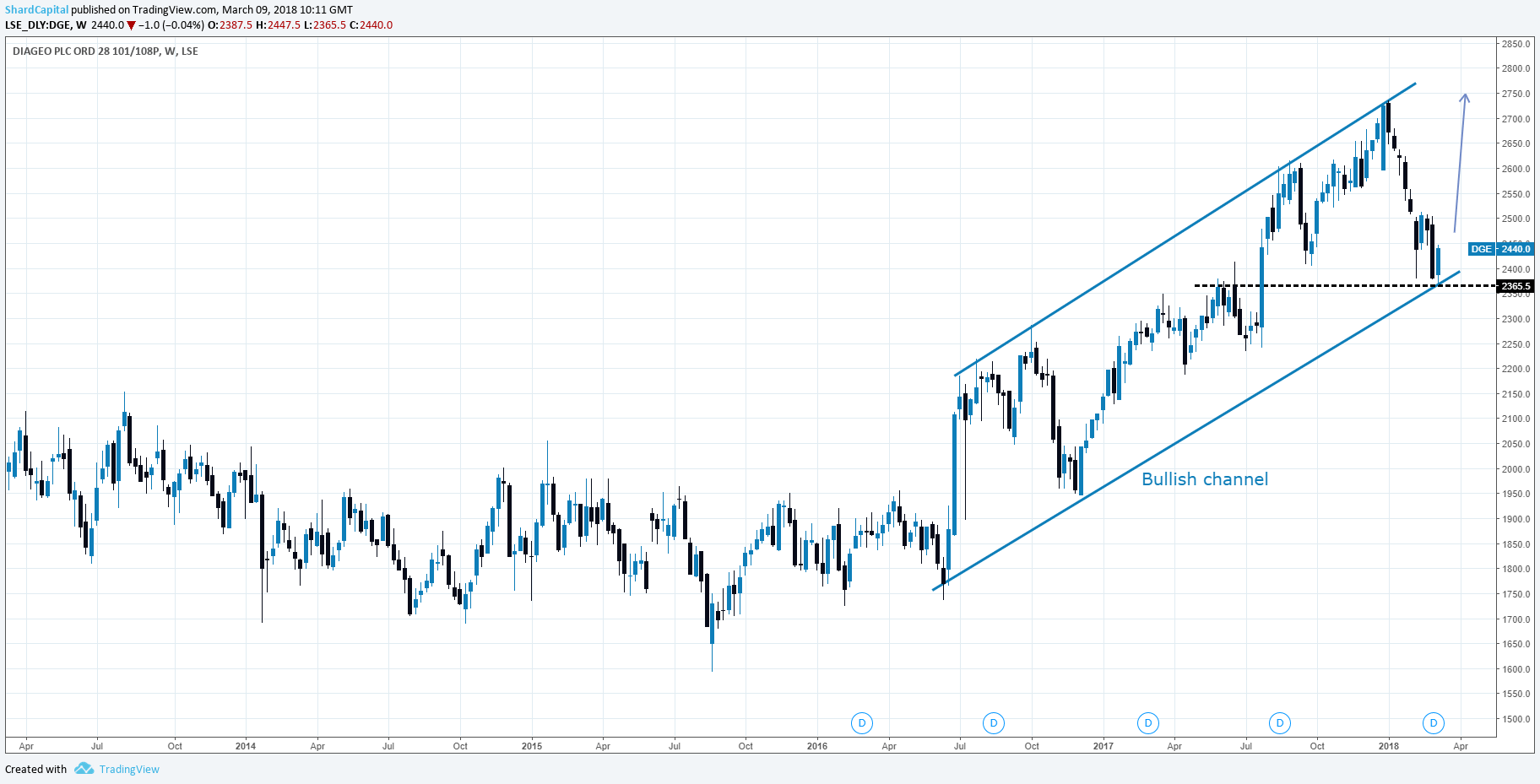 Buy Unilever (ULVR)
Target: 4600p
Description: Unilever PLC manufactures branded and packaged consumer goods, including food, detergents, fragrances, home and personal care products. Dually-listed company with UNA NA.
Fundamentals: Like many other consumer staple stocks Unilever has been hit as the UK begins on the path of rate rises. The company however continues to churn out growth, while paying very attractive yields. A price to earnings ration of 20 times coupled with growing dividends is a very attractive proposition for serious investors over the long term. Double digit EPS growth is forecast over the next couple of years, Unilever offers a solid mix of defensive attributes and growth potential.
Technical Analysis: Unilever has quite clearly found support at the long-term uptrend support line and has closed the week beginning 5th March with a very bullish candle. This indicates strong buying interest and we would expect to see this buying interest follow through in the coming weeks as investors pick up the shares at a cheap level considering where they have been historically. The shares have fallen almost 20% from their highs set in October 2017.
P/E: 20.13
Dividend Yield: 3.23%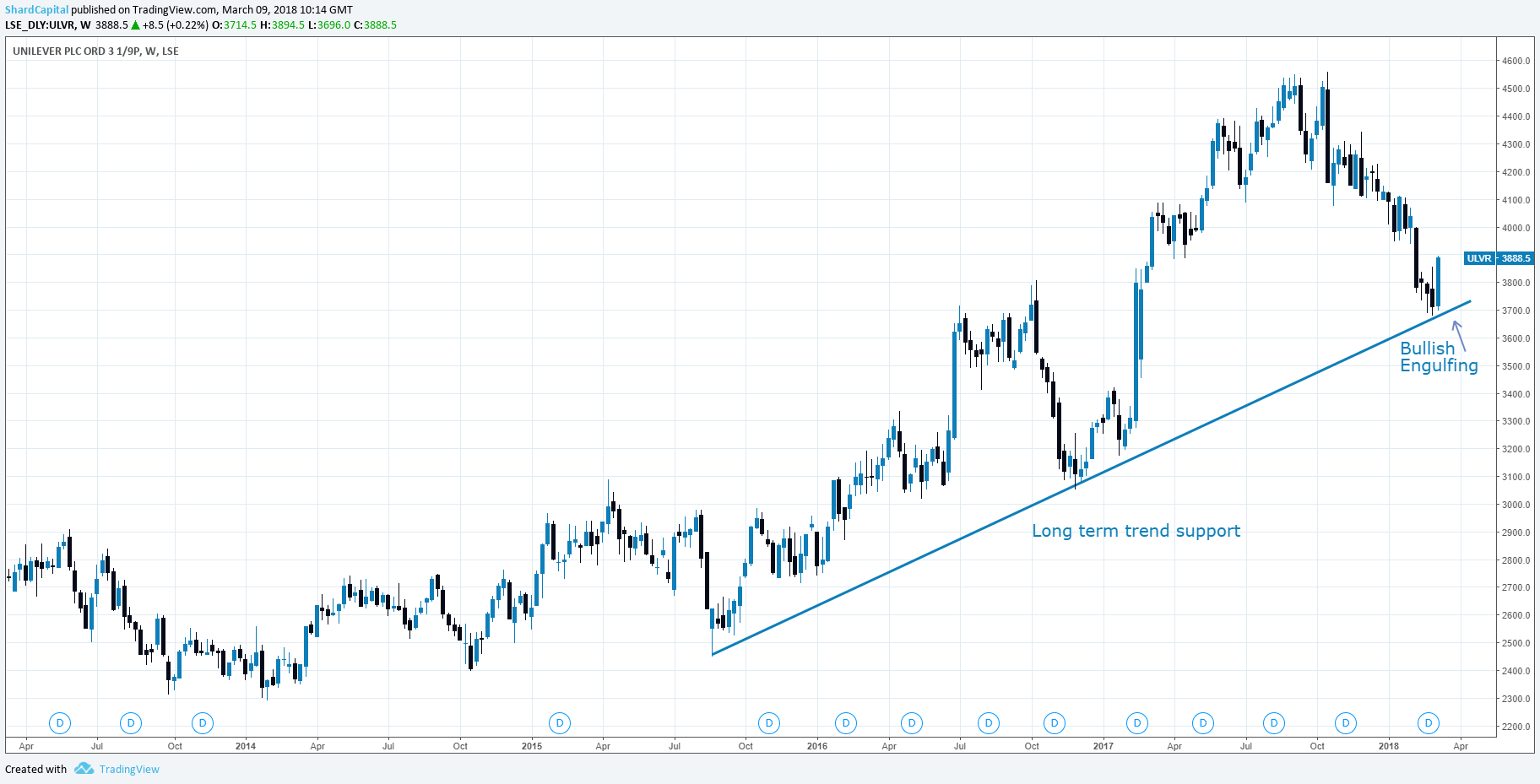 Buy GlaxoSmithKline (GSK)
Target: 1700p
Description: GlaxoSmithKline plc is a research-based pharmaceutical company. The Company develops, manufactures, and markets vaccines, prescription, and over-the-counter medicines, as well as health-related consumer products. GlaxoSmithKline provides products for infections, depression, skin conditions, asthma, heart and circulatory disease, and cancer.
Fundamentals: GlaxoSmithKline offers a solid risk/reward ratio due to the diversity of its pipeline. This could mean that it offers resilient growth potential in the long run, and that its share price performance is less volatile than for many of its sector peers. The current dividend yield is just shy of 6%, which is covered 1.4x so there is even scope for this to grow. From a long term perspective, the current price looks very attractive.
Technical Analysis: GlaxoSmithKline is trading in a huge range on the 5-year weekly chart between 1240p to 1710p. The shares have held the lower end of the range and posted a large 'doji' candle having tested the lows. This indicates a potential bottom could be in place. The impulsive up move seen in the week beginning 5th March indicates that buyers are willing to participate at these levels. We expect to see a decent move higher from here with an eventual upside target of 1700p
P/E: 25.3
Dividend Yield: 5.97%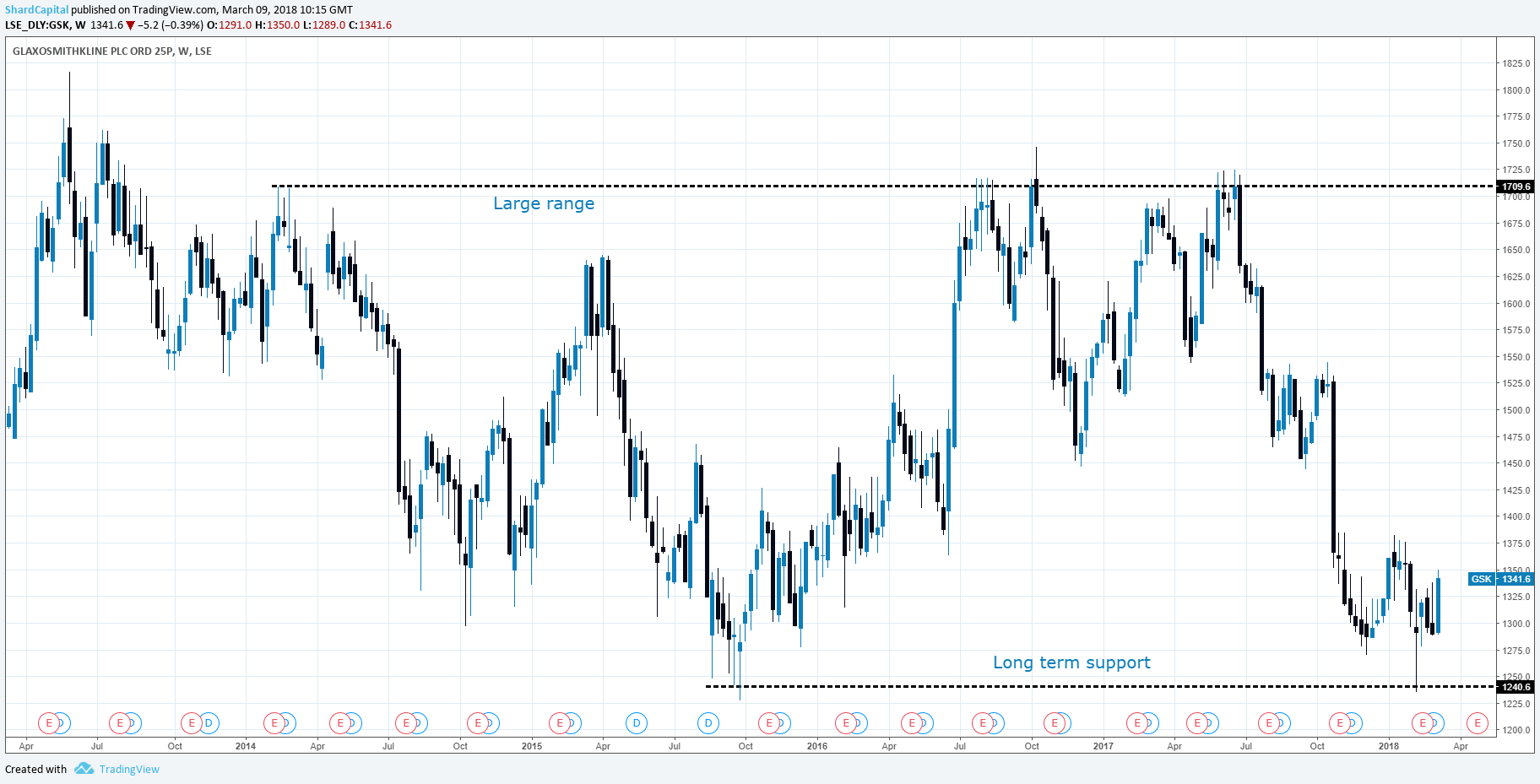 All charts are 5-year, weekly setups.
All prices are accurate as of 14/03/2018.
Sources: Tradingview.com & Bloomberg