Good morning and welcome to episode 597 of 'Talking Bull'. In this video/podcast we cover the main headlines and what to expect from the day ahead. 
We take a technical look at key markets that are likely to be impacted by today's events. Also, we participate in a 'Gun to the head' challenge where each of us calls a live trade. These will expire at 9pm tonight and we will keep track of the progress over time.
We hope you enjoy it!
For a selection of free educational content, join our Discord server at – https://discord.gg/Db4UWVFvF6
Show notes:
3 Trades yesterday and sadly 3 stop outs on GBPUSD, Bitcoin and AUDCHF.
We have included an illustration based on a £1000 account. This will follow the combined return of our morning trades by risking 1% of the trading capital per trade. The 1% risk is a variable monetary amount and will rise and fall based on the success of the calls.
We are currently up 123.02% collectively since we began recording Talking Bull on the 30th October 2019.
News
Ukraine fears remain in focus
There were further concerns over the Ukraine situation and risk of a further escalation, especially given the aggressive rhetoric from Russian officials.
US President Biden requested an additional $33bn in military and humanitarian support from Congress.
The Russian missile strike on Kyiv while UN Secretary General Guterres was in the city further inflamed tensions.
The EU moved close to a ban on Russian crude oil with overall energy developments a key issue and confidence in the Euro-zone outlook remained weak.
US GDP disappoints
According to the advance reading, US GDP data contracted at an annualised contraction of 1.4% for the first quarter of 2022 after 6.9% growth the previous quarter and well below consensus forecasts of 1.1%.
Consumer spending increased at a slightly faster rate for the quarter, but there was weakness in investment and government spending while there was a net contraction from trade as imports surged and inventories also declined on the quarter.
The prices index increased 8.0% for the quarter from 7.1% previously.
Markets were still very confident that the Fed would tighten by at least 50 basis points next week, but underlying confidence in the US outlook took a slight dip.
Wall Street indices surge
Wall Street equities posted strong gains on Thursday with a significant element of short covering
US gains helped trigger a wider improvement in global risk appetite despite underlying reservations.
Dollar corrects from 20-year high
The dollar dipped briefly after the GDP data, but overall surged to a 20-year high as doubts over the US outlook were more than overshadowed by a lack of confidence in other major currencies.
Further strong selling in the Euro and yen also continued to boost the US currency with the dollar index briefly strengthening to a 20-year high.
The dollar retraced further on Friday amid strong pressure for a correction.
German inflation hits 48-year high
German consumer prices increased 0.8% for April with the year-on-year increases at 7.4% from 7.3% the previous month which was above consensus forecasts of 7.2% and the highest rate since March 1974.
There will be strong pressure for action from the Bundesbank to tighten policy.
Euro recovers from fresh 5-year lows
Ukraine concerns were again a significant negative factor for the Euro and the currency remained under pressure amid fears over the Euro-zone outlook.
There was also further speculation that the ECB would not be able to respond to inflation pressures given the growth risks.
EUR/USD dipped sharply to 5-year lows close to 1.0470, but did regain the 1.0500 level on Friday.
Sterling gains slight relief
Sterling remained under heavy pressure on Thursday as confidence in the UK outlook continued to undermine confidence.
A strong rebound in equities did help provide an element of relief with GBP/USD attempting to regain 1.2500 on Friday.
Riksbank U-turns with rate hike
The Swedish Riksbank announced an immediate increase in interest rates to 0.25%, contrary to expectations that policy would be on hold, and also stated that there would be further increases this year.
Bond buying will be scaled back and the buying of Treasury bills will stop immediately.
Data Today
13.30: US PCE prices index
Key events over the next week
May 3rd: Reserve Bank of Australia policy decision
May 4th: Federal Reserve policy decision
May 5th: Bank of England policy decision
May 6th: US employment report
May 6th: Canada employment report
Gun to head challenge – Update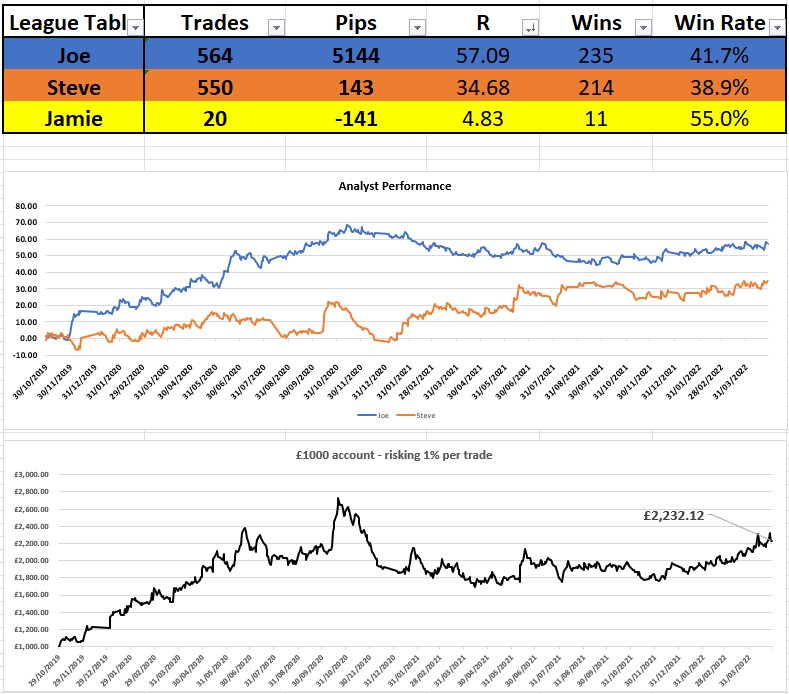 Today's trade idea

Have a great week everyone.
Get award-winning FCA regulated signals and levels on over 30 markets, as well as education resources so you never trade alone.