Good morning and welcome to episode 615 of 'Talking Bull'. In this video/podcast we cover the main headlines and what to expect from the day ahead. 
We take a technical look at key markets that are likely to be impacted by today's events. Also, we participate in a 'Gun to the head' challenge where each of us calls a live trade. These will expire at 9pm tonight and we will keep track of the progress over time.
We hope you enjoy it!
For a selection of free educational content, join our Discord server at – https://discord.gg/Db4UWVFvF6
Show notes:
Stop outs of Jamie and Steve on Copper and Gold. Joe was offside 0.59R on GBPCHF.
We have included an illustration based on a £1000 account. This will follow the combined return of our morning trades by risking 1% of the trading capital per trade. The 1% risk is a variable monetary amount and will rise and fall based on the success of the calls.
We are currently up 117.32% collectively since we began recording Talking Bull on the 30th October 2019.
News
Fed Committed to quick move to 2% rates
Minutes from May's Federal Reserve policy meeting confirmed that all participants backed a 50 basis-point rate increase and most backed further 50 basis-point hikes at the next two meetings with the central bank needing to move expeditiously to neutral.
The minutes also noted that inflation risks were skewed to the upside and policy may need to be restrictive, although there was a high degree of uncertainty. Participants also noted that the Fed should assess risks to the economy later this year.
The rhetoric maintained the possibility that there could be a pause in rate hikes after July.
US yields contained
The US 10-year bond has settled around 2.75% with hopes that inflation will be brought under control. Lower yields limited the scope for dollar gains while Wall Street posted net gains in tentative trading, but futures lost ground on Thursday as overall financial conditions continued to tghten.
Hawkish ECB rhetoric losing power
ECB chief economist Lane stated that the increase in household inflation expectations is a concern and it is appropriate to normalise monetary policy. He added that the speed of policy moves after the third quarter will be decided depending on the economy.
Council member Knot stated that inflation expectations are at the upper limit of being well anchored and that a 50 basis-point rate hike isn't off the table.
Nevertheless, markets were sceptical that a majority on the council would back such a move and the Euro was unable to gain further support.
BoE members wary over recession risks
Bank of England chief economist Pill stated that further interest rate increases are needed, but he added that too much tightening would increase the risk of deep recession which would be very costly.
External member Tenreyro stated that the bank faces a fine balance when setting rates because aggregate demand will be depressed and the mandate required the bank to look at the medium-term outlook and avoid actions which cause inflation to significantly undershoot the target.
UK fiscal support expected
Markets are expecting Chancellor Sunak to announce a support package on Thursday of at least £10bn to ease the cost of living crisis. This will provide an element of support for the economy and potentially give the Bank of England increased scope for higher interest rates.
Data Today
13.30: US jobless clams
13.30: US GDP (Q1 second reading)
Key events over the next week
June 1st: Bank of Canada policy decision
June 1st: US ISM manufacturing index
June 3rd: US employment report
Gun to head challenge – Update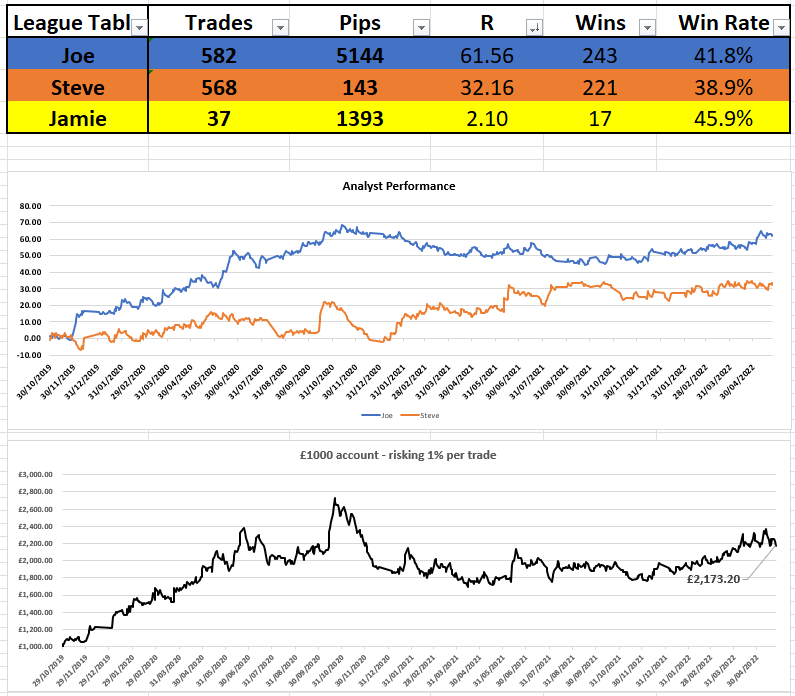 Today's trade idea

Have a great week everyone.
Get award-winning FCA regulated signals and levels on over 30 markets, as well as education resources so you never trade alone.