Good morning and welcome to episode 618 of 'Talking Bull'. In this video/podcast we cover the main headlines and what to expect from the day ahead. 
We take a technical look at key markets that are likely to be impacted by today's events. Also, we participate in a 'Gun to the head' challenge where each of us calls a live trade. These will expire at 9pm tonight and we will keep track of the progress over time.
We hope you enjoy it!
For a selection of free educational content, join our Discord server at – https://discord.gg/Db4UWVFvF6
Show notes:
Jamie was onside 0.33R on GBPCAD yesterday. Joe and Steve were stopped out on GBPCHF and Gold.
We have included an illustration based on a £1000 account. This will follow the combined return of our morning trades by risking 1% of the trading capital per trade. The 1% risk is a variable monetary amount and will rise and fall based on the success of the calls.
We are currently up 126.58% collectively since we began recording Talking Bull on the 30th October 2019.
News
Fresh record high for German inflation
German consumer prices increased 0.9% for May with the annual inflation rate strengthening to a fresh post-unification record high of 7.9% from 7.4% previously and above consensus forecasts of 7.6%.
Inflation has also been equal to or above market expectations for the past 8 months.
The EU data will be released on Tuesday with consensus forecasts for a record high of 7.8%.
Hawkish Fed rhetoric
Fed Governor Waller stated that inflation is alarmingly high and that he backed raising interest rates by 50 basis points at several meetings and until inflation comes closer to the Fed's 2% target. He added that the policy rate should be above neutral by year-end.
This rhetoric was more hawkish than the consensus within the central bank.
Dollar recovers from 5-week lows
The dollar dipped lower on Monday as the Euro continued to make headway, but the US currency recovered ground on Tuesday with a less confident tone surrounding risk appetite and renewed unease over developments in the energy sector.
EU reaches deal on Russian oil
The EU failed to reach a deal on a Russian oil embargo on Monday as Hungarian opposition continued, but there was an overnight breakthrough at the Summit.
There will be concessions for Hungary with the EU estimating that oil imports from Russia will decline by close to 90% by the end of 2022.
The agreement put further upward pressure on oil prices with Brent hitting 2-month highs above $123.0 p/b.
UK inflation expectations edge higher
The latest YouGov survey recorded an increase in UK inflation expectations for the year ahead to 6.1% from 6.0% and equalling the record high while long-term expectations held at 4.2%. The data will maintain pressure for the Bank of England to tighten monetary policy in order to curb inflation expectations.
Month-end adjustment on Tuesday
There is likely to be choppy trading on Tuesday with significant month-end position adjustment, especially around the London fix ahead of the European close.
Data Today
10.00: Euro-zone consumer prices
15.00: US consumer confidence
02.30 (Wed): Australia GDP (Q1 reading)
Gun to head challenge – Update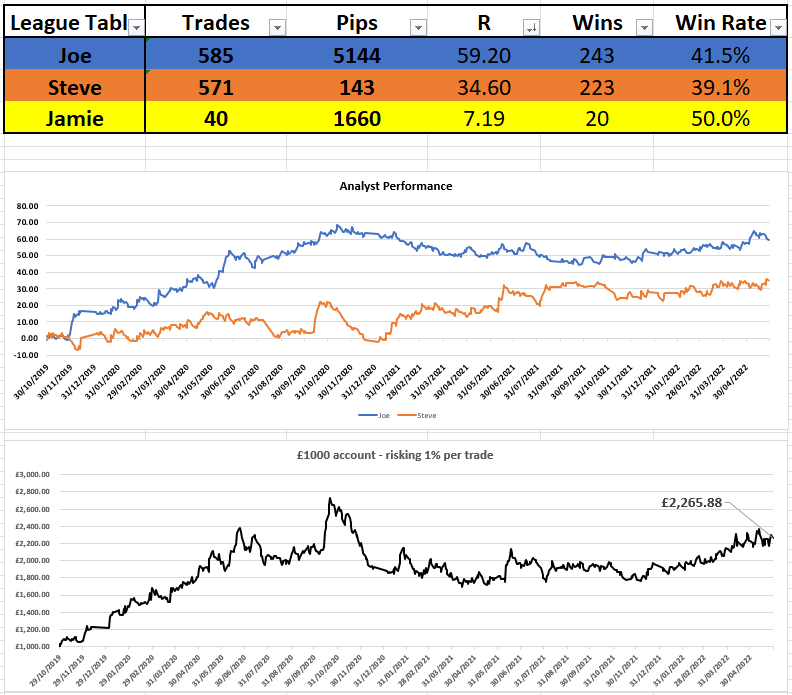 Today's trade idea

Have a great week everyone.
Get award-winning FCA regulated signals and levels on over 30 markets, as well as education resources so you never trade alone.