Good morning and welcome to episode 612 of 'Talking Bull'. In this video/podcast we cover the main headlines and what to expect from the day ahead. 
We take a technical look at key markets that are likely to be impacted by today's events. Also, we participate in a 'Gun to the head' challenge where each of us calls a live trade. These will expire at 9pm tonight and we will keep track of the progress over time.
We hope you enjoy it!
For a selection of free educational content, join our Discord server at – https://discord.gg/Db4UWVFvF6
Show notes:
Steve hit target on NASDAQ for a 3.50R win. Joe was onside 0.71R on GBPCHF. Jamie was stopped out on GBPNZD.
We have included an illustration based on a £1000 account. This will follow the combined return of our morning trades by risking 1% of the trading capital per trade. The 1% risk is a variable monetary amount and will rise and fall based on the success of the calls.
We are currently up 125.70% collectively since we began recording Talking Bull on the 30th October 2019.
News
ECB July rate hike baked in
ECB council member Visco stated that a June rate hike was out of the question, but July was perhaps the time to start. Fellow member Villeroy stated that the inflation fight means normalising interest rates. He added that the central bank's priority is fighting and mastering inflation.
Bundesbank head Nagel stated that negative interest rates are a thing of the past and added that more rate hikes could come in quick succession.
There are strong expectations that the ECB will raise rates at the July meeting with the scope for further increases before year-end.
Australian shifts to labour
In Australia's general election there was a victory for the Labour Party, the first win for 10 years.
There is still uncertainty whether the government will have an overall majority or in coalition greens/independents as the party needs 4 more seats for an overall majority with 14 results still to be declared.
There will be expectations of increased fiscal support for the economy which provided an element of currency support.
Reserve Bank of Australia assistant governor Kent stated that a neutral rate for interest rates is in the range of 2-3%.
Risk appetite holds steady
Overall risk appetite held steady on Monday despite unease over the latest Chinese coronavirus developments with Beijing reporting a record number of cases.
Dollar continues to lose steam
The dollar regained some ground on Friday, but was put back on the defensive on Monday as US yields moved lower. The prospect of increased interest rates across many global central banks sapped relative support for the US currency and there was significant position adjustment.
The dollar index overall dipped to fresh 2-week lows.
BoE's Pill Calls for further rate hikes
In comments on Friday, Bank of England chief economist Pill reiterated that the central bank faced its most difficult challenge for 25 years. He warned that inflation was liable to increase to above 10% and also commented that the tightening of monetary policy had some way to go.
This suggests that there is scope for several further rate increases over the next few months.
Sterling shorts stabilise
CFTC data recorded a marginal decline in short Sterling contracts, but the figure was still above 79,000 and close to the highest level since 2019, maintaining the potential for short covering if there is a shift in UK sentiment.
Data Today
09.00: German IFO index
17.15: Bank of England Governor Bailey speech
Key events over the next week
May 24th: European Flash PMI reports
May 25th: Federal Reserve minutes
Gun to head challenge – Update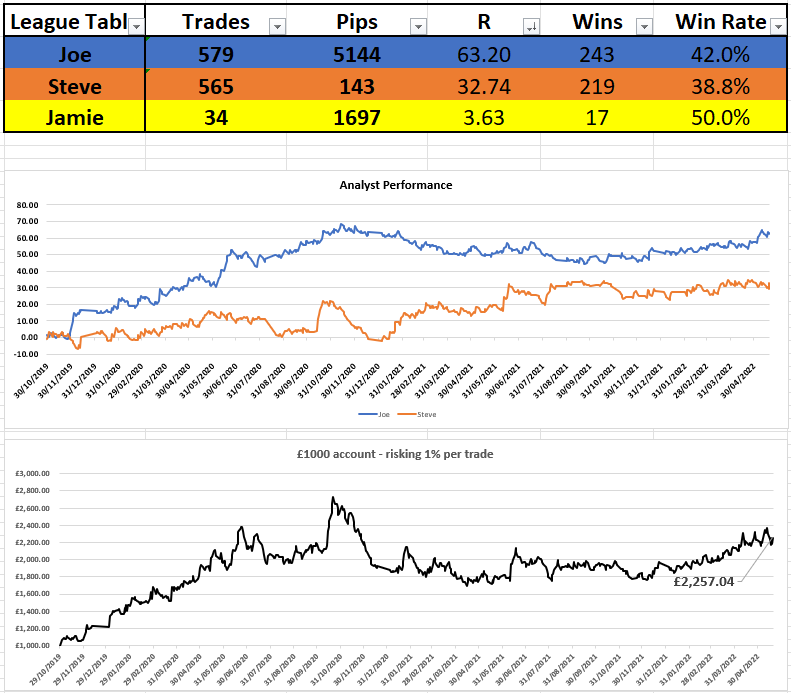 Today's trade idea

Have a great week everyone.
Get award-winning FCA regulated signals and levels on over 30 markets, as well as education resources so you never trade alone.