Good morning and welcome to episode 614 of 'Talking Bull'. In this video/podcast we cover the main headlines and what to expect from the day ahead. 
We take a technical look at key markets that are likely to be impacted by today's events. Also, we participate in a 'Gun to the head' challenge where each of us calls a live trade. These will expire at 9pm tonight and we will keep track of the progress over time.
We hope you enjoy it!
For a selection of free educational content, join our Discord server at – https://discord.gg/Db4UWVFvF6
Show notes:
Joe was stopped out on AUDUSD. Steve was onside 0.08R on NASDAQ and Jamie was offside 0.28R on EURAUD.
We have included an illustration based on a £1000 account. This will follow the combined return of our morning trades by risking 1% of the trading capital per trade. The 1% risk is a variable monetary amount and will rise and fall based on the success of the calls.
We are currently up 123.09% collectively since we began recording Talking Bull on the 30th October 2019.
News
US Business confidence retreats
The US PMI manufacturing index retreated to a 3-month low of 57.5 for May from 59.2 and in line with expectations. There was, however, a steeper than expected decline in the services-sector index to a 4-month low of 53.5 from 55.6 and below consensus forecasts of 55.2. There was a net slowdown in new orders growth
Input prices increased at the fastest rate on record while prices charged also increased strongly with output prices increasing at close to the highest rate on record, although overall business optimism held firm.
The Richmond Fed manufacturing survey dipped sharply into contraction while cost pressures increased which reinforced stagflation fears.
Euro-zone inflation pressures continue
The Euro-zone PMI manufacturing index retreated to an 18-month low of 54.4 from 55.5 and slightly below expectations of 54.9 while the services-sector index was also below expectations at a 2-month low of 56.3 from 57.7.
Cost pressures eased slightly, although output prices increased at the second-fastest rate on record.
ECB splits in evidence
ECB President Lagarde stated that markets should not translate words into percentage point moves, but also commented that the bank is attentive to the level of the Euro. Council member Holzmann stated that a 50 basis-point hike would be appropriate in July, but fellow member Villeroy stated that this was not part of the consensus.
There is a clear consensus that rates will be increased in July.
Euro retreats from 1-month high
The Euro continued to make headway on Wednesday amid hawkish ECB rhetoric and EUR/USD hit 1-month highs just below 1.0750 before stalling as short covering on the Euro crosses eased. The dollar recovered slightly from 1-month lows earlier in the day.
UK business confidence slides
The UK PMI manufacturing index dipped to a 16-month low of 54.6 for May from 55.8 the previous month and slightly below expectations of 54.6. Most attention focussed on the services sector with a sharp retreat to a 15-month low of 51.8 from 58.9 previously and well below consensus forecasts of 56.9.  There was a slowdown in orders growth with the sharpest slowdown with export sales under pressure. Cost pressures remained strong with input prices increasing at the fastest rate on record.
The rate of output prices slowed slightly amid weaker demand while overall business expectations dipped to 2-year lows.
Kiwi jumps on Hawkish RBNZ rate hike
The Reserve Bank of New Zealand increased interest rates to 2.00% from 1.50% at the latest policy meeting which was in line with expectations.
There was, however, a hawkish shift in guidance with the RBNZ now expecting that rates will be increased faster and further with a peak seen at 3.95% from 3.1% previously.
The New Zealand dollar strengthened and there are likely to be upward revisions to global expectations.
Data Today
19.00: Federal Reserve minutes
Key events over the next week
May 25th: Federal Reserve minutes
June 1st: Bank of Canada policy decision
June 1st: US ISM manufacturing index
June 3rd: US employment report
Gun to head challenge – Update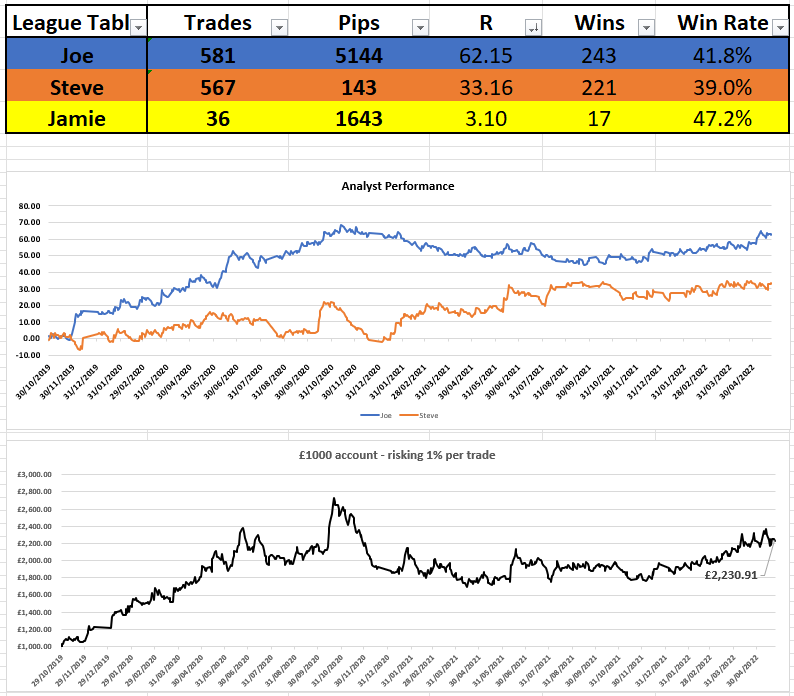 Today's trade idea

Have a great week everyone.
Get award-winning FCA regulated signals and levels on over 30 markets, as well as education resources so you never trade alone.