Good morning and welcome to episode 616 of 'Talking Bull'. In this video/podcast we cover the main headlines and what to expect from the day ahead. 
We take a technical look at key markets that are likely to be impacted by today's events. Also, we participate in a 'Gun to the head' challenge where each of us calls a live trade. These will expire at 9pm tonight and we will keep track of the progress over time.
We hope you enjoy it!
For a selection of free educational content, join our Discord server at – https://discord.gg/Db4UWVFvF6
Show notes:
Steve hit target on NASDAQ for a 3R win! Jamie was onside 0.53R on EURGBP at 9pm, while Joe was offside 0.36R on GBPCHF.
We have included an illustration based on a £1000 account. This will follow the combined return of our morning trades by risking 1% of the trading capital per trade. The 1% risk is a variable monetary amount and will rise and fall based on the success of the calls.
We are currently up 117.32% collectively since we began recording Talking Bull on the 30th October 2019.
News
US Q1 GDP contraction confirmed
The first-quarter GDP estimate was revised down to an annualised rate of -1.5% from the first estimate of -1.3% even though there was an upward revision to consumer spending.
US initial jobless claims declined to 210,000 in the latest week from 218,000 previously and slightly below consensus forecasts while continuing claims increased to 1.35mn from 1.32mn.
US yields contained
The US 10-year bond has settled just below 2.75% and close to 6-week lows with hopes that inflation will be brought under control and that expectations will be contained.
Wall Street rallies
US equities rallied on Thursday with the latest earnings data in the retail sector providing an element of relief. The Nasdaq index also managed a significant recovery during the day with markets attempting to take a more optimistic view over the medium-term inflation outlook which could allow a Fed pause in tightening later in the year.
The Nasdaq index posted a 2.7% advance on the day.
Dollar dips to fresh 1-month lows
A limited shift in medium-term Fed expectations, allied with rate hikes by other global central banks and a decline in US yields, undermined potential support for the US dollar.
The currency index retreated to a 1-month low just below 101.50.
UK fiscal support package
Chancellor Sunak announced a total support package of £15bn to provide support to ease the cost of living crisis and surge in energy costs. As well as universal support measures, there will be additional support for low earners. The support for will be financed in part by a 25% tax on excess profits on the energy sector.
Fiscal support will potentially give increased scope for the Bank of England to raise interest rates further to combat inflation.
Data Today
13.30: US PCE prices index
Key events over the next week
June 1st: Bank of Canada policy decision
June 1st: US ISM manufacturing index
June 3rd: US employment report
Gun to head challenge – Update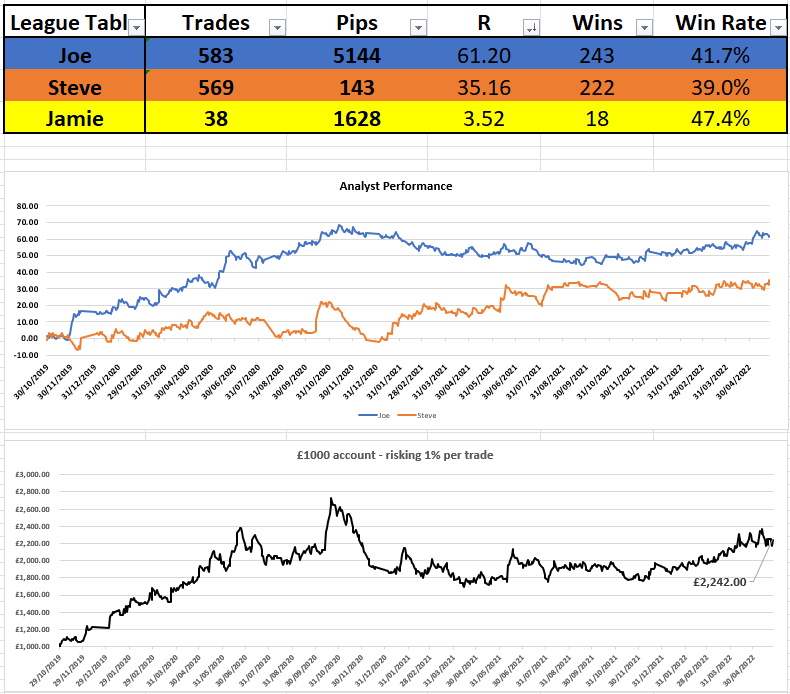 Today's trade idea

Have a great week everyone.
Get award-winning FCA regulated signals and levels on over 30 markets, as well as education resources so you never trade alone.