Good morning and welcome to episode 602 of 'Talking Bull'. In this video/podcast we cover the main headlines and what to expect from the day ahead. 
We take a technical look at key markets that are likely to be impacted by today's events. Also, we participate in a 'Gun to the head' challenge where each of us calls a live trade. These will expire at 9pm tonight and we will keep track of the progress over time.
We hope you enjoy it!
For a selection of free educational content, join our Discord server at – https://discord.gg/Db4UWVFvF6
Show notes:
3 Small wins on Friday. Joe was onside 0.13R on GBPNZD, Steve was onside 0.23R on Gold and Jamie was 0.61R onside on EU50
We have included an illustration based on a £1000 account. This will follow the combined return of our morning trades by risking 1% of the trading capital per trade. The 1% risk is a variable monetary amount and will rise and fall based on the success of the calls.
We are currently up 122.31% collectively since we began recording Talking Bull on the 30th October 2019.
News
US Jobs data keeps US narrative in place
US non-farm payrolls increased 428,000 for April which was the same increase as reported for the revised March data and slightly above consensus forecasts of 395,000. Manufacturing payrolls increased 55,000 on the month and there were net increases across all major job sectors.
The unemployment rate held at 3.6% for the month and slightly above market expectations of 3.5%. There was a decline in the participation rate for the month and the household survey recorded an employment decline of over 350,000 on the month which will cause some unease within the Federal Reserve amid concerns over a lack of labour supply.
Average hourly earnings increased 0.3% on the month, slightly below expectations of 0.4% with a year-on-year increase of 5.5% from 5.6% previously.
US bond yields surge again
After a limited decline following Chair Powell's comments on Wednesday, US yields moved sharply higher on Thursday.
The US jobs data did not disrupt expectations that the Fed would sanction another 50 basis-point rate increase at the June meeting.
The 10-year yield increased to highs near 3.15% and the highest level since early December 2018 amid fears over increased inflation pressures.
Equities remain vulnerable, dollar makes further gains
US equites attempted to rally at times on Friday, but eventually came under further selling pressure amid fears over higher yields and a tightening of financial conditions.
The S&P 500 index declined sharply to near 12-month lows.
Unease over the Chinese outlook also continued to underpin the US dollar on defensive grounds with the currency index strengthening to a fresh 20-year high.
BoE's Pill preaches caution
Bank of England chief economist Pill confirmed that two members did not sign up to the BoE's guidance as they considered that enough may have already been done. He added that the bank should no over-respond to short-term developments or be over-aggressive with policy moves.
Markets continue to shun Sterling
The latest CFTC data recorded a further net increase in short Sterling positions to near 74,000 contracts and the largest short position since October 2019 as global speculators maintained a negative stance.
UK local election and Northern Ireland Assembly results reinforced domestic political concerns.
Canadian job gains fail to meet expectations
The latest Canadian labour-market data recorded an employment increase f just over 15,000 for April compared with expectations of an increase close to 40,000, although the unemployment rate met expectations with a marginal decline to 5.2% from 5.3% previously.
Data Today
14.00: Bank of England MPC member Saunders speech
Key events over the next week
May 11th: US consumer prices
Gun to head challenge – Update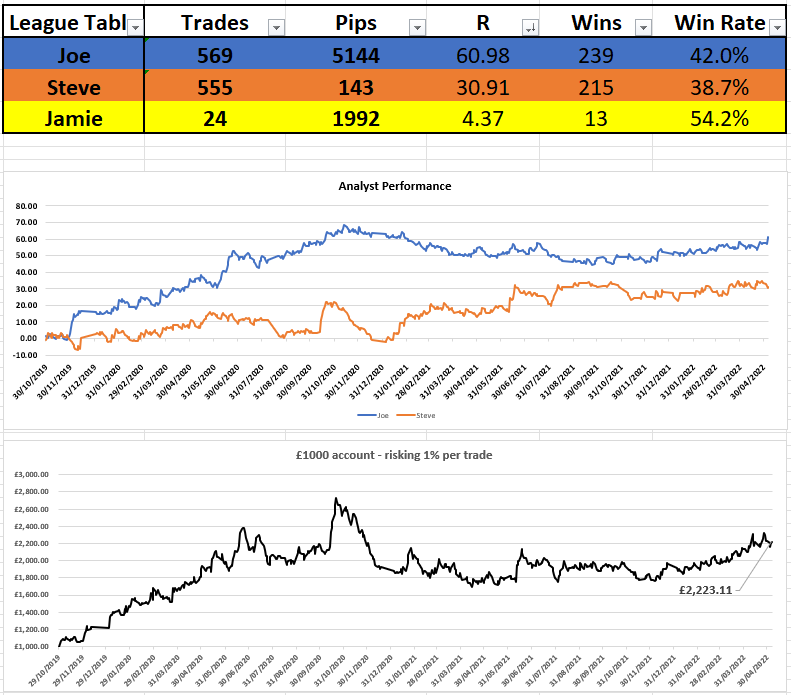 Today's trade idea

Have a great week everyone.
Get award-winning FCA regulated signals and levels on over 30 markets, as well as education resources so you never trade alone.