Signal Centre's top 5 stock picks for the month ahead
Equities and other risk assets are attempting to stabilise from the volatility experienced in November. In the past week we have seen risk events in the US from the mid-term elections, and so far, the fallout has been quite bullish for equity markets. Investor sentiment has improved, which has boosted confidence to invest in riskier assets.
The politics in the US may only prove to be a minor distraction from other large issues in play at present, which are Brexit, the Italian budget situation and the ongoing trade spat between the US and China.
The Bank of England struck a cautious tone at the November meeting by unanimously voting to keep rates on hold, although the inflations expectations were raised from 2.3% to 2.5% for 2018. The Bank now expects inflation to be back at the 2% target by 2021.
With regard to the economic outlook the BoE said the this will depend "significantly" on the nature of the EU withdrawal and the monetary policy response to Brexit, whatever it will be, "will not be automatic and could be in either direction".
Before we reveal our 5 picks for the November, here is our technical view on the FTSE 100.
FTSE 100
The FTSE has lost some of the bullish momentum over the past few months and price has broken out of a long-term bullish channel. The overall the trend now has some serious questions marks over its health and should the major support at 6865 break, we could be in for a prolonged period of downturn in the UK markets. For now, the level remains intact and there is a range forming between 6865 and 7794. The bullish engulfing candle posted on the weekly chart is bullish for short term sentiment and adds further weight to the idea of a range forming. While we remain at the lower end the range the risk versus reward is favourable to buy. We remain happy to participate in buying high quality shares for now. The bullish stance would become invalid on a break below key support at 6865.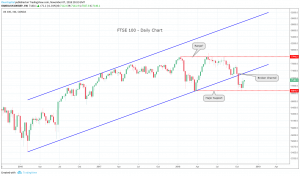 Anglo American (AAL)
Anglo American PLC is a global mining company. The Company's mining portfolio includes bulk commodities including iron ore, manganese, and metallurgical coal, base metals including copper and nickel and precious metals and minerals including platinum and diamonds. Anglo American has mining operations in Africa, Europe, North and South America, Asia, and Australia.
Fundamentals
In their most recent update to the market Anglo American reported lower diamond, coking coal and iron volumes in the 3rd Quarter, but overall output rose by 1% on the year, boosted by a 17% increase in copper production. According to analysts Bernstein the copper results was 'comfortably above' estimates and they maintained their 'Outperform' view on the stock.
Best Broke Target Price: 2290p (JP Morgan 10/09/2018)
Worst Broker Target Price: 1720p (Credit Suisse 23/04/2018)
Technical Analysis
Anglo American has spent the past few months moving sideways as the shares consolidate on the large run higher between 2016 to the middle of 2018. What now appears to be forming is a large inverse head and shoulders bottom pattern. The head and shoulders setup are considered one of the most powerful reversal patterns in technical analysis and generally suggests a change in trend is occurring. The break of resistance at around 1740p will confirm the consolidation period has ended and the long-term uptrend can resume.
Recommendation: Buy
Entry: 1700-1775p
Stop: 1635p
Target: 1950p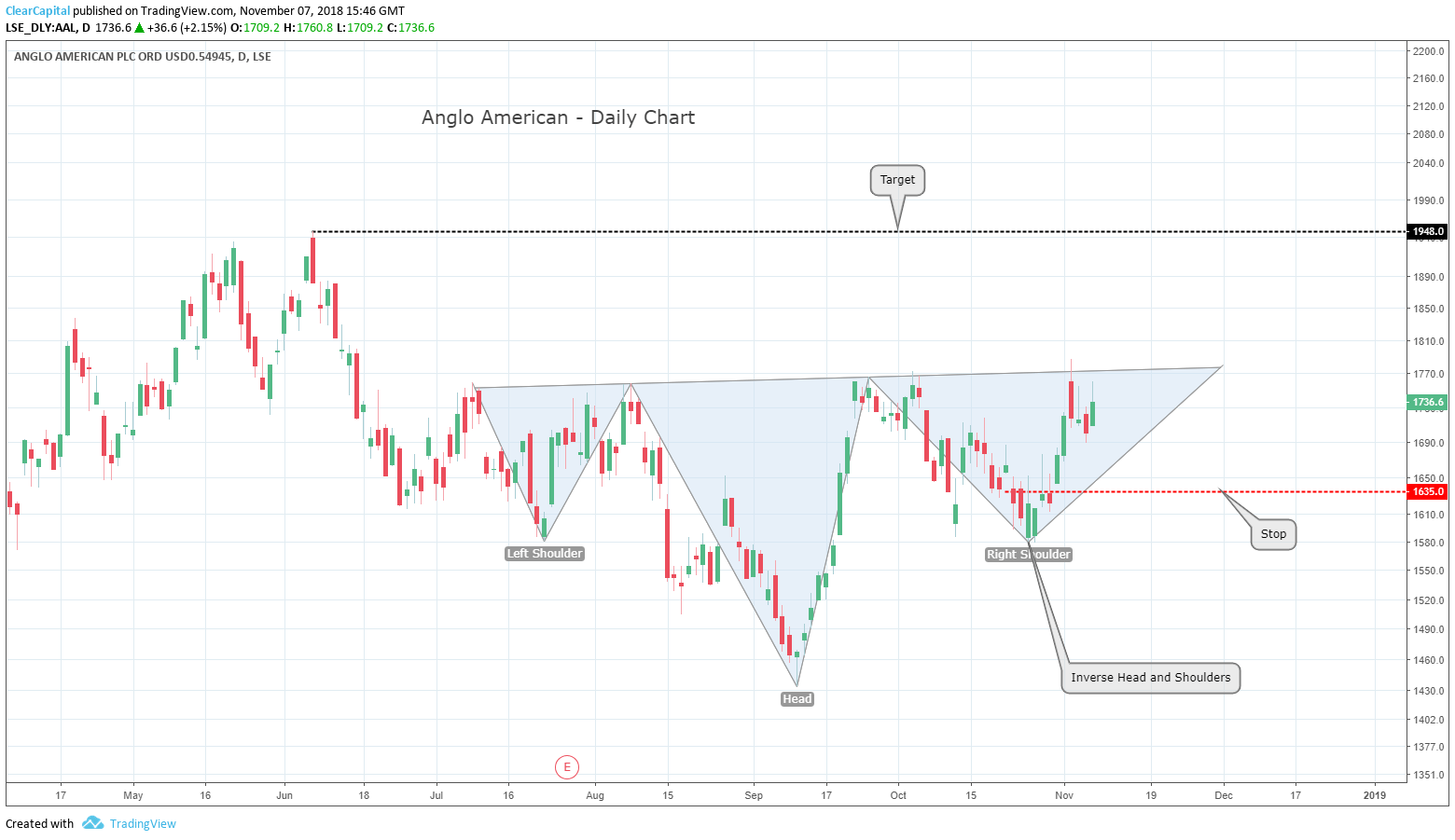 Diageo (DGE)
Diageo plc produces, distills, and markets alcoholic beverages. The Company offers a wide range of branded beverages, including vodkas, whiskeys, tequilas, gins, and beer.
Fundamentals
Diageo has a diverse brand portfolio with global exposure and the shares offer long-term growth potential. Diageo has strong geographic diversity, especially in emerging economies which provides a defensive investment opportunity. The are rumours that Diageo are considering a partnership with Canadian cannabis firms, with an aim of offering a cannabis infused drink. Diageo does have a decent track record when is comes to innovation, having previously success with drinks such as Gordon's Pink, Haig Clubman and Smirnoff Cider. Diageo's management are committed to growing revenues and fundamental case remains strong.
Best Broker Target Price: 3200p (Citigroup 30/10/2018)
Worst Broker Target Price: 2550p (Berenberg 12/09/2017)
Technical Analysis
Diageo is one of the most consistent long-term performers on the FTSE100. The shares are trading in a neat bullish channel and pullbacks are typically attract buying interest. The shares pulled back to the lower end of the channel and found buyers. The bullish engulfing candle on the weekly chart is bullish for near term sentiment. A move higher towards the upper end of the channel is expected over the medium to long term.
Recommendation: Buy
Entry: 2600-2700p
Stop: 2510p
Target: 3200p
BP (BP)
BP plc is an oil and petrochemicals company. The Company explores for and produces oil and natural gas, refines, markets, and supplies petroleum products, generates solar energy, and manufactures and markets chemicals. BP's chemicals include terephthalic acid, acetic acid, acrylonitrile, ethylene and polyethylene.
Fundamentals
Profits at oil giant BP more than doubled in the third quarter, boosted by stronger oil prices and higher production from new oil fields. BP chief executive Bob Dudley said: "Operations are running well across BP and we're bringing new, higher-margin barrels into production faster through efficient project execution." Revenues in the 3rd Quarter rose to $80.8bn, which is up from $60.8bn last year. The profits came in ahead of analyst's expectations and the shares have reacted positively. BP paid a dividend of 10.25 cents a share for the third quarter, 2.5% higher than a year earlier.
Best Broker Target Price: 750p (Goldman Sachs 02/11/2018)
Worst Broker Target Price: 610p (UBS 27/09/2018)
Technical Analysis
BP is trading in a solid bullish channel and after the recent pullback, appears to have found some buying interest at the lower end of the channel. There is also support on offer from previous highs at around 528p from back in January 2018. The medium to long term outlook appears bullish, providing the shares continue to trade within the bullish channel.
Recommendation: Buy
Entry: 305-325p
Stop: 289p
Target: 400p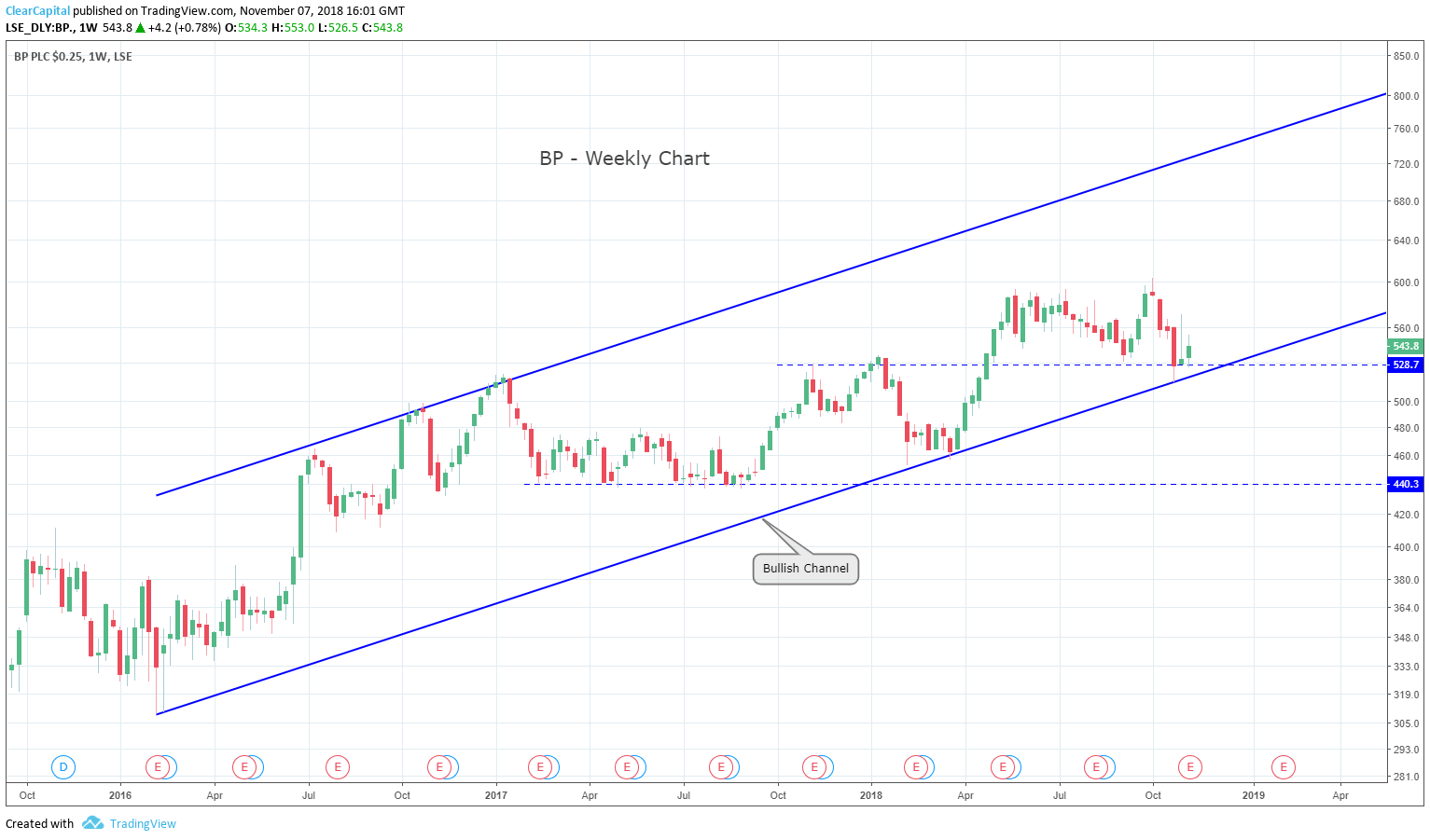 Sainsburys (SBRY)
J Sainsbury plc retails food. The Company operates Sainsbury supermarkets in the United Kingdom, convenience stores, an Internet-based home delivery service, and Sainsbury Bank. The Bank offers saving accounts, credit cards, mortgages, insurance products, and consumer loans.
Fundamentals
Sainsburys beat forecasts with a 20% increase in first-half profits on Thursday 8th November and delivered cost savings from its Argos arm ahead of schedule. Sainsbury is seeking regulatory approval to take over rival Asda and remains on track to meet analysts pre-tax profit forecasts for its 2018-2019 financial year of £634mn which is up from £589mn made in 2017-2018. Group sales rose 3.5 percent to 16.9 billion pounds and the interim dividend was held at 3.1 pence per share. Britain's Competition and Markets Authority (CMA) said last month it expected to issue provisional findings on Sainsbury's planned purchase of Asda early next year.
Best Broker Target Price: 400p (UBS 17/08/2018)
Worst Broker Target Price: 280p (Exane BNP Paribas 07/06/2018)
Technical Analysis
Sainsburys broken higher from a huge range in April 2018, which had previously contained price action going back to 2014. The initial move higher saw the shares reach a price of 340p before retreating. The recent corrective period has allowed the shares to consolidate above the previous range and we have seen a successful retest of the new support. The impulsive move higher last week saw the shares close above the 10-period moving average on the weekly chart and as resumption of the uptrend can now be expected.
Recommendation: Buy
Entry: 290-305p
Stop: 265p
Target: 400p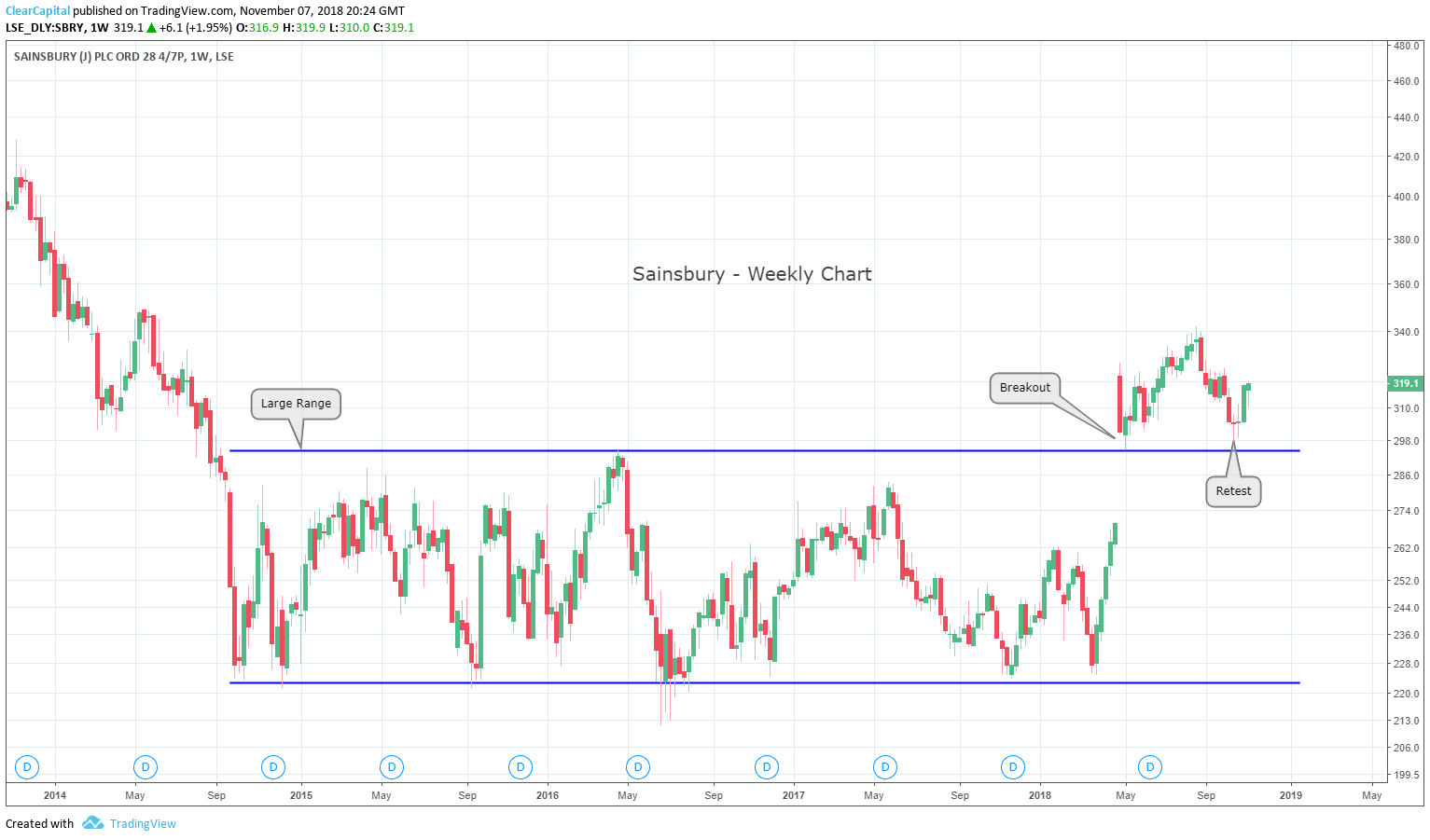 Next (NXT)
Next Plc conducts retailing, home shopping, and customer services management operations. The Company's retail stores sell ladies wear, men wear, children wear, and housewares.
Fundamentals
Next reaffirmed its full year guidance as the clothing & homeware retailer reported sales in-line with expectations for the 3rd Quarter, despite a slowdown in growth from the first half of the year. In the last announcement sales were up 2% on the previous year, with online sales surging by 12.7%. Next maintained its full-year sales and profit guidance and expects full-year profit before tax to total around £727million, with EPS growth of over 5%. Next's investment into digital channels appears to be paying off, we therefore expect to see continued robust performance.
Best Broker Target Price: 6700p (RBC Capital Markets 31/10/2018)
Worst Broker Target Price: 3650p (Berenberg Bank 01/11/2017)
Technical Analysis
Next has been trading in a tight corrective channel for the past few weeks following the break of previous resistance at 5280p. The corrective channel has found support at the breakout level and is showing signs of holding. Last week the shares closed above the 10-period moving average on the weekly chart, which could indicate the corrective phase is about to end and the uptrend will resume. Risk/Reward is favourable at this level to buy with a stop below the recent low.
Recommendation: Buy
Entry: 5250-5500p
Stop: 4980p
Target: 6400p