Good morning and welcome to episode 603 of 'Talking Bull'. In this video/podcast we cover the main headlines and what to expect from the day ahead. 
We take a technical look at key markets that are likely to be impacted by today's events. Also, we participate in a 'Gun to the head' challenge where each of us calls a live trade. These will expire at 9pm tonight and we will keep track of the progress over time.
We hope you enjoy it!
For a selection of free educational content, join our Discord server at – https://discord.gg/Db4UWVFvF6
Show notes:
Another bumper session yesterday with 3 big wins. Steve and Jamie hit targets on Oil and NZDJPY for 2.50R and 2R respectivley. Joe was onside 2.55R on DAX at 9pm.
We have included an illustration based on a £1000 account. This will follow the combined return of our morning trades by risking 1% of the trading capital per trade. The 1% risk is a variable monetary amount and will rise and fall based on the success of the calls.
We are currently up 135.13% collectively since we began recording Talking Bull on the 30th October 2019.
News
Risk appetite continues to slide
Risk appetite deteriorated further on Monday with increased fears over the global outlook. There were also fears over a further tightening of financial conditions which would trigger further deleveraging in global markets.
Wall Street equities remained under heavy pressure with the Nasdaq index sliding 4.3% to 18-month lows.
US bond yields edge lower
Atlanta Fed President Bostic stated that 50 basis-point increases are pretty aggressive and that the Fed can stay at this pace with no need for 75 basis-point increases. He added that the Fed Funds rate needs to be in a range of 2-2.5% by the end of 2022.
Markets had priced in close to a 75% chance of a 75 basis-point rate hike at the June meeting, but there has been a slight easing of expectations, especially with the slide in equities.
Dollar retreats from 20-year highs
The dollar posted fresh 20-year highs in early Europe on Monday with support on yield and defensive grounds.
The US currency corrected weaker later in the day and edged lower on Tuesday with a covering of short Euro and Sterling positions having a significant impact while US yields also declined.
Oil prices retreat sharply
Oil prices were resilient last week despite the slide in equities with crude underpinned by supply concerns.
Prices, however, declined sharply during Monday with markets fretting over demand conditions, especially in China.
WTI slumped close to 10% from intra-day highs to near $100 p/b before staging a limited recovery.
BoE's Saunders committed to inflation fight
Bank of England MPC member Saunders stated that key measures of longer-term inflation expectations are uncomfortably high and that a process of de-anchoring expectations would be very costly in economic terms. In this context, the bank should lean heavily and the risk of higher inflation becoming embedded and that he wanted to move quickly to a more neutral stance.
He added that an estimate of the neutral rate is between 1.25-2.50%, but he did not back a rate increase of 75 basis points at the latest policy meeting with the choice between 25 and 50 basis points.
Swiss franc loses ground
Swiss sight deposits increased to CHF750.9bn in the latest week from CHF744.4bn previously. The notable increase for the week suggests that the National Bank had been intervening more aggressively to help push the franc weaker.
The franc was again unable to gain support from the slide in risk appetite with the currency undermined by expectation of higher global yields. The Euro strengthened further to highs near 1.05 while the dollar posted a fresh 26-month high around 0.9965.
Data Today
10.00: German ZEW index
Key events over the next week
May 11th: US consumer prices
Gun to head challenge – Update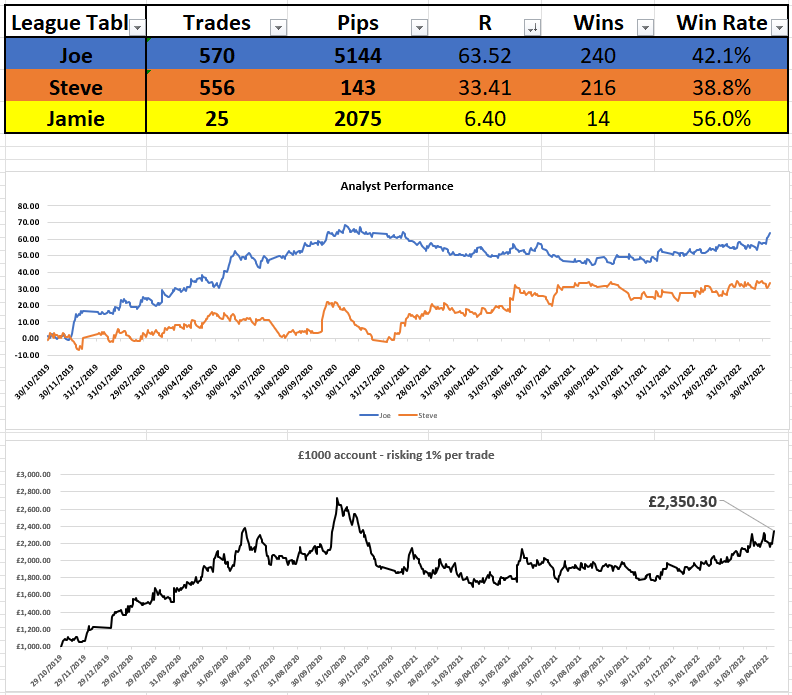 Today's trade idea

Have a great week everyone.
Get award-winning FCA regulated signals and levels on over 30 markets, as well as education resources so you never trade alone.