Good morning and welcome to episode 660 of 'Talking Bull'. In this video/podcast we cover the main headlines and what to expect from the day ahead. 
We take a technical look at key markets that are likely to be impacted by today's events. Also, we participate in a 'Gun to the head' challenge where each of us calls a live trade. These will expire at 9pm tonight and we will keep track of the progress over time.
We hope you enjoy it!
For a selection of free educational content, join our Discord server at – https://discord.gg/Db4UWVFvF6
Show notes:
Joe was onside 1.08R on DXY. Jamie was onside 0.11R on USDCAD. Steve was stopped on NASDAQ.
We have included an illustration based on a £1000 account. This will follow the combined return of our morning trades by risking 1% of the trading capital per trade. The 1% risk is a variable monetary amount and will rise and fall based on the success of the calls.
We are currently up 131.83% collectively since we began recording Talking Bull on the 30th October 2019.
News
Hawkish Fed rhetoric
San Francisco Fed President Daly stated that work on inflation is nowhere near almost done and that the Fed has a long way to go on the task. She added that the central bank is looking at incoming data to decide if the pace of rate hikes can be downshifted or maintained at the current pace.
Chicago head Evans stated that he is hopeful that the Fed can increase rates by 50 basis points in September and then continue with rate hikes until the beginning of the second quarter of 2023. He expects to see a Fed Funds rate of 3.75-4.00% by the end of 2023.
Cleveland Fed President Mester stated that she hadn't noticed any evidence that inflation has even begun to level off.
US yields increase sharply
The overall rhetoric from Daly was hawkish and comments from Evans suggested a notably higher peak in rates than expected by markets. Treasuries declined sharply after the Wall Street open with the 10-year yield increasing sharply to above 2.70%.
Dollar recovers strongly
High bond yields were a crucial element in triggering a notable dollar rebound during Tuesday. The dollar index rebounded strongly from 4-week lows, although it faded from peak levels seen in Asia.
Taiwan concerns continue
US House of Representatives Speaker Pelosi's plane landed in Taiwan around the European close and there was some relief that there was no immediate response from Beijing. China, however, announced that there would be military exercises surrounding Taiwan from August 4th which maintained underlying concerns.
There were also further reservations over the possible impact on the Ukraine war if China moves closer to Russia.
Solid Chinese data
China's Caixin PMI services index strengthened to 55.5 for July from 54.5 previously which provided an element of relief over trends in the domestic economy.
Data Today
15.00: US ISM non-manufacturing index
15.30: US crude oil inventories
Key events over the next week
August 4th: Bank of England policy decision
August 5th: US employment report
August 5th: Canada employment report
Gun to head challenge – Update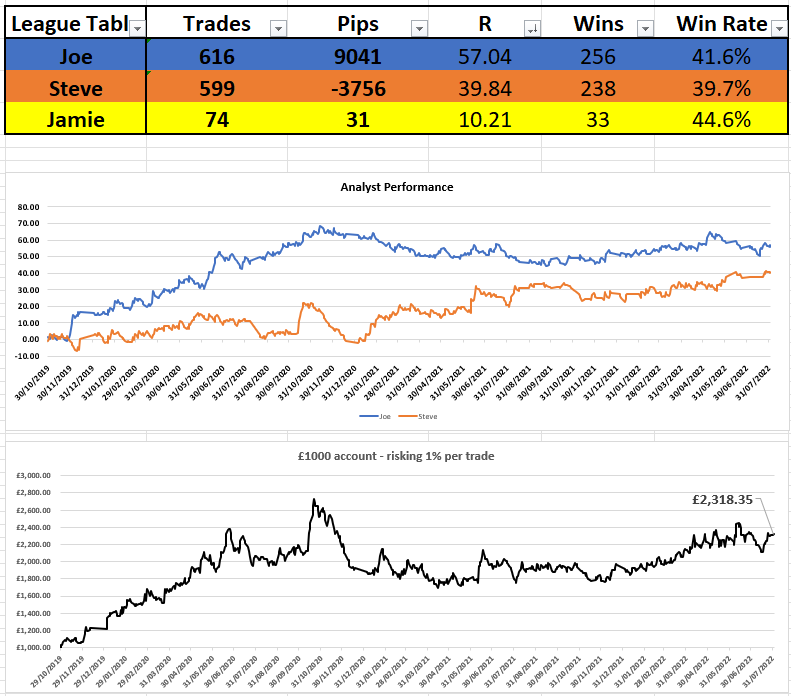 Today's trade idea

Have a great week everyone.
Get award-winning FCA regulated signals and levels on over 30 markets, as well as education resources so you never trade alone.