Good morning and welcome to episode 388 of 'Talking Bull'. In this video/podcast we cover the main headlines and what to expect from the day ahead. 
We take a technical look at key markets that are likely to be impacted by today's events. Also, we participate in a 'Gun to the head' challenge where each of us calls a live trade. These will expire at 9pm tonight and we will keep track of the progress over time.
We hope you enjoy it!
Join us on Telegram for more content – https://t.me/SCFree
Show notes:
Steve made 0.14R on DAX on Friday.
We have included an illustration based on a £1000 account. This will follow the combined return of our morning trades by risking 1% of the trading capital per trade. The 1% risk is a variable monetary amount and will rise and fall based on the success of the calls.
We are currently up 78.90% collectively since we began recording Talking Bull on the 30th October 2019.
News
The Group of Seven rich nations secured a landmark deal that could help countries collect more taxes from big companies and enable governments to impose levies on U.S. tech giants. The deal satisfies a demand from the U.S. for a minimum corporate tax rate of "at least 15%" on foreign earnings and will pave the way for levies on companies in the countries in which they operate, rather than just those they are based in. Note, however, that key details need to be nailed down and the full implementation could take years with a need for more countries to sign up. Ireland, for example, has already expressed concerns given the hit its revenue would take.
It is too early to say whether the planned easing of virus restrictions in the U.K. will go ahead on June 21, U.K. Health Secretary Matt Hancock said as the government contends with rising cases and the threat of another wave of infections. The caution comes after the U.K. last week removed Portugal from its "green list" of countries it is relatively easy to travel to, a decision made as holiday bookings rise in the European Union to potentially mitigate the hit for airlines and tour operators. Meanwhile, the U.K. plans to donate more than 100 million Covid-19 shots to developing countries.
AMC Entertainment and GameStop, the defining names of the meme stock craze, are set to remain clearly in focus this month in the leadup to the final determination of whether both will join the large-cap Russell 1000. Inclusion could prove an issue for the two meme stocks, given their representation in the larger-cap index will be much less impactful. In the immediate term, however, AMC and its wild recent ride, including an embrace of the retail trader crowd contrasting with GameStop, will continue to take up air.
Bitcoin slipped over the weekend following a relatively calm week for the biggest cryptocurrency only disturbed by an Elon Musk tweet. On Sunday, Bitcoin and other tokens fell amid worries about a further crackdown on the industry in China, after social-media service Weibo appeared to suspend some crypto influencer accounts. In addition, a Goldman Sachs report served to remind that institutional adoption of the cryptocurrency may be a long road.
US job numbers on Friday fell into the 'Goldilocks' camp, growing but below expectations, while wage growth was also deemed to have grown at just the right pace for investors not to fret too much about inflation. The news propped up risk assets, which had spent much of the week struggling for direction.
Some of the optimism was dialed back following China trade data that grew at a slower-than-expected pace, although still up strongly from last year's depressed figure.
Today is another empty day from a macro perspective, leaving markets searching a new for catalysts to drive movement.
Data Today
None
Gun to head challenege – Update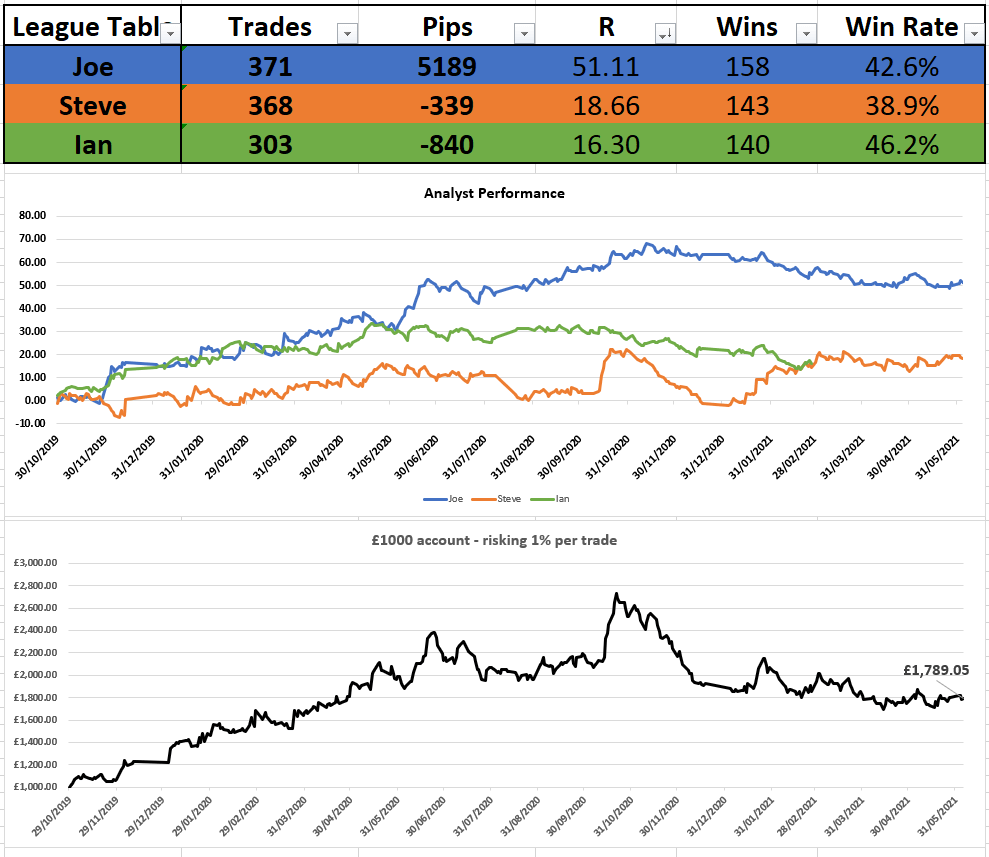 Today's trade idea

Have a great week everyone.
Get award-winning FCA regulated signals and levels on over 30 markets, as well as education resources so you never trade alone.