Good morning and welcome to episode 459 of 'Talking Bull'. In this video/podcast we cover the main headlines and what to expect from the day ahead. 
We take a technical look at key markets that are likely to be impacted by today's events. Also, we participate in a 'Gun to the head' challenge where each of us calls a live trade. These will expire at 9pm tonight and we will keep track of the progress over time.
We hope you enjoy it!
Join us on Telegram for more content – https://t.me/SCFree
Show notes:
Joe made 0.53R on S&P 500 yesterday.
We have included an illustration based on a £1000 account. This will follow the combined return of our morning trades by risking 1% of the trading capital per trade. The 1% risk is a variable monetary amount and will rise and fall based on the success of the calls.
We are currently up 93.33% collectively since we began recording Talking Bull on the 30th October 2019.
News
The U.K. is getting ready to roll out booster shots to the most vulnerable people this fall, setting out a new approach to deal with the coronavirus pandemic. The boosters, alongside vaccines offered to younger teenagers, are part of a strategy to move away from lockdowns toward more individual choices. The decision comes even as an all-star team of scientists found that Covid-19 vaccines work so well that most people don't yet need a booster.
Apple said it patched a flaw that allowed hackers to gain access to a device even if users didn't click on malicious files. The flaw had allowed a hacker using Israel-based NSO's Pegasus malware to gain access to a device owned by an unnamed Saudi activist. The tech giant is also getting ready to unveil the latest iPhones and Apple Watches on Tuesday.
An important set of U.S. inflation data looms, figures that could help determine when the Federal Reserve cuts down on stimulus. Consumer price index data on Tuesday are expected to show an annual pace of inflation of 5% or more for a fourth month. Price pressures are also a potential problem for President Joe Biden's $3.5 trillion social spending agenda on concerns that such outlays might keep inflation elevated.
The office is — almost — back as occupancy rates in major U.K. cities rose to 90% from just 58% a week earlier. The data, measured through the use of sensors in office buildings, provide further evidence that the return to the office is gaining steam despite complications from the spread of Covid-19's delta variant. Wall Street titans also just flocked to the U.S. Open tennis tournament, another sign of gradual normalization.
A mixed affair overnight has seen Japanese and Australian gains, as Chinese and Hong Kong stocks lose ground. The Chinese economy was dealt another blow, after officials had to place fresh restrictions on Fujian province in the face of rising cases.
Meanwhile, the Nikkei 225 hit levels not seen since 1990. UK jobs data saw the claimant count figure fall short of expectations, although the decline of -58.6k was welcome after a moderate figure of -7.8k last month. Unemployment fell, while average earnings starts to moderate somewhat as it fell from 8.8% to 8.3%. Looking ahead, keep an eye out for the latest US CPI inflation figures.
Data Today
1.30pm – US CPI (August): prices to rise 0.4% MoM from 0.5%, and 5.2% YoY from 5.4%. Markets to watch: USD crosses
Gun to head challenge – Update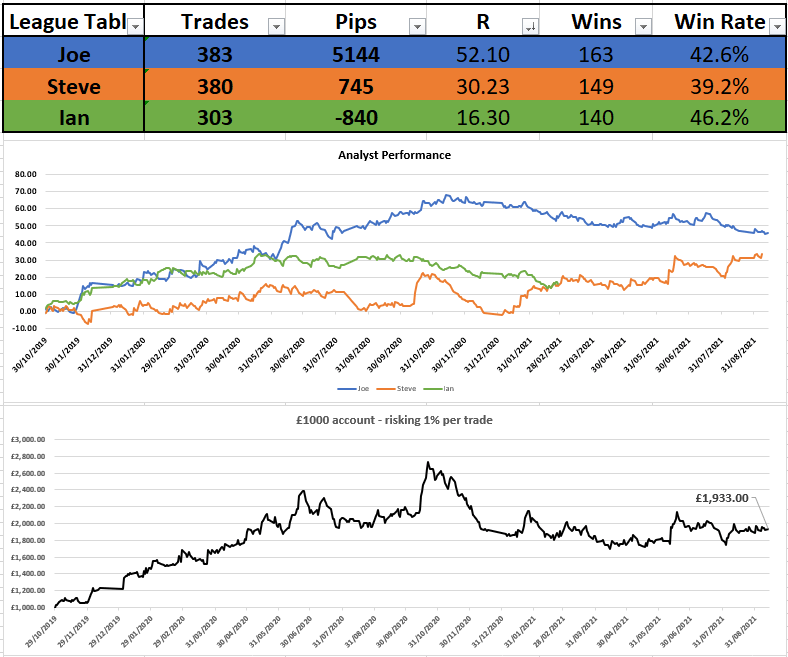 Today's trade idea

Have a great week everyone.
Get award-winning FCA regulated signals and levels on over 30 markets, as well as education resources so you never trade alone.