Good morning and welcome to episode 680 of 'Talking Bull'. In this video/podcast we cover the main headlines and what to expect from the day ahead. 
We take a technical look at key markets that are likely to be impacted by today's events. Also, we participate in a 'Gun to the head' challenge where each of us calls a live trade. These will expire at 9pm tonight and we will keep track of the progress over time.
We hope you enjoy it!
For a selection of free educational content, join our Discord server at – https://discord.gg/Db4UWVFvF6
Show notes:
Jamie made 1.20R on XRP. Steve and Joe were stopped out on EURUSD and Oil.
We have included an illustration based on a £1000 account. This will follow the combined return of our morning trades by risking 1% of the trading capital per trade. The 1% risk is a variable monetary amount and will rise and fall based on the success of the calls.
We are currently up 158.24% collectively since we began recording Talking Bull on the 30th October 2019.
News
US unemployment rate edges higher
US non-farm payrolls increased 315,000 for August and slightly above consensus forecasts of 300,000 after a revised 526,000 increase the previous month. Manufacturing jobs increased 22,000 on the month with a 16,000 gain in construction employment and net gains in most sectors.
According to the household survey, the unemployment rate increased to 3.7% from 3.5% with a strong increase of over 440,000 in the number of employed offset by a significant increase in the participation rate on the month. There was a sharp decline in the number of people not in the labour force which suggests that the supply of labour has improved.
Moderate increase in wages
Average hourly earnings increased 0.3% for the month compared with expectations of a 0.4% increase and the year-on-year increase held at 5.2%.
The slightly weaker than expected wages growth, coupled with evidence of increased labour-market supply triggered some optimism that the Federal Reserve might be able to take a slightly less hawkish stance.
Euro-Zone gas fears intensify
Late on Friday, Gazprom announced that gas supplies through the Nord-Stream pipeline would not re-start on Saturday due to an oil leak and no timetable was issued for a resumption of supplies.
Markets assumed that the move was in retaliation for the G7 move to cap Russian oil prices.
Gas prices surged at the European open on Monday.
Euro and Sterling crumble
Fears surrounding energy prices were important in triggering another dip in confidence within the Euro and Sterling.
EUR/USD dipped to 19-year lows just below 0.9900 and GBP/USD slumped to fresh 30-month lows at 1.1450.
Markets looking for UK fiscal plans
The new UK Prime Minister will be formally announced later on Monday with very strong expectations that Truss will be declared the winner. Markets will be looking closely at immediate proposals on taxation, spending and additional support for both households and businesses.
RBA expected to hike rates again
The Reserve Bank of Australia will announce its latest policy decision on Tuesday with consensus forecasts for a further rate increase to 2.35% from 1.85%.
Data Today
16.30: Bank of England Mann speech
OPEC meeting
05.30 (Tues): Reserve Bank of Australia policy meeting
Key events over the next week
September 7th: Bank of Canada policy decision
September 8th: ECB policy decision
September 9th: Canada employment report
Gun to head challenge – Update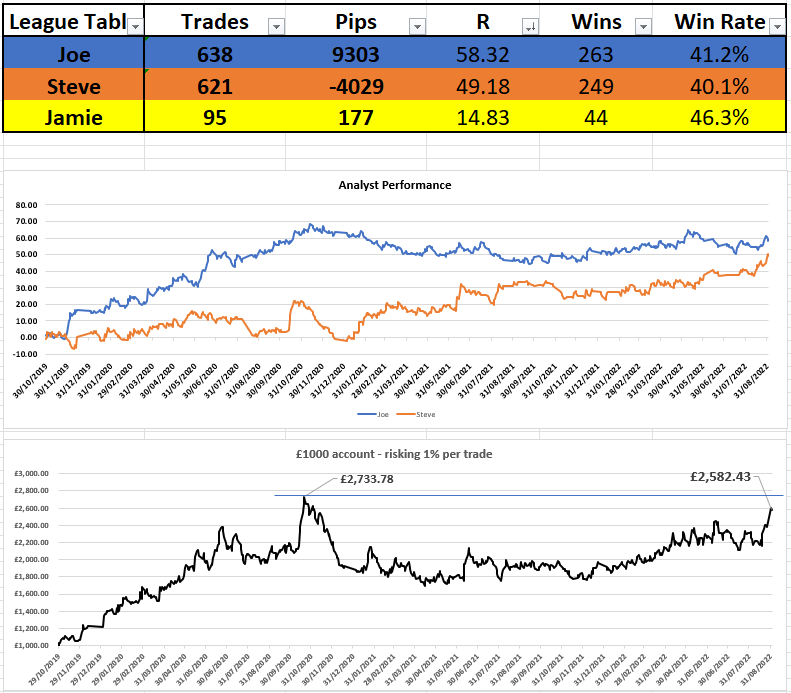 Today's trade idea

Have a great week everyone.
Get award-winning FCA regulated signals and levels on over 30 markets, as well as education resources so you never trade alone.