Aston Martin IPO
Aston Martin is preparing to list its shares in London after the brand synonymous with U.K. spymaster James Bond pulled off a multi-year turnaround.
Background
Here is the History of Aston Martin, according to Wikipedia…
Aston Martin Lagonda Limited is a British manufacturer of luxury sports cars and grand tourers. It was founded in 1913 by Lionel Martin and Robert Bamford. Steered from 1947 by David Brown, it became associated with expensive grand touring cars in the 1950s and 1960s, and with the fictional character James Bond following his use of a DB5 model in the 1964 film Goldfinger. Their sports cars are regarded as a British cultural icon. Aston Martin has held a Royal Warrant as purveyor of motorcars to the Prince of Wales since 1982. It has over 150 car dealerships in over 50 countries on six continents making them a global automobile brand.
Valuation
The UK automaker is rumoured to have a valuation of between £4-5billion, putting in straight into the FTSE100. Full details of the floatation are to be set out around the 20th September 2018.
Many similarities are being drawn to Ferrari, who underwent their own premium listing back in January 2016 at €42.40 a share and went on to hit highs of €127.65 in June this year.
Ferrari, like Aston Martin has broadened its horizons beyond cars and experimented with Yachts, apartments and flag ship stores in wealthy areas. Ferrari currently trades at about 36 times estimated 2018 earnings, which compared to the average in the Stoxx Europe 600 Automobile & parts index of 7.3 looks a bit rich.
The valuation might look more reasonable once we get the full details of the prospectus and hear the growth case for the company.
It is also possible that the valuation will go public at a lower level, which could make it a stronger case for investment. Based on what we have seen with its closest comparable, Ferrari, then its probably worth a closer look.
Away from the hype
Aston Martin is owned by London-based Investindustrial Advisors and Kuwaiti Investment Dar. It is expected that at least 25% of the company's stock will be made available for purchase. Neither investor plan to completely exit and Daimler AG (Mercedes-Benz) plan to retain their 4.9% stake.
The share sale in London would cement the icons comeback. Aston Martin surpassed 5,000 deliveries in 2017 for the first time since 2008 and expects to exceed its 2017 guidance of £180million in adjusted earnings on more than £840million of revenue.
Growth Potential
Aston Martin has returned to profitability, largely driven by its consulting business and increased revenue from sales of its special edition vehicles, including the Vanquish Zagato and DB4 GT. But what will drive future growth?
The company has licensed its name for use on apartment blocks and even a submarine and hope to follow in Ferraris foot steps by using its exclusivity to appeal to investors.
Aston Martin's share holders pumped in £200 million worth of investment in 2014 to update its model line and produce new lower emission vehicles. Its first SUV (Sports Utility vehicle) is due out next year, which is a very popular market and promises to be a money spinner if they can get it right.
Why go public now?
The Aston Martin brand has been around for over 100 years and in the majority of those years its has failed to make money. The current CEO Andy Palmer, previously of Nissan Motor Company has turned the tables and the company is now producing solid profits. It is therefore currently worth more than it has been for a very long time, if not ever.
If the IPO happens, it will give some of Aston Martins investors the chance to cash in some chips at good valuation given the companies profitability. Aston Martin itself will not be raising any cash from the stock sale.
Brexit could potentially dampen the valuation, so now seems like an ideal time for current investors to realise some gains.
Health of the luxury sector
We touched upon Ferraris success and that it could be a blueprint that Aston Martin hope to follow. But how have other luxury brands in Europe faired over the past couple of years?
Below is chart constructed of the total return of Burberry, Hermes, Ferrari, LVMH, Richemont's collective performance over the past 2 years versus the EuroStoxx600. Each stock represents 20% of the hypothetical portfolio.
Had an investor owned all 5 stocks in equal monetary value at the beginning of August 2016, then you would have seen returns of 112% versus a 27% return from the largest 600 stocks in Europe by market capitalisation. (as of 3rd September 2018)
Its fair to say that demand and appetite for luxury products remains healthy and there is no let up in the gains at present. If this trend continues then the outlook for Aston Martin looks appealing.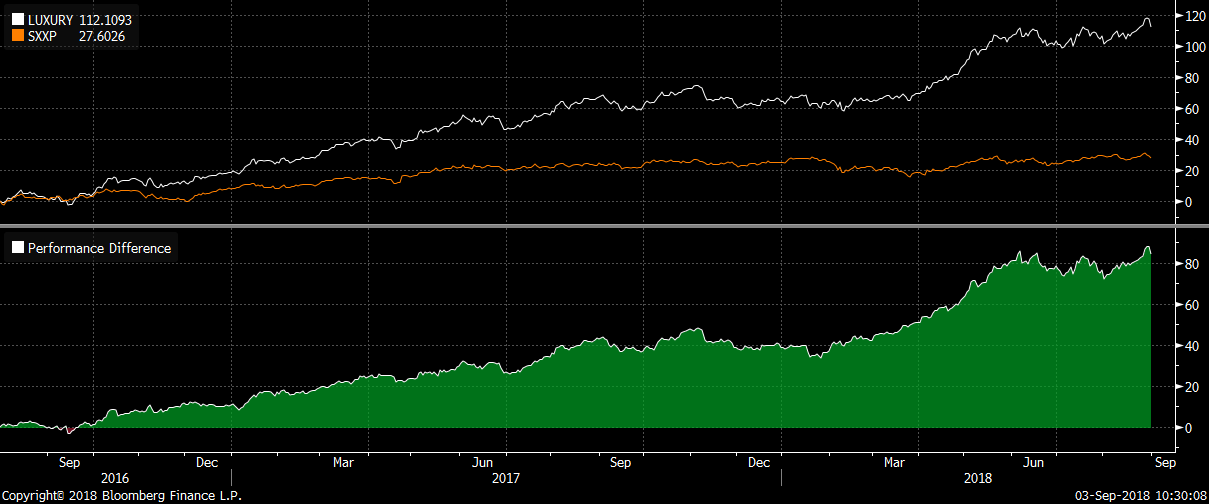 Conclusion
There is clearly a lot of hype surrounding Aston Martin going public. It's a chance for investors that could only ever dream of owning an Aston Martin being to able to participate in the company's potential success.
Overall Aston Martin is a prestigious brand, and will no doubt attract interest. Looking at Ferrari's success, its hard to not get carried away with Aston Martins potential, but as with all investments its necessary to carry out some due diligence.
Aston Martin has £815m of net debt against just £136million of loss absorbing equity. It is hoped that cashflow will improve, but no funds will be raised to reduce the debt pile.
It is important to remember that Aston Martin is owned by 2 private equity firms and their sole purpose is to maximise return for their investors. The initial buzz around the listing could keep the price elevated for a period, but once that dies down the company will live by the sword and be judged by the implementation of its growth strategy.
Its impossible to say what sort of impact will be seen on the share price when the herd-like behaviour of stock market investors is seen on the market. The continued PR of the event is likely to keep interest levels and sky-high levels.
The IPO promises excitement for investors if nothing else.