Good morning and welcome to episode 661 of 'Talking Bull'. In this video/podcast we cover the main headlines and what to expect from the day ahead. 
We take a technical look at key markets that are likely to be impacted by today's events. Also, we participate in a 'Gun to the head' challenge where each of us calls a live trade. These will expire at 9pm tonight and we will keep track of the progress over time.
We hope you enjoy it!
For a selection of free educational content, join our Discord server at – https://discord.gg/Db4UWVFvF6
Show notes:
Joe, Steve and Jamie were all stopped out on thier trades yesterday.
We have included an illustration based on a £1000 account. This will follow the combined return of our morning trades by risking 1% of the trading capital per trade. The 1% risk is a variable monetary amount and will rise and fall based on the success of the calls.
We are currently up 124.85% collectively since we began recording Talking Bull on the 30th October 2019.
News
ISM services data beats expectations
The US ISM non-manufacturing index strengthened to 56.7 for July from 55.3 the previous month and well above consensus forecasts of 53.5. There was a stronger rate of growth in business activity and a stronger rate of increase in new orders. The employment sector remained in contraction for the month, but inventories edged lower.
The prices index declined by the largest amount for over 5 years and registered the weakest reading since March 2021.
Fed inflation warnings continue
San Francisco Fed President Daly reiterated the hawkish stance with comments that the central bank has not completed the fight against high inflation. She added that markets are getting ahead of themselves in pricing in rate cuts for 2023.
As far as rate decisions are concerned, she sees a 50 basis-point rate hike as likely in September, but it could be 75 basis points if the Fed sees inflation roaring ahead.
Minneapolis Head Kashkari stated that a cut in rates in 2023 was very unlikely.
US Yields retreat from intra-day highs
The 10-year bond yield increased to a peak at 2.83% before a retreat to 2.75% later in the session. There was a further net retreat in yields on Thursday as it traded around 2.72% while the yield curve inversion deepened.
Swiss inflation unchanged
Swiss consumer prices were unchanged for July compared with consensus forecasts of a 0.1% decline, although the year-on-year rate was unchanged at 3.4% and slightly below market expectations.
The Swiss franc steadily lost ground during the day with a dip in expectations that the National Bank would decide on any intra-meeting move to raise interest rates.
Markets expect 50 basis-point BoE rate hike
The Bank of England will announce its interest rate decision and release the latest Monetary Policy Report on Thursday.
Consensus forecasts are for a further increase of 50 basis points to 1.75% with the minority backing a 25 basis-point increase.
Forward guidance from the bank will be very important for market reaction.
Data Today
12.00: Bank of England policy decision
13.30: US jobless claims
Key events over the next week
August 5th: US employment report
August 5th: Canada employment report
August 5th: US consumer prices
Gun to head challenge – Update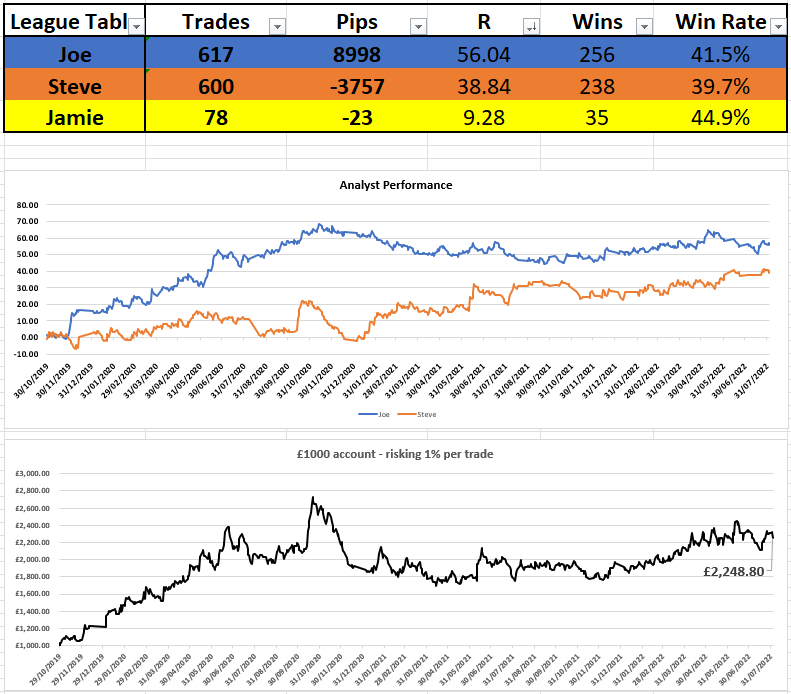 Today's trade idea

Have a great week everyone.
Get award-winning FCA regulated signals and levels on over 30 markets, as well as education resources so you never trade alone.