Good morning and welcome to episode 467 of 'Talking Bull'. In this video/podcast we cover the main headlines and what to expect from the day ahead. 
We take a technical look at key markets that are likely to be impacted by today's events. Also, we participate in a 'Gun to the head' challenge where each of us calls a live trade. These will expire at 9pm tonight and we will keep track of the progress over time.
We hope you enjoy it!
Show notes:
Joe was stopped out on EURSD. Steve made 1.20R on GBPUSD.
We have included an illustration based on a £1000 account. This will follow the combined return of our morning trades by risking 1% of the trading capital per trade. The 1% risk is a variable monetary amount and will rise and fall based on the success of the calls.
We are currently up 89.32% collectively since we began recording Talking Bull on the 30th October 2019.
News
The Bank of England left the door open to an increase in interest rates as early as November as spiking energy prices risk a jump in inflation. Most policy makers agreed future tightening should first start with a rate increase, even if that came before the bond-purchase program expires around the end of the year. This is part of a hawkish turn that also spans the U.S. Federal Reserve, leaving the European Central Bank looking lonelier than ever on the monetary-policy stance.
European bankers are on a quest to reassure clients, regulators and investors that any exposure to troubled Chinese property developer Evergrande is limited. Credit Suisse, which underwrote the most Evergrande bonds among international banks in the last 10 years, issued statements showing its asset management unit's funds didn't hold much of the developer's debt. UBS's risk is "immaterial" and limited to the execution of collateral calls on margin loans, Chief Executive Officer Ralph Hamers said. Chinese regulators are urging Evergrande to take all measures possible to avoid a near-term default on dollar bonds.
Europe's growing energy crisis is claiming more scalps, with Austrian fertilizer producer Borealis having to cut output of ammonia after the cost of the main feedstock, natural gas, jumped. This is a further sign of deepening woes for the industry after the U.K. government said in recent days it would provide "limited financial support" to help CF Industries restart fertilizer production. Russia is unlikely to boost gas shipments until at least November, adding to the signs that Europe's energy woes are going to drag on.
European equity futures are steady. There is little on the earnings calendar but traders could be looking at the latest IFO expectations and business climate indicators from Germany, which may be slightly softer compared to the last readings. This comes ahead of the country's vote this weekend to elect Chancellor Angela Merkel's successor.
Stocks have continued to rally despite the worries caused by the Evergrande and energy crises. A sold day yesterday witnessed the Dow rally 500 points, and while the FTSE 100 failed to make headway the overall picture for European markets was positive for yet another day. In Asia a soaring Nikkei made up for a more lacklustre performance in other markets. Today sees a quieter calendar after the flash PMIs and central bank meetings of earlier in the week, but stock markets look in a much better position than they did a few days ago.
Data Today
9am – Germany IFO index (September): business climate index to fall to 98.8. Markets to watch: EUR crosses
3pm – US new home sales (August): sales to rise 0.5% MoM. Markets to watch: USD crosses
Gun to head challenge – Update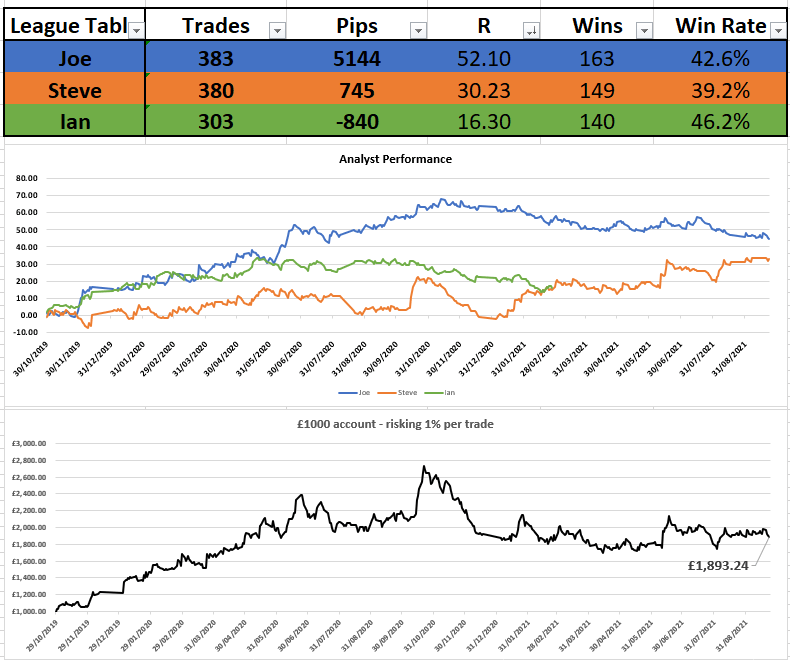 Today's trade idea

Have a great week everyone.
Get award-winning FCA regulated signals and levels on over 30 markets, as well as education resources so you never trade alone.