Good morning and welcome to episode 767 of 'Talking Bull'. Here are the latest headlines today, New York manufacturing index slides, German economic confidence jumps, ECB sources dampen rate expectations, Euro loses support, Canadian inflation declines, Bank of Japan resists further policy changes, Yen slides, Risk appetite holds firm & UK inflation edges lower.

We take a technical look at key markets that are likely to be impacted by today's events. Also, we participate in a 'Gun to the head' challenge where each of us calls a live trade. These will expire at 9pm tonight and we will keep track of the progress over time.
We hope you enjoy it!
For a selection of free educational content, join our Discord server at – https://discord.gg/Db4UWVFvF6
Show notes:
Joe was offside 0.31R on NZDUSD.
We have included an illustration based on a £1000 account. This will follow the combined return of our morning trades by risking 1% of the trading capital per trade. The 1% risk is a variable monetary amount and will rise and fall based on the success of the calls.
We are currently up 215.00% collectively since we began recording Talking Bull on the 30th October 2019.
News
New York manufacturing index slides
The New York Empire manufacturing index slumped to -32.9 for January from -11.2 the previous month. This was substantially below consensus forecasts of -8.7, the weakest reading since mid-2020 and also the fifth lowest reading on record. New orders and production also contracted sharply on the month with a smaller decline in unfilled orders.
There was still a small increase in employment for the month while there was a notable easing of inflation pressures with a smaller increase in prices paid.
Companies were slightly more optimistic over the outlook while expecting cost pressures to ease further.
German economic confidence jumps
The German ZEW economic conditions index improved strongly to 16.9 for January from -23.3 the previous month and substantially above consensus forecasts of -15.0. There was, however, only a small improvement in the current conditions component to -58.6 from -61.4 the previous month.
ECB sources dampen rate expectations
After the Wall Street open, there were reports that the ECB was considering a slowdown in the potential pace and extent of interest rate increases. According to sources, the bank is still expecting to increase rates by a further 50 basis points at the February meeting, but the bank is then considering a smaller increase at the March meeting.
Euro loses support
Following the ECB source report, the Euro dipped sharply across the board with losses against all majors. There was, however, buying on dips as risk appetite held firm.
Canadian inflation declines
The headline Canadian CPI inflation rate declined to 6.3% for December from 6.8% and slightly below expectations of 6.4% as fuel prices dipped sharply on the month.
There was also a small monthly decline in the Bank of Canada core inflation readings.
Bank of Japan resists further policy changes
As expected, the Bank of Japan held interest rates at -0.1%, but also made no further changes to the yield curve control (YCC) policy with the ceiling held at 0.50%. GDP forecasts were revised slightly higher while there was a smaller than expected increase in inflation forecasts.
The central bank also introduced a technical tool to lessen distortions and prevent upward pressure on yields.
Yen slides
Markets had expected a further policy adjustment with yields allowed to increase further and the policy decision triggered heavy yen selling.
The dollar surged to highs just above 131.50 against the yen before a retreat to 130.75 with the decision also helping to underpin risk appetite.
Risk appetite holds firm
The Bank of Japan decision and ECB reports helped underpin risk appetite and equities secured net gains in Asia. Hopes for a rebound in China also helped underpin risk-sensitive currencies.
UK inflation edges lower
The headline UK inflation rate declined to 10.5% from 10.7% previously which was in line with market expectations. The core rate held at 6.3% and marginally above expectations.
Data Today
13.30: US producer prices
13.30: US retail sales
00.30 (Thurs): Australia labour-market report
Key events over the next week
January 24th: Global PMI data
January 25th: Canada interest rate decision
Gun to head challenge – Update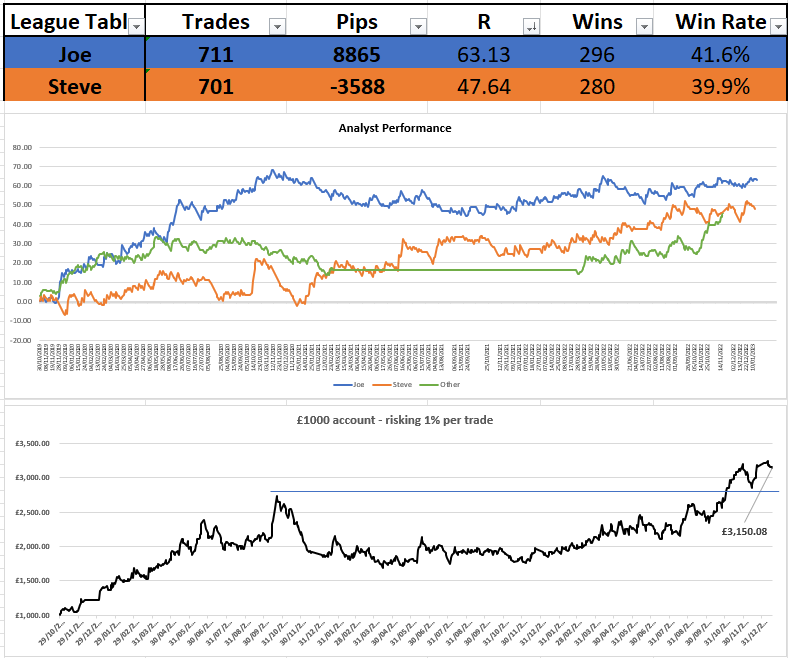 Today's trade idea
Sell GBPJPY @ 160.01
Stop: 161.25
Target: 156.78
Have a great week everyone.
Get award-winning FCA regulated signals and levels on over 30 markets, as well as education resources so you never trade alone.