Good morning and welcome to episode 523 of 'Talking Bull'. In this video/podcast we cover the main headlines and what to expect from the day ahead. 
We take a technical look at key markets that are likely to be impacted by today's events. Also, we participate in a 'Gun to the head' challenge where each of us calls a live trade. These will expire at 9pm tonight and we will keep track of the progress over time.
We hope you enjoy it!
Show notes:
Joe made 2.14R on EURCAD, while Steve was stopped on NASDAQ .
We have included an illustration based on a £1000 account. This will follow the combined return of our morning trades by risking 1% of the trading capital per trade. The 1% risk is a variable monetary amount and will rise and fall based on the success of the calls.
We are currently up 90.26% collectively since we began recording Talking Bull on the 30th October 2019.
News
It's U.S. jobs day and Bloomberg Intelligence expects the report to show a solid pickup in December hiring (360,000) and a decline in the unemployment rate to levels (4.1%) nearing the Fed's long-run neutral rate. That said, given how often households have cited fear of Covid-19 or care-taking needs related to the pandemic as the most important reasons for staying out of the job market, the omicron variant could have discouraged some from working, the analysts add.
Bitcoin continued a weeks-long drop on Friday, falling below $42,000 to levels not seen since September. The largest cryptocurrency declined as much as 4.9% to $41,008, marking a tumble of about 40% from its record near $69,000 reached Nov. 10. Ether dropped as much as 8.3%. The retreat comes after minutes from the Federal Reserve's December meeting this week flagged the chance of earlier- and faster-than-expected rate hikes.
Samsung's quarterly profit climbed more than 50% after chip prices stabilized and sales of smartphones surged, reinforcing hopes the memory industry will emerge from its downturn this year. South Korea's biggest company posted operating income of 13.8 trillion won ($11.5 billion) for the three months ended December, missing estimates after it distributed special bonuses to employees. But revenue jumped a better-than-expected 23%. The company's stock climbed as much as 2%.
The ramifications of Wednesday's Fed minutes continue to be felt around the globe, but markets at least have today's NFP reading to focus on. Further growth is expected, and with Wednesday's ADP number having come in so strong there are high expectations around the figure today. Any strong rise in wages could provoke more jitters in markets too, however, given how the Fed seems determined to move towards a path of tighter monetary policy.
Data Today
10am – eurozone inflation (December, flash): prices to rise 4.7% YoY. Markets to watch: EUR crosses
1.30pm – US non-farm payrolls (December): 400K jobs expected to have been created, from 210K a month earlier. Unemployment rate to fall to 4.1% while average hourly earnings rise 0.4% MoM and 4.1% YoY. Markets to watch: US indices, USD crosses
3pm – Canada Ivey PMI (December): index to fall to 61. Markets to watch: CAD crosses
Gun to head challenge – Update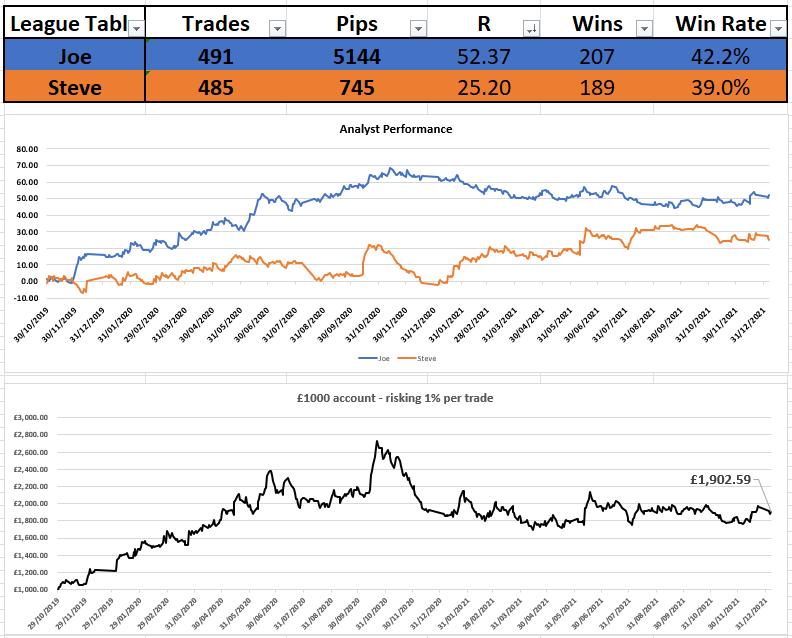 Today's trade idea

Have a great week everyone.
Get award-winning FCA regulated signals and levels on over 30 markets, as well as education resources so you never trade alone.