Good morning and welcome to episode 423 of 'Talking Bull'. In this video/podcast we cover the main headlines and what to expect from the day ahead. 
We take a technical look at key markets that are likely to be impacted by today's events. Also, we participate in a 'Gun to the head' challenge where each of us calls a live trade. These will expire at 9pm tonight and we will keep track of the progress over time.
We hope you enjoy it!
Join us on Telegram for more content – https://t.me/SCFree
Show notes:
Joe was stopped on DAX Yesterday.
We have included an illustration based on a £1000 account. This will follow the combined return of our morning trades by risking 1% of the trading capital per trade. The 1% risk is a variable monetary amount and will rise and fall based on the success of the calls.
We are currently up 99.05% collectively since we began recording Talking Bull on the 30th October 2019.
News
The European Central Bank's first policy announcement after raising its inflation target to 2% is due and investors will want to know what this means for interest rates and bond purchases. President Christine Lagarde has hyped the July meeting, which used to mark the start of the summer lull for many traders, by promising "interesting variations and changes." With the debate on whether inflation is transitory still raging, the ECB remains well behind its major peers in reining in stimulus programs.
Companies are starting to feel the impact of rising prices. The chief executive of Stellantis said he sees inflationary pressures "very clearly." The Jeep maker affected by higher raw material costs and the shortage of key components adds to comments from auto industry competitor Daimler and paint maker Akzo Nobel. Some economists and policy makers doubt inflation is here to stay, with U.S. President Joe Biden dismissing concerns of persistent price rises Wednesday.
Bitcoin has rebounded above $30,000, a key technical level for some traders, lifting crypto-related stocks. After losing more than half of its value since 2021 highs in April, the fear was that bitcoin would keep slumping amid concerns about cryptocurrency mining's energy consumption and a general drop in demand for risky assets. Elon Musk's comments that SpaceX owns Bitcoin, Cathie Wood's suggestion that businesses should consider adding it to their balance sheets and Jack Dorsey's description of it as resilient stoked the rebound.
Even after the U.K. dropped most restrictions on daily life, employees' return to London's financial hub remains elusive. The chairman of NatWest Group says the days when thousands of people walked in the banking firm's offices are "gone." These comments come as City crowds are still sparse, while some would want a pay rise equal to the cost of train travel to go back to the office full-time.
Earnings releases continue in Europe, with half-year reports from consumer products giant Unilever and Swiss pharmaceutical giant Roche. Business and manufacturing confidence figures from France will be the only numbers to potentially draw attention ahead of the ECB meeting.
The recovery in global stocks continued yesterday, and while Japanese markets dropped sharply overnight the overall tone in Asia was positive. US earnings season continues to bolster sentiment as strong corporate results allay investor concerns about a weakening US recovery.
Today sees the ECB announce its latest decision, and while no change in policy is expected there is an expectation that a potential change to asset purchase programmes in a manner that allows them to run for a longer period of time.
Also on the calendar are US jobless claims, eurozone consumer confidence and US existing home sales, along with earnings from Twitter, AT&T and American Airlines.
Data Today
12.45pm – ECB rate decision (1.30pm press conference): no change in rates or policy expected, but a focus on a potential tapering of asset purchases may prompt some volatility in eurozone stocks and the euro. Markets to watch: EUR crosses, eurozone indices
1.30pm – US initial jobless claims (w/e 17 July), Chicago Fed index (June): claims to fall to 320K while Chicago Fed increases to 0.45. Markets to watch: USD crosses
3pm – eurozone consumer confidence (July, flash): expected to fall to -4.2. Markets to watch: EUR crosses
3pm – US existing home sales (June): sales to fall 0.3% MoM. Markets to watch: EUR crosses
Gun to head challenge – Update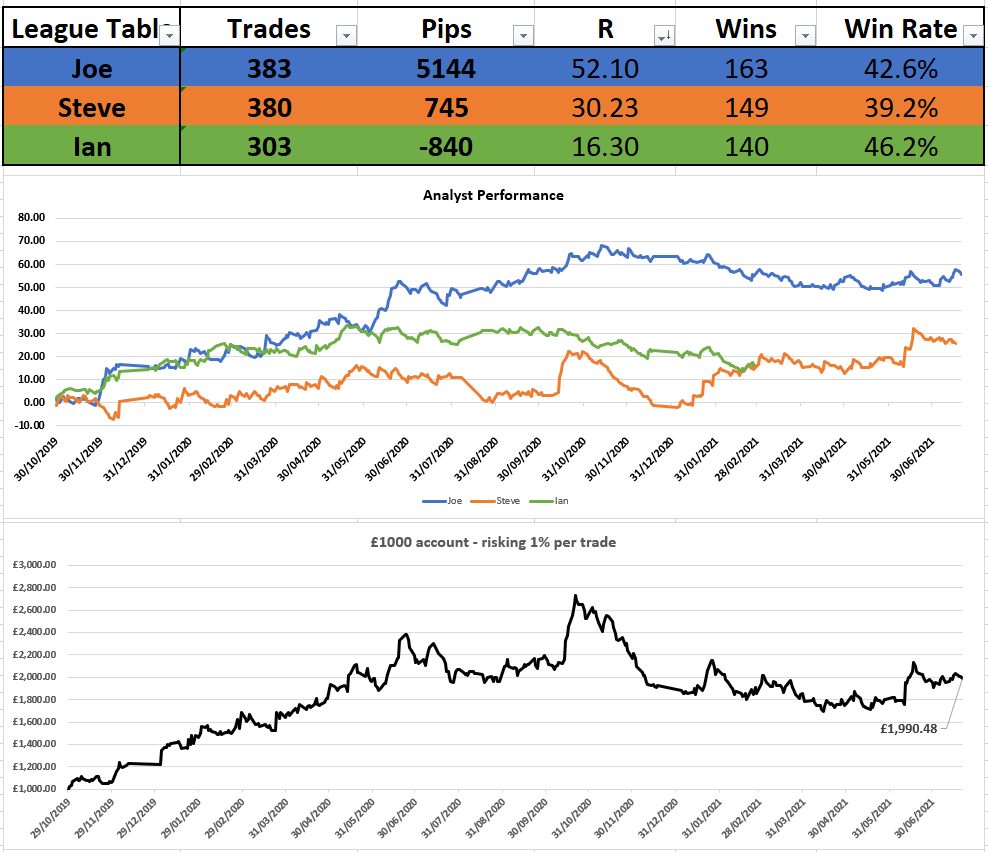 Today's trade idea

Have a great week everyone.
Get award-winning FCA regulated signals and levels on over 30 markets, as well as education resources so you never trade alone.