Good morning and welcome to episode 499 of 'Talking Bull'. In this video/podcast we cover the main headlines and what to expect from the day ahead. 
We take a technical look at key markets that are likely to be impacted by today's events. Also, we participate in a 'Gun to the head' challenge where each of us calls a live trade. These will expire at 9pm tonight and we will keep track of the progress over time.
We hope you enjoy it!
Show notes:
Joe was stopped out on GBPUSD, while Steve made 0.44R on Gold.
We have included an illustration based on a £1000 account. This will follow the combined return of our morning trades by risking 1% of the trading capital per trade. The 1% risk is a variable monetary amount and will rise and fall based on the success of the calls.
We are currently up 78.99% collectively since we began recording Talking Bull on the 30th October 2019.
News
Hedge funds made their third-quarter holdings disclosures in so-called 13F filings last night, a closely-watched event for investors trying to follow smart money. Warren Buffett's Berkshire Hathaway ended up cutting back on two of its payment bets — Visa and Mastercard– as well as two of its recent pharma bets — Bristol-Myers and AbbVie. Meanwhile, George Soros's investment firm boosted its bets on real estate and financial stocks during the period, disclosing new positions in Hill-Rom Holdings, MGM Growth Properties, JPMorgan and Goldman Sachs.
Cryptocurrencies are falling this morning, with Bitcoin sliding toward the $60,000 level and Ether touching one of its lowest levels this month. The global crypto market cap has dropped some 7% in the past 24 hours to $2.8 trillion, according tracker CoinGecko. New tax-reporting requirements for digital currencies are part of the $550 billion infrastructure bill that President Joe Biden just signed into law. China, meanwhile, will study the option of levying punitive power prices for companies that are involved in cryptocurrency mining amid concerns about its environmental fallout.
Watch European semiconductor stocks this morning, as European Union officials prepare to discuss looser restrictions on government subsidies for chip plants in the region. The EU commission "may envisage approving public support to fill possible funding gaps in the semiconductor ecosystem for the establishment in particular of European first-of-a-kind facilities," according to a draft of the policy paper seen by Bloomberg. The shortage of chips hampering European manufacturers this year has highlighted the limits of the bloc's technological muscle.
A top EU official said the movement of migrants to Poland's border with Belarus is slowing, after the bloc approved new powers to sanction those seen as orchestrating the humanitarian crisis. The bloc now has the authority to punish entities such as airlines and travel agencies, that are involved in trying to facilitate illegal crossing of migrants. EU foreign policy chief Josep Borrell said late Monday that the specific targets of new sanctions will be finalized in the coming days. Earlier this year, Belarusian strongman Alexander Lukashenko threatened to open his borders to allow drugs, radioactive material and migrants to flow unhindered in retaliation to EU sanctions.
Data Today
Gun to head challenge – Update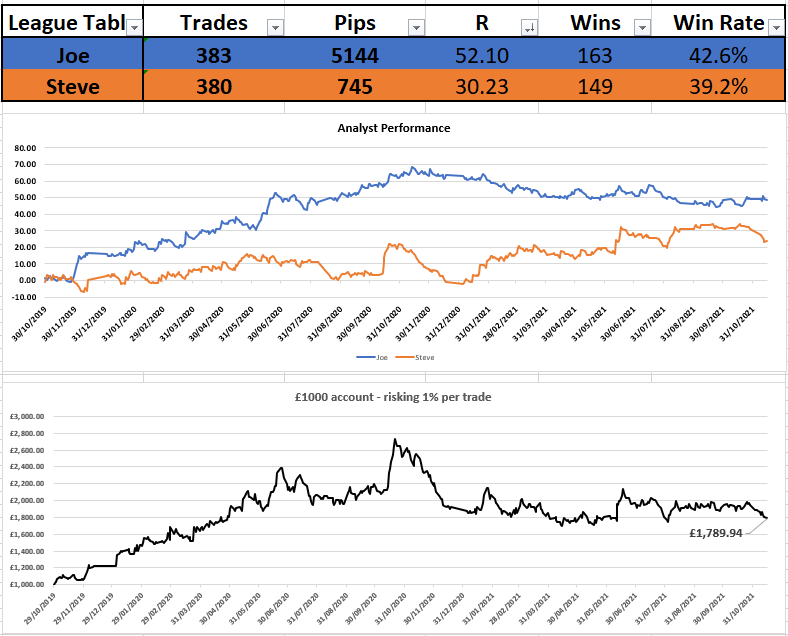 Today's trade idea
Have a great week everyone.
Get award-winning FCA regulated signals and levels on over 30 markets, as well as education resources so you never trade alone.