Good morning and welcome to episode 762 of 'Talking Bull'. Here are the latest headlines today, US business confidence edges lower, Some hawkish Fed rhetoric, Fed's Powell stays silent, BoJ speculation continues, Dollar still struggling & Australian inflation edges higher.
We take a technical look at key markets that are likely to be impacted by today's events. Also, we participate in a 'Gun to the head' challenge where each of us calls a live trade. These will expire at 9pm tonight and we will keep track of the progress over time.
We hope you enjoy it!
For a selection of free educational content, join our Discord server at – https://discord.gg/Db4UWVFvF6
Show notes:
Joe and Steve were stopped out on USDCHF and ASX200.
We have included an illustration based on a £1000 account. This will follow the combined return of our morning trades by risking 1% of the trading capital per trade. The 1% risk is a variable monetary amount and will rise and fall based on the success of the calls.
We are currently up 218.21% collectively since we began recording Talking Bull on the 30th October 2019.
News
US business confidence edges lower
The US NFIB small-business confidence index dipped to 89.8 for December from 91.9 which was below consensus forecasts of 91.5 and the lowest reading for six months.
Although there were further concerns over inflation pressures, fewer companies reported that selling prices had increased and there was a slight easing of supply issues in the labour market.
Some hawkish Fed rhetoric….
Fed Governor Bowman stated that inflation is much too high and committed to taking further action while she was looking for compelling signs that inflation has peaked. She added that the Fed needs to hold policy at a sufficiently restrictive level for some time.
… but Fed's Powell stays silent
Fed Chair Powell limited his comments to stating that the central bank needed to stick to its mandate and there were no direct comments on monetary policy.
There had been some concerns that Powell would look to push back against market expectations and reiterate a hawkish policy stance. The lack of commentary helped underpin risk appetite and curbed dollar demand.
BoJ speculation continues
Japanese Finance Ministry official Saito stated that interest rates will not remain low indefinitely, reinforcing market expectations that there will be at least a limited policy shift once a new bank Governor is in place.
Dollar still struggling
The dollar attempted to rally at times on Tuesday, but overall remained on the defensive amid expectations of a turn in Federal Reserve monetary policy and a further decline in inflation in the data this week.
The dollar index was close to 7-month lows on Wednesday.
Australian inflation edges higher
The monthly Australian inflation rate increased to 7.3% for November from 6.9% previously and above consensus forecasts of 7.2%.
Data Today
15.30: US crude oil inventories
00.30 (Wed): Australia monthly consumer prices
Key events over the next week
January 12th: US consumer prices
Gun to head challenge – Update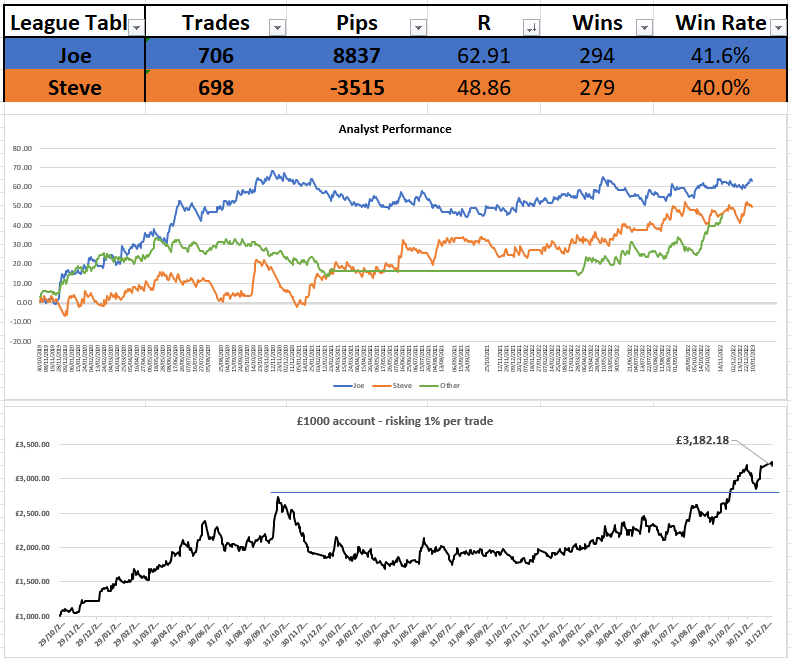 Today's trade idea

Have a great week everyone.
Get award-winning FCA regulated signals and levels on over 30 markets, as well as education resources so you never trade alone.