Good morning and welcome to episode 528 of 'Talking Bull'. In this video/podcast we cover the main headlines and what to expect from the day ahead. 
We take a technical look at key markets that are likely to be impacted by today's events. Also, we participate in a 'Gun to the head' challenge where each of us calls a live trade. These will expire at 9pm tonight and we will keep track of the progress over time.
We hope you enjoy it!
Show notes:
Joe was offside 0.08R on NASDAQ yesterday.
We have included an illustration based on a £1000 account. This will follow the combined return of our morning trades by risking 1% of the trading capital per trade. The 1% risk is a variable monetary amount and will rise and fall based on the success of the calls.
We are currently up 92.13% collectively since we began recording Talking Bull on the 30th October 2019.
News
Treasuries fell across the curve Tuesday, with two-year yields soaring above 1% for the first time since 2020 on increased speculation of a Federal Reserve rate hike in March. Ten-year Treasury yields rose as much as seven basis points to 1.85%, the highest since January 2020. Investors are increasingly concerned that elevated U.S. inflation will force the Fed to tighten policy faster than expected, with swaps markets pricing in four 25 basis-point hikes within a year.
Brent oil extended gains to the highest level in seven years as geopolitical tensions stirred in the Middle East and concerns about the demand impact of the omicron virus variant eased. Adding to bullish sentiment is further strength in Asia's physical crude market and shrinking global oil inventories. Separately, Ray Dalio warned against transitioning away from fossil fuels too rapidly and said that cutting off the supply of finance to the industry would have a destabilizing effect as inflation soars.
Boris Johnson's former top aide Dominic Cummings accused the premier of lying to Parliament, saying he would "swear under oath" that the premier both was aware of and allowed a drinks party at Downing Street at the height of lockdown during the first wave of the Covid-19 pandemic. Cummings wrote on his blog that Johnson not only knew about the party but agreed with his principal private secretary, Martin Reynolds, that it should go ahead after "at least two" people raised concerns.
A fourth dose of the Pfizer-BioNTech vaccine was insufficient to prevent infection with the omicron variant of Covid-19, according to preliminary data from a trial in Israel released Monday. Two weeks after the start of the trial of 154 medical personnel at the Sheba Medical Center in Tel Aviv, researchers found the vaccine successfully raised antibody levels, though that offered only a partial defense against omicron.
The Bank of Japan raised its inflation outlook overnight, with the risks to prices now 'generally balanced' rather than 'skewed to the downside', as has been the case since 2014. This brings the inflation debate back to centre-stage, as markets begin to look towards the Fed meeting later this month. US markets reopen today after their holiday, and already futures have weakened, dragging the rest of the global equity complex lower as well. The UK employment picture has improved, with a fall in the unemployment rate along with a bigger than expected drop in the claimant count. Key events today include the US Empire manufacturing index, as well as earnings from Goldman Sachs.
Data Today
10am – German ZEW index (January): index to rise to 34. Markets to watch: EUR crosses
1.30pm – US Empire state mfg index (January): index to fall to 27.5. Markets to watch: USD crosses
Gun to head challenge – Update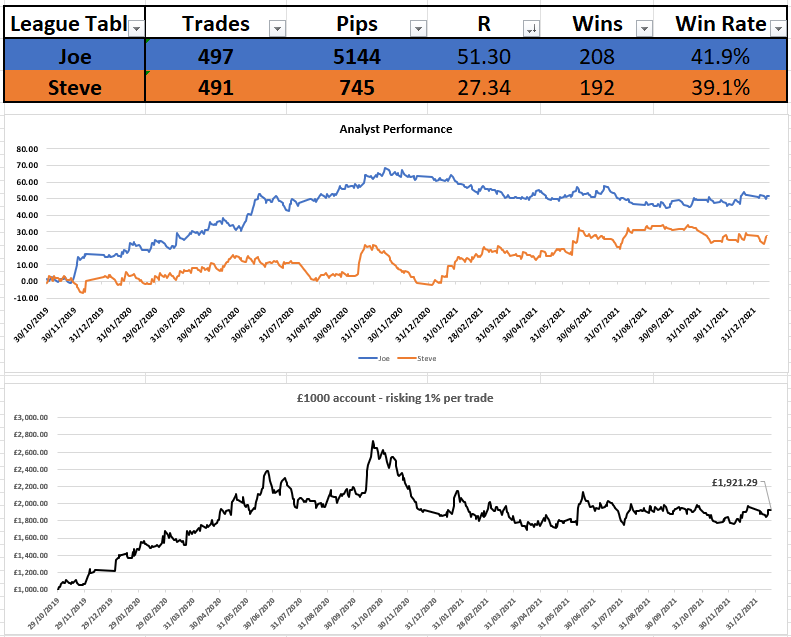 Today's trade idea

Have a great week everyone.
Get award-winning FCA regulated signals and levels on over 30 markets, as well as education resources so you never trade alone.