Good morning and welcome to episode 469 of 'Talking Bull'. In this video/podcast we cover the main headlines and what to expect from the day ahead. 
We take a technical look at key markets that are likely to be impacted by today's events. Also, we participate in a 'Gun to the head' challenge where each of us calls a live trade. These will expire at 9pm tonight and we will keep track of the progress over time.
We hope you enjoy it!
Show notes:
Joe made 0.5R on Bitcoin. Steve was stopped out on Silver.
We have included an illustration based on a £1000 account. This will follow the combined return of our morning trades by risking 1% of the trading capital per trade. The 1% risk is a variable monetary amount and will rise and fall based on the success of the calls.
We are currently up 87.46% collectively since we began recording Talking Bull on the 30th October 2019.
News
Two regional Federal Reserve presidents are retiring following embarrassing revelations of stock trading last year, removing a couple of the central bank's more hawkish officials as it calibrates withdrawing pandemic policy aid. Boston Fed chief Eric Rosengren and Dallas's Robert Kaplan on Monday separately announced plans to step down. That means an unexpected number of top monetary-policy jobs are coming up for grabs – and there'll likely be an unusually intense spotlight on who fills them.
Bank of England Governor Andrew Bailey moved to reinforce the option that interest rates could rise as early as this year while cautioning about the limits of monetary policy to balance diverging forces in the U.K. economy. The central bank's key rate would become the tool of tightening policy to tame inflation, even before the current bond-buying program expires if necessary, he said. But he added that moving too soon could disrupt the U.K.'s still nascent economic recovery.
Brent oil topped $80 a barrel on signs that demand is running ahead of supply, depleting inventories amid a global energy crunch. The U.K. officially put the military on standby to help deliver supplies to gasoline stations in an effort to stem a widening crisis that's engulfed Prime Minister Boris Johnson's government. Meanwhile, some drivers at the U.K. company that handles fuel deliveries for BP will vote this week on strike action as fuel shortages threaten to spread more pain to the economy.
The U.K.'s main opposition party is gearing up for a potential general election as early as next year with strategists increasingly thinking Prime Minister Boris Johnson might go to the polls before voters feel the impact of higher taxes. It comes after Johnson announced a tax increase to help pay for the ailing National Health Service and ahead of the growing scrutiny he faces next year when a public inquiry into the government's handling of the coronavirus pandemic gets underway.
Another positive session in Hong Kong and China highlighted some growing optimism that the Evergrande crisis can be contained. Those gains also come in the face of a Chinese power crunch which has seen 44% of the country's industrial activity being affected according to Goldman Sachs. The bank sees Chinese growth being negatively impacted as a result, cutting 2021 growth forecasts from 8.2% to 7.9%. Nonetheless, overnight losses have been centred around Australia and Japan, with the latter due to vote for Prime Minister Yoshihide Suga's replacement tomorrow.
The economic calendar has seen improvements in Australian retail sales and German Gfk consumer climate figures. Elsewhere, look out for the latest US trade balance and consumer confidence figures, alongside appearances from a host of FOMC members including Powell.
Data Today
3pm – US consumer confidence (September): index to rise to 114.5. Markets to watch: USD crosses
Gun to head challenge – Update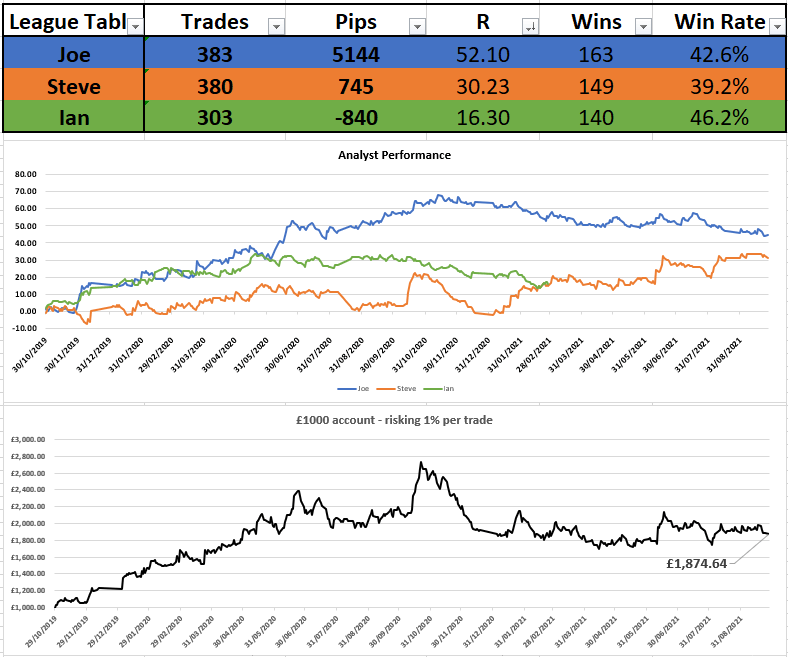 Today's trade idea

Have a great week everyone.
Get award-winning FCA regulated signals and levels on over 30 markets, as well as education resources so you never trade alone.