Good morning and welcome to episode 738 of 'Talking Bull'. In this video/podcast we cover the main headlines and what to expect from the day ahead. 
We take a technical look at key markets that are likely to be impacted by today's events. Also, we participate in a 'Gun to the head' challenge where each of us calls a live trade. These will expire at 9pm tonight and we will keep track of the progress over time.
We hope you enjoy it!
For a selection of free educational content, join our Discord server at – https://discord.gg/Db4UWVFvF6
Show notes:
Steve hit target on Dax for a 3R win. Joe was stopped out on USDCAD.
We have included an illustration based on a £1000 account. This will follow the combined return of our morning trades by risking 1% of the trading capital per trade. The 1% risk is a variable monetary amount and will rise and fall based on the success of the calls.
We are currently up 215.83% collectively since we began recording Talking Bull on the 30th October 2019.
News
Chinese developments remain crucial
Chinese developments have been a key ingredient for confidence in the global economy and overall risk conditions.
Confidence dipped during Monday as the Chinese authorities looked to crack-down on protests in Shanghai. There was, however, a recovery in Asia following rumours that there would be a Chinese reversal of the zero-covid policy.
Sharp fluctuations in global risk appetite
Risk appetite attempted to recover in Europe on Monday, but there was a renewed lack of confidence after the New York open with markets fretting over global recession risks.
There was a fresh recovery in risk assets in Asia on Tuesday amid hopes that China would change policy with further choppy trading likely during the day.
Hawkish Fed rhetoric
New York Fed President Williams expressed some confidence that there were signs of moderating inflation and supply-chain improvements.
He added, however, that inflation risks are still on the upside and also expected that rates would not be cut until 2024.
Lagarde backs further ECB rate hikes
In testimony on Monday, ECB President Lagarde stated that rates are still in an accommodative range and that there is still upward pressure on inflation. In this context, she added that rate hikes still have a long way to go.
She added that incoming data suggests upward pressure on wages and the bank will continue to assess the policy implications.
Choppy month-end trading
There was volatile trading on Monday with month-end positioning having a significant impact and the dollar gaining support from corporate dollar buying.
There will be further choppy trading on Tuesday as position adjustment continues.
Oil prices recover on OPEC rumours
Oil prices were initially under pressure on Monday before recovering strongly amid fresh rumours that OPEC would cut output levels in response to the recent slide in prices.
Data Today
15.00: Bank of England Governor Bailey testimony
15.00: US consumer confidence
Key events over the next week
November 30th: Fed Char Powell speech
December 1st: US ISM manufacturing index
December 2nd: US employment report
December 2nd: Canada employment report
Gun to head challenge – Update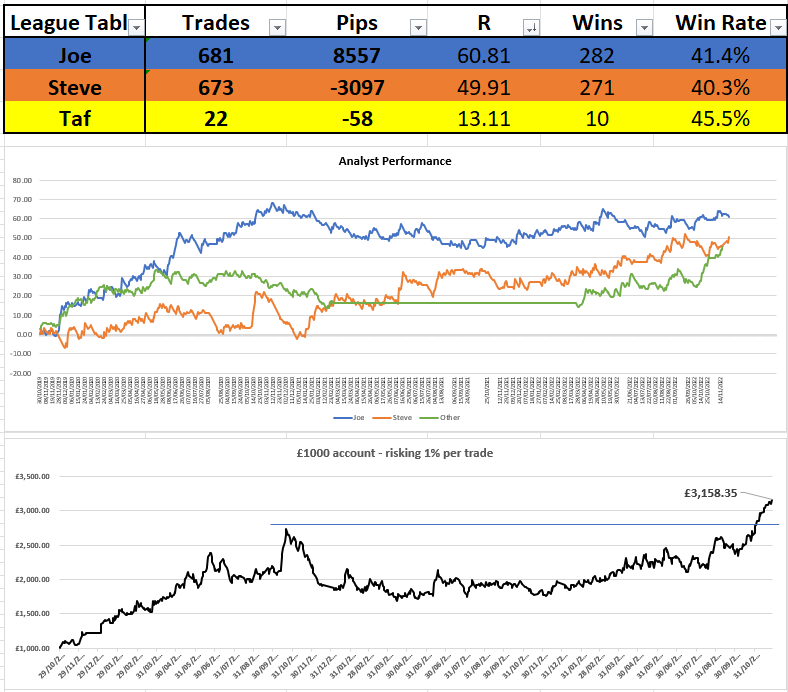 Today's trade idea

Have a great week everyone.
Get award-winning FCA regulated signals and levels on over 30 markets, as well as education resources so you never trade alone.