Good morning and welcome to episode 604 of 'Talking Bull'. In this video/podcast we cover the main headlines and what to expect from the day ahead. 
We take a technical look at key markets that are likely to be impacted by today's events. Also, we participate in a 'Gun to the head' challenge where each of us calls a live trade. These will expire at 9pm tonight and we will keep track of the progress over time.
We hope you enjoy it!
For a selection of free educational content, join our Discord server at – https://discord.gg/Db4UWVFvF6
Show notes:
Joe was onside 1.39R on NZDUSD, while Steve and Jamie were stopped out on Bitcoin and Ethereum.
We have included an illustration based on a £1000 account. This will follow the combined return of our morning trades by risking 1% of the trading capital per trade. The 1% risk is a variable monetary amount and will rise and fall based on the success of the calls.
We are currently up 135.13% collectively since we began recording Talking Bull on the 30th October 2019.
News
Fed speakers maintain hawkish narrative
New York Fed President Williams stated that the central bank will move expeditiously to bring interest rates back to more normal levels. He stated that the US has a sizzling hot labour market while the central bank needs to be data dependent and adjust policy actions as circumstances warrant.
He added that 50 basis-point rate hikes at the next two policy meetings makes sense as a base case while the Fed can certainly move above neutral if necessary.
Cleveland Fed President Mester stated that she thought the central bank would need to go beyond neutral and that she would need compelling evidence that inflation is moving down. She added that there may be another quarter of negative growth and that unemployment may need to rise to bring inflation down.
US bond yields edge lower
US yields moved lower on Tuesday despite the generally hawkish Fed rhetoric. Market expectations remained elevated and there was an element of hope that the 75 basis-point rate increases could be avoided.
The 10-year yield traded just below the 3.00% level on Wednesday.
US CPI data on Wednesday
The latest US consumer prices data will be released on Wednesday. Consensus forecasts are for the headline CPI inflation rate to moderate to 8.1% from the 40-year high of 8.5% last month.
The core rate is also expected to retreat to 6.0% from 6.5%.
The impact on yields and any narrative surrounding peak inflation will be crucial for all asset classes in the short term.
Choppy trading on Wall Street
There were sharp changes in direction on Wall Street during Tuesday. Initial gains gave way to notable losses in mid-session, but major indices did manage to post slight gains into the close and futures also edged higher on Wednesday.
Wall Street reaction to the data will be an important element on Wednesday.
Tough talk from the Bundesbank
Bundesbank President Nagel stated that the inflation trend is disturbing and that it is also gaining momentum. He added that the ECB should raise rates in July if incoming data confirms that inflation is too high and that the risks of acting too late are increasing.
He also warned that price expectations could become less anchored, although markets were still unconvinced that the ECB would take action.
Data Today
13.30: US consumer prices
15.30: US EIA oil inventories data
Key events over the next week
May 17th: US retail sales
May 18th: UK consumer prices
May 19th: Australia labour-market report
Gun to head challenge – Update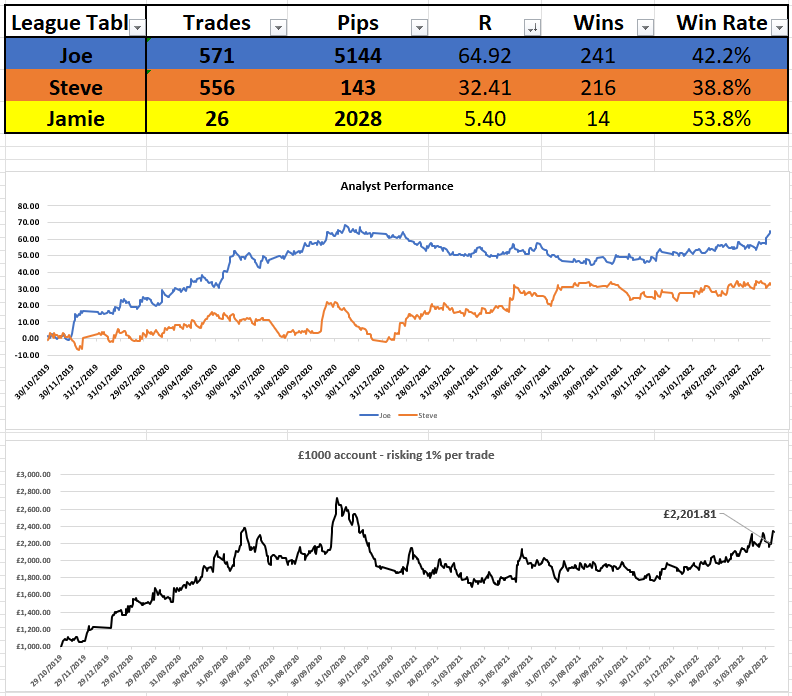 Today's trade idea

Have a great week everyone.
Get award-winning FCA regulated signals and levels on over 30 markets, as well as education resources so you never trade alone.