Good morning and welcome to episode 458 of 'Talking Bull'. In this video/podcast we cover the main headlines and what to expect from the day ahead. 
We take a technical look at key markets that are likely to be impacted by today's events. Also, we participate in a 'Gun to the head' challenge where each of us calls a live trade. These will expire at 9pm tonight and we will keep track of the progress over time.
We hope you enjoy it!
Join us on Telegram for more content – https://t.me/SCFree
Show notes:
Joe was stopped out on GBPAUD on Friday.
We have included an illustration based on a £1000 account. This will follow the combined return of our morning trades by risking 1% of the trading capital per trade. The 1% risk is a variable monetary amount and will rise and fall based on the success of the calls.
We are currently up 92.26% collectively since we began recording Talking Bull on the 30th October 2019.
News
The coronavirus pandemic, an overarching theme for markets since early last year, is not over yet, experts warn. Nearly all will be either infected or vaccinated by the time the pandemic ends, with scientists warning of more outbreaks that will close schools and overwhelm hospitals as some economies push ahead with reopenings. We can expect more outbreaks in classrooms, on public transport and in workplaces over the coming months with the vaccination rollout racing against new variants. Meanwhile, the U.K. is preparing a mass booster vaccination program as it plans to scrap mandatory vaccine certificates in England. And Israel is even eyeing a fourth dose.
A slow rebound of supplies in the Gulf of Mexico after Hurricane Ida is helping push oil prices up to around $70. The move defies OPEC plans to restore output and a Chinese release of reserves, and could be a sign of things to come as Goldman Sachs sees a significant rally for crude in the autumn. Meanwhile, energy prices in France and Germany are rising to record levels as the continent enters the winter heating period.
The U.K.'s biggest business lobby warns that higher taxes to fix public finances after the pandemic risk derailing economic growth. Comments by the Confederation of British Industry director general in a speech due Monday reflect growing unease about the government's approach toward business. Britain is also facing persistent gaps in the supply of popular food and drink items that could become permanent due to a worker shortfall.
Germans are hitting the polls this month to determine Angela Merkel's successor and center-left frontrunner Olaf Scholz is seemingly consolidating his lead. Viewers deemed Scholz as the winner of the second of three televised debates on Sunday night, fending off attacks on scandals like the Wirecard collapse. An ongoing investigation is looking into whether officials at the Financial Intelligence Unit — part of the finance ministry under Scholz — failed to act on money-laundering warnings.
Stocks in Europe look set to open a shade lower, after Asian equities fell on renewed concerns over the pandemic as well as China's regulatory crackdown. It's a quiet week for earnings, with Abcam, Helvetia and ITM Power reporting in Europe, along with a sales update from AB Foods. In the U.S., Oracle is the only major report. OPEC releases its Monthly Oil Market Report. SkyBridge Capital, the investment firm founded by Anthony Scaramucci, holds its annual SALT Conference in New York from today. Speakers at the in-person event include Steve Cohen and Cathie Wood.
A mixed session overnight saw the Hang Seng lead the losses, with the Australian ASX 200 providing the only area of positivity in the region. Coming off the back of a week of losses in US markets, the cautious approach seen in Asia does reflect fear of another leg lower elsewhere.
Japanese PPI inflation remained highly elevated, with the reading of 5.5% just marginally below last month's multi-year high of 5.6%. Tech stocks were back under pressure overnight after rumours that the government plans to break up Alipay. A quiet day ahead, provides a slow start to the week, with traders looking ahead to inflation, and retail sales data coming into play as the week goes on.
Data Today
None
Gun to head challenge – Update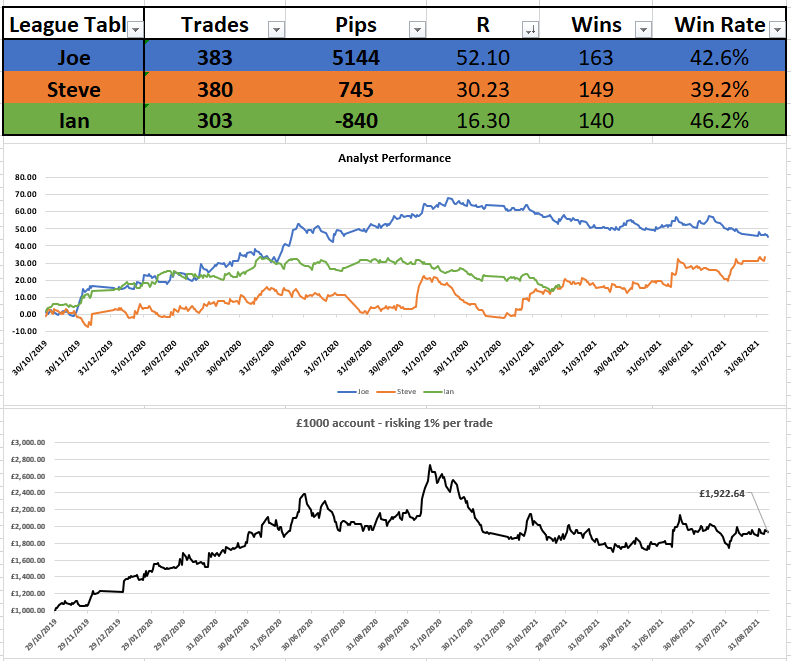 Today's trade idea

Have a great week everyone.
Get award-winning FCA regulated signals and levels on over 30 markets, as well as education resources so you never trade alone.