Good morning and welcome to episode 763 of 'Talking Bull'. Here are the latest headlines today, Nuanced hawkish ECB rhetoric, Euro still posts net gains, Fed member backs slower rate hikes, Fresh BoJ speculation, yen gains, Dollar still struggling, Crucial US CPI inflation data on Thursday.
We take a technical look at key markets that are likely to be impacted by today's events. Also, we participate in a 'Gun to the head' challenge where each of us calls a live trade. These will expire at 9pm tonight and we will keep track of the progress over time.
We hope you enjoy it!
For a selection of free educational content, join our Discord server at – https://discord.gg/Db4UWVFvF6
Show notes:
Joe was offside 0.32R on AUDCAD. Steve was onside 0.08R on Natural Gas.
We have included an illustration based on a £1000 account. This will follow the combined return of our morning trades by risking 1% of the trading capital per trade. The 1% risk is a variable monetary amount and will rise and fall based on the success of the calls.
We are currently up 217.43% collectively since we began recording Talking Bull on the 30th October 2019.
News
Nuanced hawkish ECB rhetoric
ECB council member Rehn stated that rates will still have to increase significantly,
Council member Villeroy stated that the central bank will have to raise rates further in coming months. He did, however, add that the central bank needs to be pragmatic about the pace of rate hikes and he also considers that the bank aims to each a terminal rate by the summer.
Overall, there was a slight dip in expectations surrounding rate hikes with the chances of a 50 basis-point rate hike for February at around 75%.
Euro still posts net gains
The Euro still posted net gains on Wednesday amid expectations of a hawkish ECB stance in relative terms with EUR/USD touching 7-month highs.
EUR/CHF also moved above parity for the first time in over 6 months.
Fed member backs slower rate hikes
Boston Fed President Collins stated that she backs a slowdown in the pace of rate increases and was leaning towards backing a 25 basis-point rate hike at the February meeting, although the decision would be very data dependent.
Fresh BoJ speculation, yen gains
Early in Asian trading on Thursday, there were reports that the Bank of Japan will review the side effects of the easy monetary policy next week. The report triggered fresh speculation that the central bank would draw back from the very expansionary policy in the year ahead.
The yen strengthened sharply on the report, but failed to hold the best levels.
Dollar still struggling
The dollar has been unable to hold tentative gains during the past 24 hours amid expectations of a less hawkish Fed policy and hopes for a global rebound.
The dollar index was very close to 7-month lows at the European open on Thursday.
Crucial US CPI inflation data on Thursday
The latest US consumer prices data will be very important for market sentiment with important implications for short-term confidence and potentially important longer-term implications for market confidence.
Consensus forecasts are for a further sharp slowdown in the headline annual rate to 6.5% from 7.1% which would be the lowest reading since late 2021 with the underlying rate declining to 5.7% from 6.0% which would be the lowest reading for 12 months.
Weak data would reinforce optimism over a less aggressive Fed policy and support risk appetite.
Stronger data would trigger at least a temporary setback to risk and boost the dollar, but there will inevitably be choppy trading.
Data Today
13.30: US consumer prices
13.30: US jobless claims
07.00 (Fri): UK GDP
Key events over the next week
January 17th: China GDP
January 18th: Bank of Japan policy decision
January 18th: UK consumer prices
Gun to head challenge – Update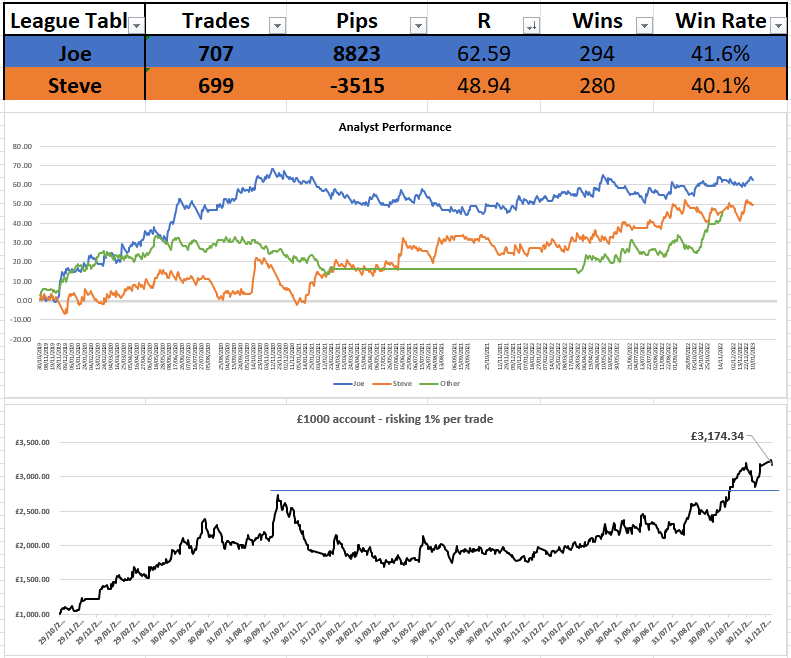 Today's trade idea

Have a great week everyone.
Get award-winning FCA regulated signals and levels on over 30 markets, as well as education resources so you never trade alone.