Good morning and welcome to episode 605 of 'Talking Bull'. In this video/podcast we cover the main headlines and what to expect from the day ahead. 
We take a technical look at key markets that are likely to be impacted by today's events. Also, we participate in a 'Gun to the head' challenge where each of us calls a live trade. These will expire at 9pm tonight and we will keep track of the progress over time.
We hope you enjoy it!
For a selection of free educational content, join our Discord server at – https://discord.gg/Db4UWVFvF6
Show notes:
Jamie was onside 0.78R on GBPNZD at 9pm. Joe and Steve were stopped out on USDJPY and Bitcoin.
We have included an illustration based on a £1000 account. This will follow the combined return of our morning trades by risking 1% of the trading capital per trade. The 1% risk is a variable monetary amount and will rise and fall based on the success of the calls.
We are currently up 130.87% collectively since we began recording Talking Bull on the 30th October 2019.
News
Peak US inflation debate continues 
US consumer prices increased 0.3% for April compared with expectations of a 0.2% increase with the decline in the year-on-year rate limited to 8.3% from 8.5% and above expectations of 8.1%. Food prices increased 0.9% on the month with an 8.3% annual increase while energy prices increased 30.3% over the year despite a 2.7% monthly retreat. 
The underlying rate declined to 6.2% from 6.5%, but this was also slightly above market expectations of 6.0%. Used car and apparel prices declined on the month, but there was a strong increase in the cost of transport services on the month. 
The data triggered further debate over peak inflation within markets. 
US bond yields move lower 
There was choppy trading following the US CPI data with wider risk conditions also a key element. 
US Treasuries spiked lower after the US CPI data with yields jumping higher, but the 10-year yield was unable to hold above the 3.00% level with a dip to 2.90% on Thursday. 
ECB signals July rate hike  
In comments on Wednesday, ECB President Lagarde stated that asset purchases should be completed early in the third quarter and that the first rate hike would take place sometime afterwards and this could be a period of weeks. She added that it looks increasingly unlikely that the disinflationary dynamics of the past decade will return. 
Council member Schnabel stated that risks are growing that current high inflation is becoming entrenched in expectations and inflation could stay at painfully high levels for a considerable period of time. 
In this context, she added that the urgency for monetary policy to take action to protect price stability had increased in recent weeks. 
Risk appetite deteriorates again 
Overall risk appetite deteriorated again on Wednesday. Although there was very choppy trading in equities, Wall Street indices eventually posted significant net losses with fears over an underlying tightening of financial conditions.  
Global equity markets have also lost significant ground on Thursday. 
UK data disappoints, Sterling slides again  
Sterling came under renewed pressure on Wednesday and failed to gain any relief on Thursday. 
UK GDP declined 0.1% for March with first-quarter growth held to 0.8% compared with consensus forecasts of 1.0%. 
Industrial production declined for March and the latest trade data was also much worse than expected. 
Weaker global risk appetite has also sapped support for the UK currency with GBP/USD sliding to 2-year lows below 1.2200.  
Cryptocurrencies under pressure  
Cryptocurrencies have declined sharply over the past 24 hours. The overall slide in risk appetite has undermined support, especially with a tightening of financial conditions. 
Overall confidence declined also sharply amid the collapse of Luna and TerraUSD which contributed to major damage to sentiment surrounding the sector with heavy selling. 
Bitcoin slumped to 17-month lows below $27,000. 
Data Today
Day Ahead (times in BST)  
13.30: US jobless claims 
13.30: US Producer prces 
Key events over the next week 
May 17th: US retail sales 
May 18th: UK consumer prices 
May 19th: Australia labour-market report 
Gun to head challenge – Update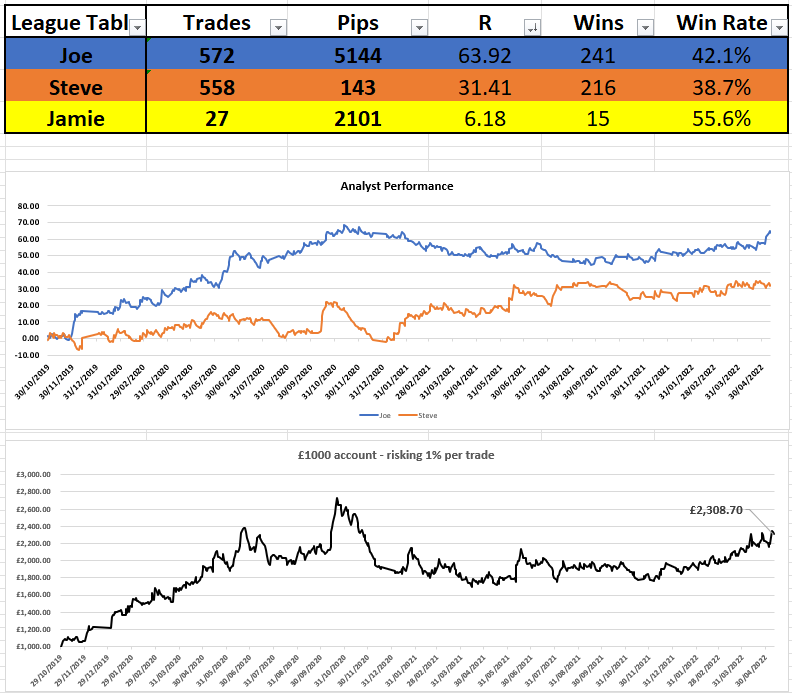 Today's trade idea

Have a great week everyone.
Get award-winning FCA regulated signals and levels on over 30 markets, as well as education resources so you never trade alone.