Dollar hampered by fresh concerns over US growth outlook
Posted: 13th May 2019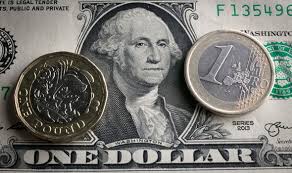 Daily market report May 13th 2019
Market highlights
US-China trade negotiators failed to secure a breakthrough on Friday and rhetoric was hawkish over the weekend, but talks did not collapse entirely.
Equity markets attempted to take a positive stance, but there were renewed losses on Monday amid fears over a protracted dispute and global economic damage.
The dollar was hampered by fresh concerns over the US growth outlook with an element of defensive Euro support underpinning EUR/USD.
The yen maintained a strong tone as defensive demand persisted while the Swiss franc also gained support.
Very strong employment data boosted the Canadian dollar, but commodity currencies lost ground on Monday.
Oil prices were resilient on supply concerns despite on-going demand concerns.
Cryptocurrencies advanced strongly over the weekend with bitcoin at 7-month highs.
EUR/USD
ECB council member Hansson maintained his hawkish stance with comments that there was no urgency for the bank to review policy. German yields reversed an initial decline to trade higher, although with little change in yield spreads.
The Euro was protected by further speculation that any escalation of the US-China trade dispute would damage the US economy and increase the likelihood of a Federal Reserve rate cut later in 2019.
US consumer prices increased 0.3% for April, below consensus forecasts of 0.4% with the year-on-year increased held to 2.0% from 1.9% previously. Underlying prices rose 0.1% for the second successive month with a slight increase in the annual rate to 2.1% from 2.0%. The inflation rate was curbed by a small decline in food prices and dip in apparel costs.
The benign data maintained speculation that the Federal Reserve had scope to cut interest rates if the economic performance deteriorates. The US currency registered net losses with a recovery in commodity-currency sentiment while EUR/USD again pushed to the 1.1250 area before fading slightly as longer-term sentiment remained subdued.
CFTC data recorded only a small decline in long, speculative dollar positions maintaining the potential for liquidation if the US currency loses ground and EUR/USD was little changed around 1.1230 on Monday while commodity currencies faded.
USD/JPY
US Treasuries rallied after the US CPI data with the 10-year yield retreating to 2.43% and close to 5-week lows which limited dollar support with a further test of support close to 109.50 as risk appetite remained fragile.
US-China trade talks failed to achieve a last-minutes breakthrough and there was no US move to cancel the increase in tariffs on Chinese goods. President Trump also ordered the Trade Department to prepare tariffs on all remaining categories of Chinese goods. There was, however, some relief that a complete breakdown in talks was avoided with negotiations set to continue with China also demonstrating a broadly restrained approach. Treasuries retreated late in the session and equities recovered which curbed immediate defensive yen demand and supported the dollar with a USD/JPY move to near 110.00 at the close.
CFTC data recorded only a small decline in short, non-commercial yen positions, maintaining the risk of liquidation if trade tensions intensify. Weekend rhetoric from the US and China was uncompromising which triggered fresh doubts over any near-term resolution to the dispute. Equity markets declined and the yen secured fresh support USD/JPY around 109.75.
Sterling
According to the ONS, UK first-quarter GDP growth was 0.5% which was in line with consensus forecasts as inventory building provided strong support. Industrial production data was stronger than expected with an annual increase of 2.6% for the manufacturing sector and investment posted a small increase for the quarter, but the data overall failed to spark Sterling support as international factors dominated.
There were further concerns that international trade tensions would undermine global growth and sap UK growth. The UK currency drifted lower and, significantly, failed to gain significant support even when risk appetite improved with a GBP/USD dip to the 1.3000 area while EUR/GBP advanced to around 0.8645.
Over the weekend, pressure increased on Prime Minister May to abandon talks with the Labour Party and calls for further indicative votes. Sterling was resilient in early Europe on Monday despite a risk-averse tone in global markets. Markets will continue to monitor Brexit developments with Labour Party talks set to resume and GBP/USD traded just above 1.3000.
Swiss franc
Swiss National Bank Chair Jordan reiterated that the franc is highly valued and that negative interest rates will be kept as long as necessary while a fixed franc rate was not compatible with its inflation mandate. The franc was resilient after the comments and also made net gains even when risk conditions stabilised later in the session as defensive currencies secure renewed support.
EUR/CHF retreated to near 1.1360 while USD/CHF declined to test the 1.0100 area. Trade tensions and weaker equity markets underpinned the franc on Monday with USD/CHF just above 1.0100.
AUD/USD + USD/CAD
Risk appetite stabilised later on Friday and the US dollar lost traction. This combination protected the Australian dollar with AUD/USD regaining the 0.7000 level, although gains were still limited.
Australian home loans data was weaker than expected with a 2.5% March decline, maintaining concerns over the housing sector. Risk appetite was also fragile and weaker equity markets and trade fears with AUD/USD retreating to the 0.6975 area.
Canadian labour-market data was much stronger than expected with a record monthly employment increase of over 106,000 for the month while the unemployment rate declined to 5.7% from 5.8% previously.
The data boosted confidence in the economic outlook and the Canadian dollar advanced strongly after the data. USD/CAD did, however, find support below 1.3400 and closed above this level.
Global trade concerns capped potential Canadian dollar support with USD/CAD trading around 1.3435 on Monday.
NOK+ SEK
The Norwegian krone gained initial support from the stronger than expected inflation data which bolstered expectations of a June Norges Bank rate hike.
Fluctuations in risk appetite still tended to dominate with choppy trading persisting and the krone was hampered by underlying fears over the global trade environment.
EUR/USD found support close to 9.78 and settled around 9.80.
Norwegian GDP data was below consensus forecasts with a headline 0.1% first-quarter contraction with mainland growth held at 0.3% compared with forecasts of 0.4%, although there were upward revisions. The krone dipped after the release with EUR/NOK above 9.80 with USD/NOK above 8.70
Global growth concerns also unsettled the Swedish krona with EUR/SEK peaking at fresh 9-year highs near 10.84 before a retreat to the 10.80 area with USD/SEK around 9.63.
Equities
Euro-zone equities drew initial support from strong gains in the Chinese markets and opened sharply higher. There was, however, a drift lower later in the session as US equities moved lower and investors continued to fret over the growth outlook.
The Eurostoxx 50 index gained 0.3% on the day with gains inflated by a 0.7% advance for the German DAX index.
UK equities were unable to gain any significant traction on Friday with underlying global growth concerns curbing support and the FTSE 100 index declined 0.05%.
US equities drifted lower early in the session and dipped sharply towards the European close. There was solid buying on dips with trade rhetoric offering limited reassurance. The S&P 500 index gained 0.35%, although futures dipped sharply lower in Asia on Monday.
Sentiment was generally weak in Asia amid trade fears and US losses.
Japan's Nikkei 225 index declined 0.75% as the yen maintained a robust tone while the Australian ASX index declined 0.2% as the financial sector retreated.
China's Shanghai index traded 1.4% lower in late trading as choppy conditions persisted while Hong Kong's Hang Seng index was closed for a holiday.
Commodities
Oil prices drew an element of support when risk appetite stabilised and there were expectations of increased US refining activity. Supply reservations remained important, especially given fears over Iran tensions.
There were, however, still concerns over the demand environment with increased tariffs on Chinese goods liable to slow global demand and WTI settled around $61.70 p/b
Baker Hughes data recorded a decline in the number of oil rigs to 988 from 990.
CFTC data recorded a decline in long crude positions to 5-week lows, although overall positioning was still extensive. Trade concerns hampered crude on Monday with WTI around $61.70 p/b with Brent close to $71.0 p/b.
Gold was supported by underlying trade concern and a solid EUR/USD tone. USD/JPY recovered late in the session and risk conditions stabilised which limited gold support and it closed with only slight gains. There was little change on Monday with gold just below $1,285 per ounce with silver around $14.70 per ounce.
Cryptocurrencies
Cryptocurrency sentiment remained firm on Friday with solid underlying demand as bitcoin held above $6000.
Weekend developments were dramatic as Bitcoin moved sharply higher on Saturday with 7-month highs above $7500. There was further speculation that US-China trade tensions were triggering strong demand for bitcoin on defensive grounds, especially with weaker equity markets and gold unable to make headway.
There was an element of profit taking on Monday, but bitcoin traded above $7000 at the European open.
Ether responded to bitcoin gains and pushed sharply higher to a 6-month peak above $200 before a correction to around $190.
Calendar
Major events for the day ahead: (times in BST)
02.30 Tues): Australia Reserve Bank minutes