Good morning and welcome to episode 760 of 'Talking Bull'. Here are the latest headlines today, Strong US employment gains, Slide in the US services sector, Treasuries post strong gains, Risk appetite rebounds, Dollar posts sharp losses, UK construction in contraction & Strong Canadian employment increase.
We take a technical look at key markets that are likely to be impacted by today's events. Also, we participate in a 'Gun to the head' challenge where each of us calls a live trade. These will expire at 9pm tonight and we will keep track of the progress over time.
We hope you enjoy it!
For a selection of free educational content, join our Discord server at – https://discord.gg/Db4UWVFvF6
Show notes:
Joe was onside 1.36R on USDJPY. Steve was stopped on Gold.
We have included an illustration based on a £1000 account. This will follow the combined return of our morning trades by risking 1% of the trading capital per trade. The 1% risk is a variable monetary amount and will rise and fall based on the success of the calls.
We are currently up 222.25% collectively since we began recording Talking Bull on the 30th October 2019.
News
Strong US employment gains….
US ADP US non-farm payrolls increased 223,000 for December and slightly above consensus forecasts of 200,000 while the November increase was revised slightly lower to 256,000 from the original estimate of 256,000.
Manufacturing jobs increased 8,000 on the month and there were gains in most categories, although there was a dip in demand for temporary help.
The unemployment rate dipped to 3.5% from 3.6% and below expectations of 3.7%. There was a small increase in the participation rate while the household survey recorded a surge of over 700,000 in the number of people recorded as employed.
….but subdued wages growth
Average hourly earnings increased 0.3% with the annual increase slowing to 4.6% from 4.8%, the lowest reading since August 2021 and well below expectations of 5.0%.
Slide in the US services sector
The US ISM non-manufacturing index posted a sharp decline to 49.6 for December from 56.5 the previous month and substantially below consensus forecasts of 55.0. There was a sharp slowdown in business activity growth and the new orders component dipped sharply into contraction territory. Employment also edged lower on the month while supply-side stresses also eased.
There was a limited slowdown in inflation pressures with the prices index retreating to 67.6 from 70.0. Historically, this level for the headline ISM index would tend to suggest a slight contraction in overall GDP.
Treasuries post strong gains
US Treasuries secured initial relief after the US wages data and then posted strong gains after the ISM services data with the 10-year yield sliding to near 3.56% on Monday.
Risk appetite rebounds
Hopes for a soft landing in the US economy helped underpin risk appetite on Friday and a positive tone dominated on Monday with optimism over the Chinese outlook as coronavirus restrictions were removed further with border controls dropped.
Hopes for a Chinese rebound triggered a further advance in equities and commodities.
Dollar posts sharp losses
The slide in US yields and unease over the potential for a hard landing in the US economy triggered sharp dollar losses.
Increased confidence in the Chinese and Euro-Zone outlook also curbed demand for the US currency.
The dollar index was close to 6-month lows after posting further losses on Monday.
UK construction in contraction
The UK PMI construction index declined further to a 48.8 for December from 50.4 the previous month. This was below consensus forecasts of 49.6 and the weakest reading since May 2020. New orders also contracted and employment declined for the first time since January 2021 while there was a further net easing if inflation pressures.
Companies were pessimistic over the outlook with only the sixth negative reading on record.
Strong Canadian employment increase
The Canadian labour-market report recorded a strong 104,000 increase in December employment compared with expectations of close to 10,000.
The unemployment rate also declined to 5.0% from 5.1% compared with expectations of 5.2%.
Data Today
09.30: Euro-Zone Sentix index
23.45: Bank of England Pill speech
Key events over the next week
January 12th: US consumer prices
Gun to head challenge – Update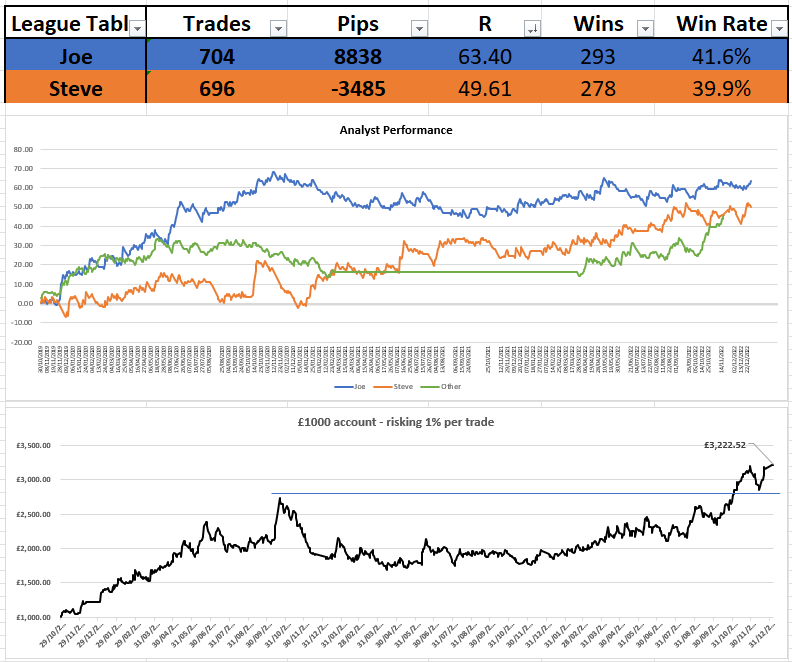 Today's trade idea

Have a great week everyone.
Get award-winning FCA regulated signals and levels on over 30 markets, as well as education resources so you never trade alone.