Good morning and welcome to episode 801 of 'Talking Bull'. Here are the latest headlines today, Hawkish rhetoric from Fed's Powell, Shift in Fed Funds pricing, US 2-year yield at 15-year high
Equites slide, Dollar surges in global markets, BoE Mann's Sterling warning, Fed Powell encore on Wednesday, US ADP jobs data Wednesday & BoC rate decision Wednesday.

We take a technical look at key markets that are likely to be impacted by today's events. Also, we participate in a 'Gun to the head' challenge where each of us calls a live trade. These will expire at 9pm tonight and we will keep track of the progress over time.
We hope you enjoy it!
For a selection of free educational content, join our Discord server at – https://discord.gg/Db4UWVFvF6
Show notes:
Joe and Steve were stopped out on EURCAD and Gold.
We have included an illustration based on a £1000 account. This will follow the combined return of our morning trades by risking 1% of the trading capital per trade. The 1% risk is a variable monetary amount and will rise and fall based on the success of the calls.
We are currently up 207.19% collectively since we began recording Talking Bull on the 30th October 2019.
News
Hawkish rhetoric from Fed's Powell
In prepared remarks to the Senate Banking Committee, Fed Chair Powell stated that the latest data had been stronger than expected, particularly for inflationary pressures. He also reiterated that there was little sign of disinflation so far in core services excluding the housing sector.
Powell also stated the Fed is prepared to increase the pace of rate hikes if the totality of incoming data indicates that faster tightening is warranted. In this context, he also noted that the dot plots of interest rate forecasts at the March meeting may well be higher than in December. He also rejected the argument that the Fed has over-tightened.
He did, however, add that the bank has significant data to see ahead of the March policy meeting and that there are many unusual factors affecting inflation.
He also expects housing inflation to moderate in the next 6-12 months.
Shift in Fed Funds pricing
Following Powell's hawkish testimony, there was a notable shift in Fed Funds futures with markets pricing in a 65% chance that the Fed will switch back to a fast pace of rate hikes and increase rates by 50 basis points to 5.25% at the March meeting.
US 2-year yield at 15-year high
The 2-year US yield hit 5.0% for the first time since 2007 after Powell's comments.
There was smaller retreat in longer-term Treasuries with the 10-year yield just below the 4.00% level and the 2/10 yield curve hit a record inversion of over 103 basis points.
Equites slide
Wall Street equities posted sharp losses following Powell's comments with fears over a more aggressive Fed stance dominating markets.
Global bourses overall were also firmly on the defensive.
Dollar surges in global markets
The dollar surged following Powell's comments and the currency index posted 3-month highs on a trade-weighted basis during the Asian session on Wednesday.
BoE Mann's Sterling warning
Bank of England Monetary Policy Committee member Mann strayed on to the subject of currencies and warned that the Pound could face downward pressure if investors have not yet fully priced in hawkish messages from the Federal Reserve and ECB. She added that there could be more Sterling depreciation if it's not priced in
Fed Powell encore on Wednesday
Federal Reserve Chair Powell will again testify to Congress on Wednesday with an appearance before the House Financial Services Committee.
The commentary will be watched closely for any differences in emphasis from Tuesday's rhetoric.
US ADP jobs data Wednesday
US jobs data will be watched very closely over the remainder of the week and the ADP data is due on Wednesday.
Last month, ADP signalled a weak increase in private payrolls of 106,000, but the employment report registered a surge in employment of over 500,000.
Another weak report would increase uncertainty over the true picture in the labour market and cause further confusion.
BoC rate decision Wednesday
The Bank of Canada will announce its latest policy decision on Wednesday with expectations that the benchmark interest rate will be unchanged at 4.50%.
Forward guidance will be important, but there is no updated Monetary Policy Report at this meeting.
Data Today
13.15: US ADP jobs data
15.00: US JOLTS job-openings data
15.00: Bank of Canada interest rate decision
15.30: US EIA crude inventories data
Key events over the next week
March 10th: Bank of Japan policy decision
March 10th: US employment report
March 10th: Canada employment report
Gun to head challenge – Update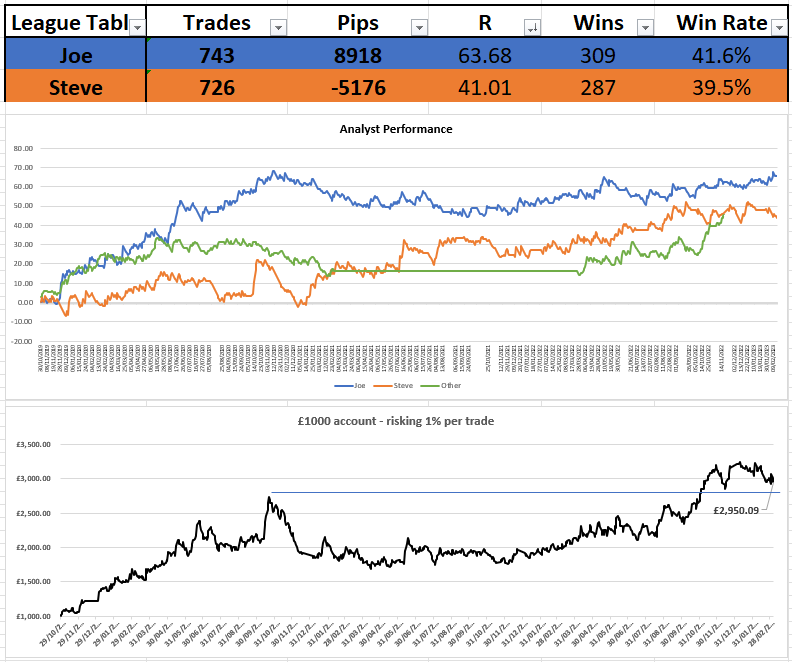 Today's trade idea
Have a great week everyone.
Get award-winning FCA regulated signals and levels on over 30 markets, as well as education resources so you never trade alone.