Good morning and welcome to episode 601 of 'Talking Bull'. In this video/podcast we cover the main headlines and what to expect from the day ahead. 
We take a technical look at key markets that are likely to be impacted by today's events. Also, we participate in a 'Gun to the head' challenge where each of us calls a live trade. These will expire at 9pm tonight and we will keep track of the progress over time.
We hope you enjoy it!
For a selection of free educational content, join our Discord server at – https://discord.gg/Db4UWVFvF6
Show notes:
Jamie and Steve were stopped out on DXY and GBPUSD. Joe hit target on NASDAQ for a 4.13R win!
We have included an illustration based on a £1000 account. This will follow the combined return of our morning trades by risking 1% of the trading capital per trade. The 1% risk is a variable monetary amount and will rise and fall based on the success of the calls.
We are currently up 120.18% collectively since we began recording Talking Bull on the 30th October 2019.
News
Bank of England hikes rate to 1.00%
The Bank of England increased interest rates by a further 25 basis points to 1.00% which was in line with consensus forecasts. There was, however, a 6-3 split for the decision with Haskel, Saunders and Mann voting for a larger 50 basis-point increase.
The monetary policy report stated that inflation was expected to peak just above 10% late this year. The revised growth forecasts were a key element with the bank forecasting that GDP would dip sharply in the fourth quarter of 2022 and contract slightly in 2023 with only marginal growth in 2024.
The consensus was that further rate increases would be needed over the next few months, but some members disagreed with this analysis and suggested that rates should not increase further given the economic risks. The very downbeat stance on the economy triggered a downward revision to medium-term interest rate expectations.
Sterling takes a tumble
Although the actual rate decision was slightly more hawkish than expected, growing divisions within the committee and the notably downbeat stance from the bank undermined confidence.
Forecasts of GDP contraction in 2023 and an inevitable surge in recession talk were crucial factors in undermining Sterling confidence.
The slide in global risk appetite was also a key element in undermining the currency with the sharpest one-day decline for over two years.
US bond yields surge again
After a limited decline following Chair Powell's comments on Wednesday, US yields moved sharply higher on Thursday.
The 10-year yield increased to highs at 3.10% and the highest level since early December 2018 amid fears over increased inflation pressures.
Wall Street collapses
US equites came under sustained pressure as the quick reverse from Wednesday's strong gains triggered a sharp reversal and heavy selling.
Markets were also unsettled by the increase in yields and fears over a tightening of financial conditions in the US and global economy.
The Nasdaq index posted a sharp 5.0% decline on the day with a test of 17-month lows.
Dollar posts fresh 20-year highs
The surge in US yields helped boost the dollar and markets continued to see little attraction in alternative currencies. The slide in risk appetite also provided an element of support for the dollar, especially with fears over further pressure on the Chinese economy. The dollar index surged to a fresh 20-year high.
Norges Bank on course for June rate hike
The Norwegian central bank held interest rates at 0.75% following the latest policy meeting and continued to signal that rates would be increased again at the June meeting.
Data Today
13.30: US employment report
13.30: Canada employment report
Key events over the next week
May 11th: US consumer prices
Gun to head challenge – Update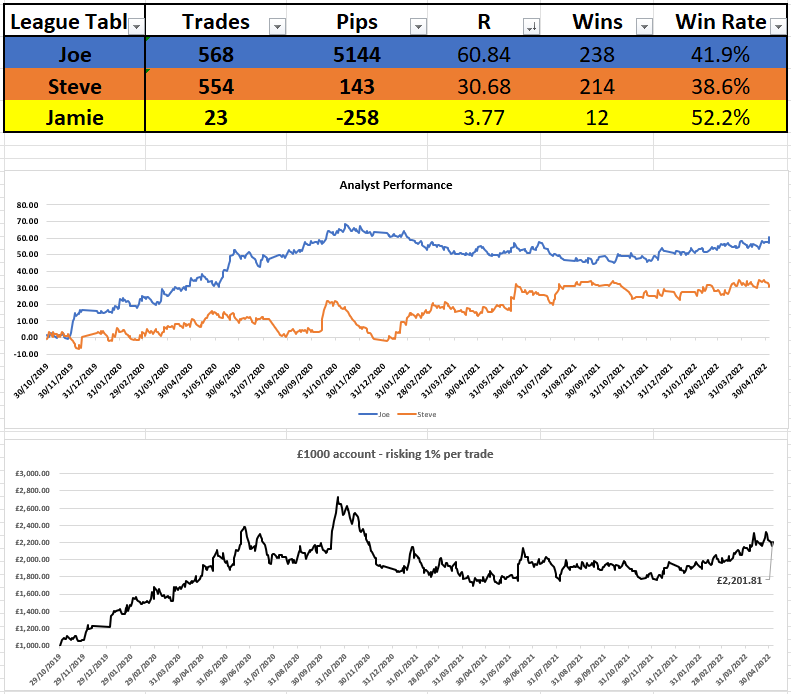 Today's trade idea

Have a great week everyone.
Get award-winning FCA regulated signals and levels on over 30 markets, as well as education resources so you never trade alone.