Good morning and welcome to episode 456 of 'Talking Bull'. In this video/podcast we cover the main headlines and what to expect from the day ahead. 
We take a technical look at key markets that are likely to be impacted by today's events. Also, we participate in a 'Gun to the head' challenge where each of us calls a live trade. These will expire at 9pm tonight and we will keep track of the progress over time.
We hope you enjoy it!
Join us on Telegram for more content – https://t.me/SCFree
Show notes:
Joe was offside by 0.41R on NZDUSD at 9pm.
We have included an illustration based on a £1000 account. This will follow the combined return of our morning trades by risking 1% of the trading capital per trade. The 1% risk is a variable monetary amount and will rise and fall based on the success of the calls.
We are currently up 94.87% collectively since we began recording Talking Bull on the 30th October 2019.
News
The European Central Bank will have to decide later whether the recovery is strong enough to warrant an imminent slowdown in monetary stimulus. Policy makers are due to settle on how much bond buying the economy will need in the fourth quarter, weighing risks to the outlook such as the delta variant and supply-chain bottlenecks. Their conclusions will also be based on a fresh, closely-watched set of economic projections. Bond traders are betting President Christine Lagarde treads carefully.
The U.K. property market entered a lull in August, with a survey showing sales and demand easing. The Royal Institution of Chartered Surveyors update indicates that the tapering of a stamp-duty holiday on July 1 has tapped the brakes on a housing market that defied the economic slump. A shortage of properties continues to help to underpin prices.
China's technology stocks slid after officials told firms including Tencent Holdings and Netease to end their focus on profit in gaming, once again highlighting Beijing's regulatory crackdown. Beijing wants firms to prevent minors from becoming addicted to games, and says they should remove "obscene and violent content" and avoid "unhealthy tendencies, such as money-worship and effeminacy."
The pandemic-driven athleisure boom continues, with Lululemon Athletica jumping in late trading Wednesday after boosting its outlook for the year and reporting sales that outpaced expectations. The firm is benefiting from so many people still working from home in comfy clothes — though, like the rest of the corporate world, is also having to navigate a minefield of rising costs and logistical challenges. Peers including Adidas and Puma could get a boost in Europe today.
Asian markets have followed their US counterparts lower overnight, with declines across the S&P 500, Dow, and Nasdaq ultimately translating into weakness throughout Japan, China, Hong Kong, and Australia. Chinese inflation data highlights the ongoing rise in factory costs, with PPI rising to 9.5%. Elevated PPI is now the norm, with the past four months averaging over 9%. However, that elevated PPI appears to be impacting CPI abroad more so than at home, with Chinese CPI falling to 0.8%.
Today sees the ECB rate decision dominate, with elevated inflation putting pressure on Lagarde to act. Nonetheless, we are not expecting any notable shift in policy at this meeting, with the ECB likely to hold off on ending the current front-loading of asset purchases. Keep an eye out for the latest inflation and growth forecasts.
Elsewhere, US unemployment claims and crude inventories provide two key releases, while appearances from FOMC member Daly, Evans, Bowman, and Williams will shift the focus on to US monetary policy later in the day.
Data Today
12.45pm – ECB decision (1.30pm press conference): no change in policy expected, but recent higher inflation prints will lead to some commentary around the outlook for easing. Markets to watch: EUR crosses
1.30pm – US initial jobless claims (w/e 4 September): claims fell to 340K in the previous week. Markets to watch: USD crosses
4pm – US EIA crude oil inventories (w/e 3 September): stockpiles fell by 7.17 million barrels in the preceding week. Markets to watch: Brent, WTI
Gun to head challenge – Update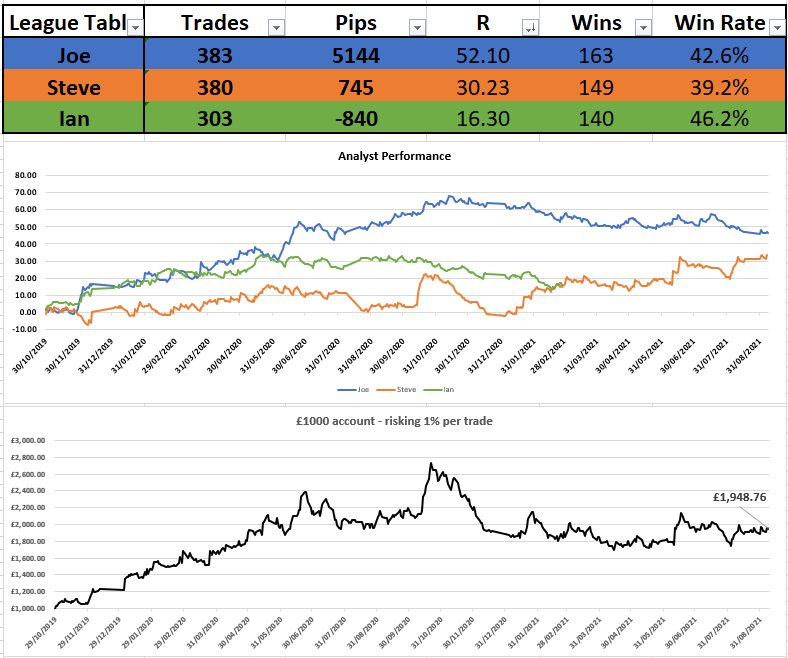 Today's trade idea

Have a great week everyone.
Get award-winning FCA regulated signals and levels on over 30 markets, as well as education resources so you never trade alone.