Good morning and welcome to episode 500 of 'Talking Bull'. In this video/podcast we cover the main headlines and what to expect from the day ahead. 
We take a technical look at key markets that are likely to be impacted by today's events. Also, we participate in a 'Gun to the head' challenge where each of us calls a live trade. These will expire at 9pm tonight and we will keep track of the progress over time.
We hope you enjoy it!
Show notes:
Joe was stopped out on Bitcoin, while Steve made 0.39R on Hang Seng.
We have included an illustration based on a £1000 account. This will follow the combined return of our morning trades by risking 1% of the trading capital per trade. The 1% risk is a variable monetary amount and will rise and fall based on the success of the calls.
We are currently up 77.89% collectively since we began recording Talking Bull on the 30th October 2019.
News
President Joe Biden preserved continuity at the Federal Reserve by selecting Jerome Powell for a second term as chair and elevating Lael Brainard to vice chair, sending Wall Street into the Thanksgiving holiday with one less worry. The moves are likely to ensure consistency at the central bank as the U.S. economy grapples with the continued fallout from the pandemic and rising inflation. Bets on a quicker withdrawal of monetary stimulus pushed up Treasury yields and the dollar, and contributed to a final-hour selloff in tech shares that left U.S. stocks in the red.
The European Central Bank is "serious" about ending its emergency bond-buying program in March and may not need to expand regular asset purchases to cover the shortfall, according to Governing Council member Francois Villeroy de Galhau. Once the ECB has exited its emergency stimulus program it should gradually "adapt" its pre-crisis program "as a second step" and remain open in terms of pace and timing, he said.
President Joe Biden is said to be preparing to announce a release of oil from the nation's Strategic Petroleum Reserve as soon as Tuesday. The move, likely in conjunction with India, Japan and South Korea, would be an unprecedented effort by major oil consumers to tame prices. OPEC+ officials warned they're likely to respond to these plans, setting up a fight for control of the global energy market.
Chancellor Angela Merkel said the latest surge in Covid-19 infections is worse than anything Germany has experienced so far and called for tighter restrictions to help check the spread. Meanwhile, Slovakia is mulling the possibility of declaring a three-week full lockdown. Elsewhere, the U.S. said it would skirt lockdowns imposed in some European countries while China faces its toughest virus battle since the first days of the pandemic.
Australian stocks were the notable outperformer overnight, in a session that was largely subdued on the prospect of Jerome Powell leading the Fed into a year of monetary tightening. Biden's choice to approve Powell for a second term signals a likely two rate hikes in 2022, starting in June. Data out of Australia and New Zealand provided grounds for optimism, with the Australian services sector in particular growing at a significant clip in November. With Japanese markets closed, it was the Hang Seng that bore the brunt of the selling pressure after losing over 1%. Talk of a multinational release of strategic petroleum reserves from the likes of the US, China, India, and Japan provides a focus on the energy markets today. Meanwhile, the release of PMI data throughout Europe and the US provides a focus for traders as the day progresses.
Data Today
8.15am – 9am – French, German, eurozone PMIs (November, flash): German mfg PMI to fall to 56.9. Markets to watch: EUR crosses
9.30am – UK PMIs (November, flash): services PMI to fall to 57.8 and mfg PMI to drop to 56.9. Markets to watch: GBP crosses
2.45pm – US PMIs (November, flash): mfg PMI to fall to 57.2 and services PMI to fall to 58.2. Markets to watch: USD crosses
Gun to head challenge – Update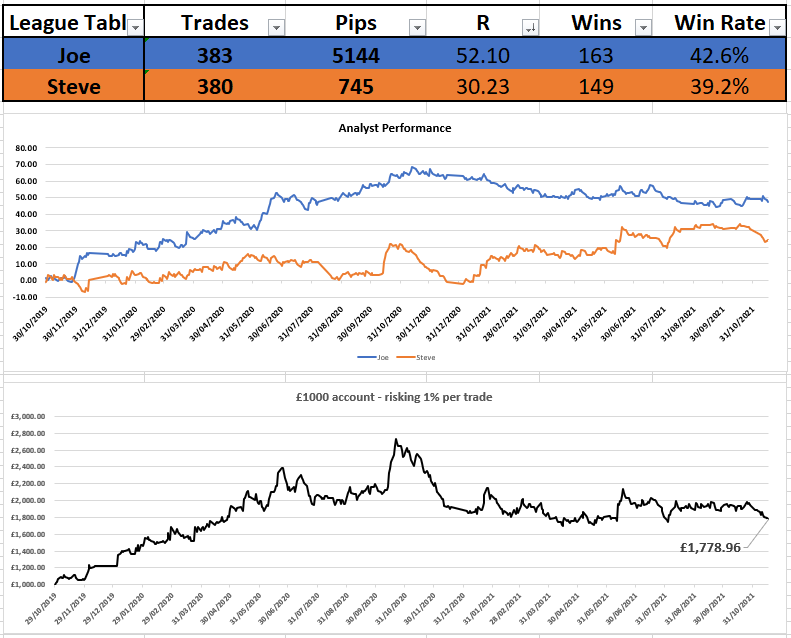 Today's trade idea

Have a great week everyone.
Get award-winning FCA regulated signals and levels on over 30 markets, as well as education resources so you never trade alone.