All information correct as of 1st May 2018
F5 Networks (FFIV)
Market Cap: $9,934,732,170
Primary Exchange: NASDAQ
Sector: COMMUNICATIONS EQUIPMENT
Key Facts
F5 Networks, Inc. is an American-based company that specializes in application delivery networking (ADN) technology for the delivery of web applications and the security, performance, availability of servers, data storage devices, and other network and cloud resources. F5 is headquartered in Seattle, Washington, and has other development, manufacturing, and sales/marketing offices worldwide. Known originally for its load balancing product, today F5's product and services line has expanded into all things related to the delivery of applications, including local load balancing and acceleration, global (DNS based) load balancing and acceleration, security through web application firewall and application authentication and access products, DDoS defense, and more. F5 technologies are available in the data centre and the cloud, including private, public, and multi-cloud environments based on platforms such as AWS, Microsoft Azure, Google Cloud, and OpenStack.
WEBSITE: www.f5.com
SECTOR: Technology, Communications Equipment
MARKET CAP: $9,934,732,170
EMPLOYEES: 4,385
NEXT REPORTING: 25/7/2018
EX-DIVIDEND: n/a
MANAGEMENT: https://f5.com/about-us/leadership
COMPETITION/PEERS: Cisco Systems, Netgear, Juniper Networks
CONTACT: https://twitter.com/f5networks
FUNDAMENTALS
REVENUES
According to the last set of numbers F5 Networks revenues grew by 2.9% year over year to $533.3, above the mid-point of the guidance range at $525-535million. 55% of total revenues came from services, which were boosted by 6.7% on the year. Product revenues however declined by 1.5% on a year over year basis. Revenue from the Americas were up 1% contributing to 55% of total revenue. EMEA increased 8% to 26% of total revenue, there was also an increase in APAC, while there was a small decline in Japan.

OPERATING RESULTS
Gross profits were up 2.9% on a year over year basis and came in at $451.2m. Operating profit was up 1% from a quarter previous at $187.5m and pretty much flat on a year over year basis. The company's net income came in at approximately $143.3m, compared with $127m reported a year ago.
GUIDANCE 
3rd Quarter estimates are in the range of $535-545million. The Earnings per Share estimates are in the range of $2.36-2.39.

EARNINGS HISTORY
Over the past 6 announcements F5 Networks has come in under estimates on only one occasion. The price change at the close of business the next day has varied sharply. Trading based on earnings would have been a poor strategy to adopt over the previous 18 months. Since 2007 the average price change on the day of earnings is 2.23%.
BALANCE SHEET
F5 Networks filed cash, cash equivalents and short term investments at approximately $1.02 Billion, which is up slightly from the previous quarter. Long term liabilities are at $328.4m. During the previous quarter the company repurchased shares worth approximately $300mil.
BROKER CONSENSUS 
The broker consensus is mixed on F5 at present. The bias is mildly bullish overall but the majority of the 22 analysts covering the stock have opted to rate it as a hold. The most recent broker comment came from  William Blair with a Buy upgrade on the 13th April 2018.

RECENT ANNOUNCEMENTS
Quantitative Outlook
Our quantitative model ranks shares based on 23 different metrics. We use this to uncover value using a variety of fundamental factors. It is also exceptionally useful when used as a tool for comparing companies versus sector peers.
F5 Networks ranks exceptionally well on ROE, 1 month analyst revisions, Return on Assets, and Sustainable growth metrics when compared against the largest 300 technology stocks across Europe and North America.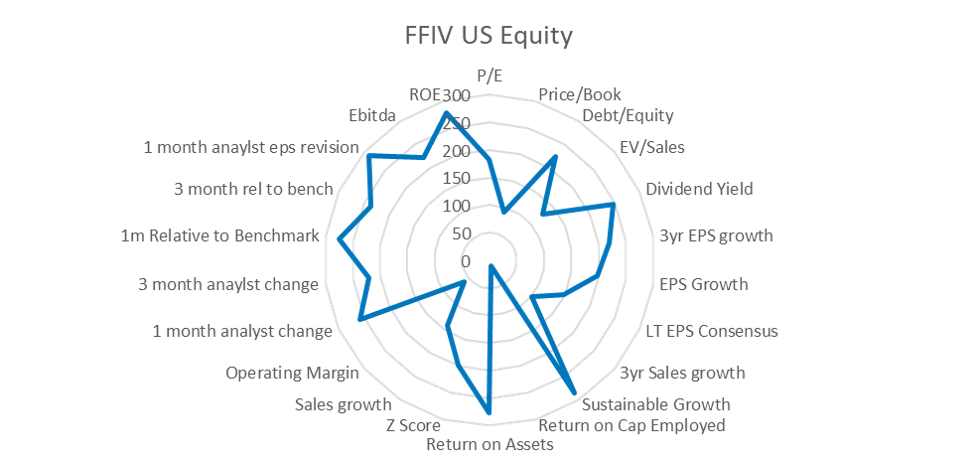 Quantitative rank versus peers
FFIV ranks in the top 10 overall versus 300 tech stocks in Europe and North America. Sector peers Juniper Networks, Cisco Systems and Netgear all score well below FFIV. F5 Networks ranks superior to its peers on Growth, Momentum and Profitability metrics.

TECHNICAL ANALYSIS – WEEKLY VIEW
F5 broke to new highs on the weekly chart above $150. The shares had been trading in a huge range that dates back to 2011. There have been attempts over the years to break the $150 barrier and finally we have seen a push above this key resistance, this has been accompanied by fresh buying impetus.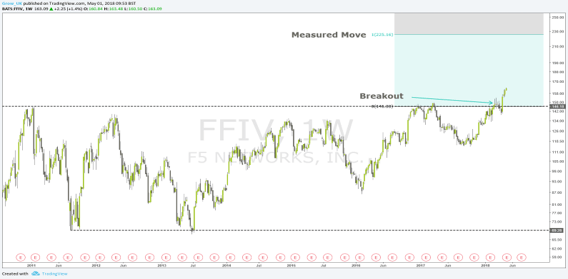 The large range between $70-150 dates back to 2011, using technical methods to measure the potential upside we have come up with a price target of $225 over the long term. That represents around 50% potential upside from our ideal entry point, which is on a pullback to retest the new support at $150.
90 DAY VOLUME:  833k
YTD RETURN: 23.9%
52 WEEK HIGH: $163
52 WEEK LOW: $114
SUPPORT
S1: $154
S2: $149
S3: $146
RESISTANCE
R1: $163
R2: $164
R3: $170
LONG TERM TARGET: $225
TECHNICAL ANALYSIS – DAILY VIEW
F5 Networks completed a bullish flag on the break up through  resistance at $146. This quickly followed up with a big gap higher on earnings, opening up at $155 on the 13th April. The price has continued to push higher in the short term and is showing no immediate sign of slowing.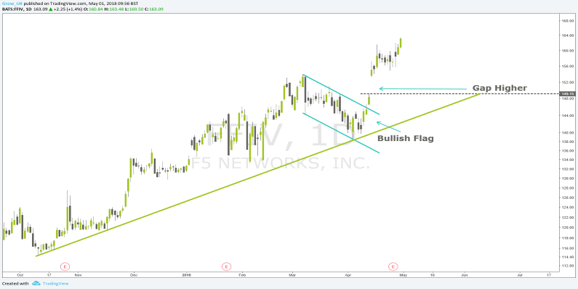 The gap on the daily chart provides a reference for support. We expect this to be filled at some stage and therefore would prefer to buy on a corrective move lower to retest the new support. The ideal entry level to buy is at $150, targeting a move towards $180 over the short term.
1 MONTH HIGH:  $163.4
1 MONTH LOW: $139.7
50 DAY MA: $149
200 DAY MA: $131
1 MONTH VOLATITY:  8.37
1 WEEK VOLATITY: 7.5
RSI: 73
ATR 14: 7
SHORT TERM TARGET: $180
Currency Risk – GBP/USD
UK based clients. Investing in overseas assets carries some degree of currency risk. Here is our analysis of Sterling versus the US dollar.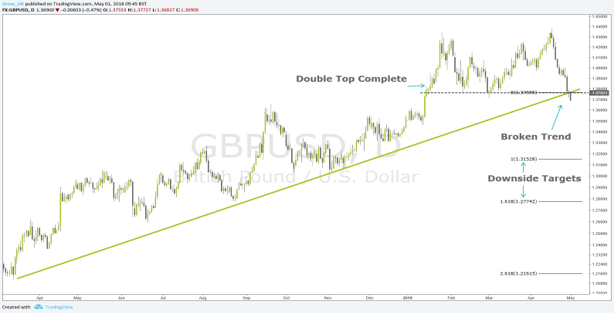 TECHNICAL ANALYSIS
GBP/USD has broken below some huge support levels in recent sessions. The move below support at 1.3762 means the pair has completed a double top and a break of the medium term uptrend. The measured move of the top pattern comes in at 1.3152 and an extension of this move comes in at 1.2774.
With Sterling weakening and the US dollar appreciating, buying US assets could provide some shelter against further Sterling weakness.
SUMMARY
Overall we feel F5 Networks (FFIV) offers decent upside potential over the short, medium and long term. Considering the fundamentals and technical price action we would be buyers of F5 Networks. Ideal entry would be on a correction towards support at $150. From entry to our proposed target we believe there is upside potential of 50%..