Good morning and welcome to episode 613 of 'Talking Bull'. In this video/podcast we cover the main headlines and what to expect from the day ahead. 
We take a technical look at key markets that are likely to be impacted by today's events. Also, we participate in a 'Gun to the head' challenge where each of us calls a live trade. These will expire at 9pm tonight and we will keep track of the progress over time.
We hope you enjoy it!
For a selection of free educational content, join our Discord server at – https://discord.gg/Db4UWVFvF6
Show notes:
It was a mixed bag yesterday! Joe was offside 0.05R on AUDJPY, Steve was onside 0.34R on Gold, and Jamie was offside 0.24R on GBPJPY.
We have included an illustration based on a £1000 account. This will follow the combined return of our morning trades by risking 1% of the trading capital per trade. The 1% risk is a variable monetary amount and will rise and fall based on the success of the calls.
We are currently up 125.80% collectively since we began recording Talking Bull on the 30th October 2019.
News
German services sector resilient
The German IFO index strengthened to a 3-month high of 93.0 for May from a revised 91.9 the previous month and comfortably above consensus forecasts of 91.4.
The IFO stated the economy is showing resilience and that there is no sign of recession. The services-sector was more confident on the month, although the situation in the industrial sector was more difficult.  Inflation expectations eased slightly on the month, but, according to the IFO, this was more due to subdued demand rather than easing of supply-side stresses.
Hawkish ECB rhetoric continues
ECB President Lagarde stated that the bank was likely to be in a position to exit negative interest rates by the end of the third quarter. She also warned that the pace and scale of monetary policy adjustment could not be determined in advance and the situation is complicated by the presence of negative supply shocks.
The overall rhetoric was, however, more hawkish given the hints of two rate increases during the third quarter and the Euro secured further buying support.
Bundesbank head Nagel focussed on the labour market and stated that it seemed to be clear that wage moderation seen for 10 years in Germany is over.
Euro hits 1-month high
The Euro and Sterling continued to gain support from short covering while the dollar was again hit by a correction as equity markets held net gains.
EUR/USD posted a 1-month high just below 1.0700 with a further element of short covering in evidence.
Fed on track for 2% rates in two months
Kansas City Fed President George stated that inflation is clearly decelerating, but could jump again and reducing inflation is the top priority. She added that she expected interest rates to be around 2.0% by August.
Snap triggers fresh shivers over the US outlook
San Francisco's Daly stated that the US economy had plenty of momentum and does not expect recession.
Shares in US media company Snap, however, plunged after an earnings warning and comments that the US economy had deteriorated faster than expected in the latest month.
US equity futures dipped sharply after the market close which also sapped overall risk appetite.
BoE's Bailey expects further rate hikes
Bank of England Governor Bailey stated that the UK has a very tight labour market, but that does not mean that the UK looks like a story about rapid demand growth and he retreated that the economy is facing a very big negative impact on real income.
According to Bailey, the bank is ready for more interest rate hikes if needed.
Data Today
08.30: Germany PMI index (flash reading)
09.30: UK PMI index (flash reading
14.45: US PMI index (flash reading)
Key events over the next week
May 25th: Federal Reserve minutes
Gun to head challenge – Update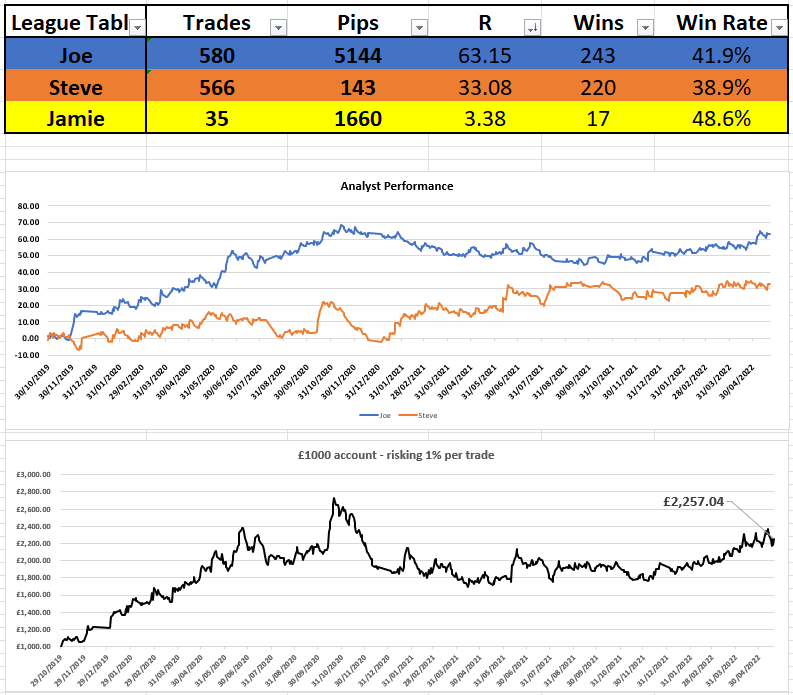 Today's trade idea

Have a great week everyone.
Get award-winning FCA regulated signals and levels on over 30 markets, as well as education resources so you never trade alone.