Good morning and welcome to episode 474 of 'Talking Bull'. In this video/podcast we cover the main headlines and what to expect from the day ahead. 
We take a technical look at key markets that are likely to be impacted by today's events. Also, we participate in a 'Gun to the head' challenge where each of us calls a live trade. These will expire at 9pm tonight and we will keep track of the progress over time.
We hope you enjoy it!
Show notes:
Joe was stopped out on FTSE. Steve made 0.33R on DAX.
We have included an illustration based on a £1000 account. This will follow the combined return of our morning trades by risking 1% of the trading capital per trade. The 1% risk is a variable monetary amount and will rise and fall based on the success of the calls.
We are currently up 93.97% collectively since we began recording Talking Bull on the 30th October 2019.
News
Rising prices and interest rates are poised to add 15 billion pounds ($20 billion) to the U.K. government's debt payments this year and beyond, squeezing public finances, according to a report by the Institute for Fiscal Studies. Chancellor of the Exchequer Rishi Sunak is facing pressure to boost spending just as inflation tensions are rising. This comes against the backdrop of increasing bets against the pound amid speculation that Bank of England efforts to tackle inflation would hit the growth outlook.
The industrial sector in Europe is cutting down on demand for natural gas in the latest sign of disruption caused by surging energy prices. Average consumption so far in October is 12% lower than its pre-pandemic level, having started falling in September. Meanwhile, a coal-based power plant in the U.K. switched on to make up for the shortfall in wind power generation and limited flows on power cables to Ireland.
German carrier Lufthansa paid back $1.7 billion to the state, eliminating part of the support that helped it stay afloat during the coronavirus pandemic. It plans to repay a remaining 1 billion euros ($1.2 billion) by year-end. The airline's executives are racing against time as the government set to succeed the Christian Democrats may not be as accommodating.
The European Union is set to offer the largest-ever green bond on Tuesday, aiming to raise 12 billion euros ($13.9 billion). This would surpass the size record set by the U.K. last month and put it on course to overtake the green market's dominant issuer, France, in coming years. Market participants expect it to trigger an "absolute riot" of investor demand at a time of surging interest for debt with sustainable labels.
European markets are set to follow Asia's lower, with equities dipping and U.S. futures retreating as energy costs stoked inflation concerns. The possibility of a widening Chinese crackdown on private industry also rang alarm bells.
Asian markets lost ground overnight, with Evergrande missing its third bout of bond payments in as many weeks. The technology sector led the losses in China. Overnight data saw Japanese PPI rise to 6.3%, while a gauge of UK retail sales slipped from 1.5% to -0.6%. UK jobs data saw disappointment on the claimant count (-51.1k from -58.6k), although earnings and unemployment fell.
Keep an eye out for the latest ZEW economic sentiment reading out of Germany, with the US session bringing comments from Fed members Clarida and Bostic in the wake of Friday's low NFP number.
Data Today
10am – German ZEW index (October): index to fall to 17.6. Markets to watch: EUR crosses
Gun to head challenge – Update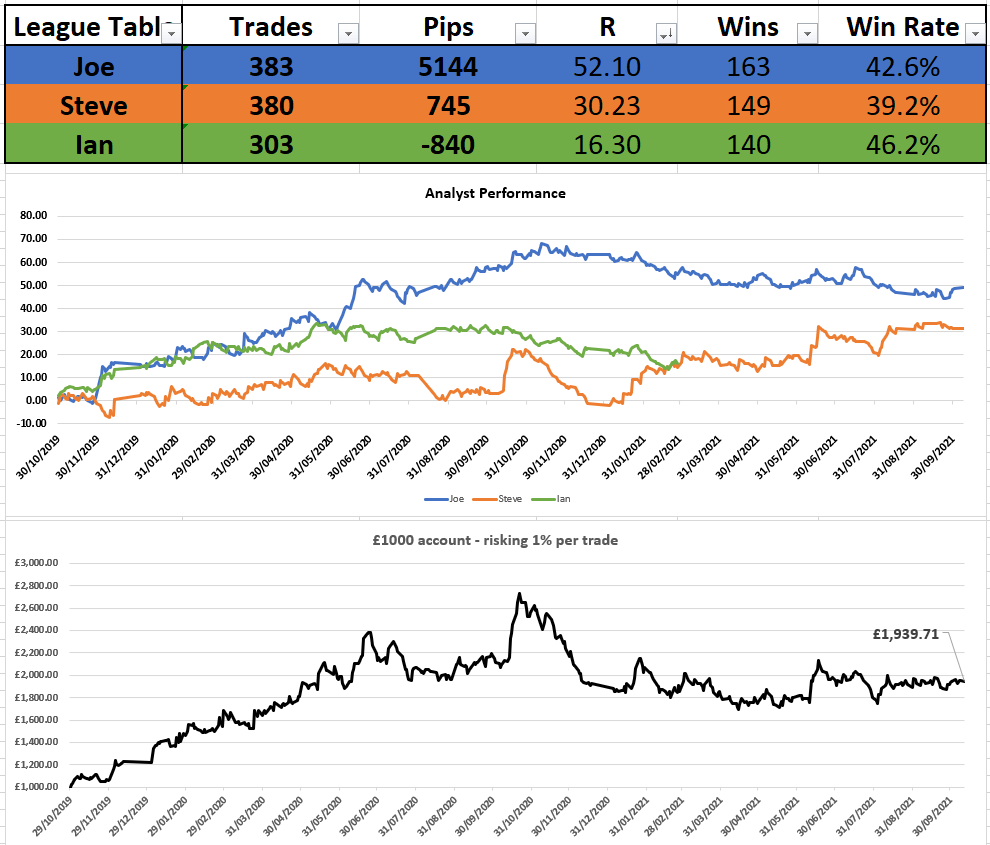 Today's trade idea

Have a great week everyone.
Get award-winning FCA regulated signals and levels on over 30 markets, as well as education resources so you never trade alone.