Good morning and welcome to episode 466 of 'Talking Bull'. In this video/podcast we cover the main headlines and what to expect from the day ahead. 
We take a technical look at key markets that are likely to be impacted by today's events. Also, we participate in a 'Gun to the head' challenge where each of us calls a live trade. These will expire at 9pm tonight and we will keep track of the progress over time.
We hope you enjoy it!
Show notes:
Joe and Steve were stopped out on Dollar Index and USDCAD.
We have included an illustration based on a £1000 account. This will follow the combined return of our morning trades by risking 1% of the trading capital per trade. The 1% risk is a variable monetary amount and will rise and fall based on the success of the calls.
We are currently up 88.94% collectively since we began recording Talking Bull on the 30th October 2019.
News
Federal Reserve Chair Jerome Powell said the U.S. central bank could begin scaling back asset purchases in November and complete the process by mid-2022. Officials revealed a growing inclination to raise interest rates next year. Powell, explaining the U.S. central bank's first steps toward withdrawing emergency pandemic support for the economy, told reporters Wednesday that tapering "could come as soon as the next meeting." That would be on Nov. 2-3. The Fed also raised its 2022 inflation outlook to 2.2% from 2.1%.
You thought the Fed, BOJ and Riksbank were enough for a week? The marathon continues today with rate decisions in the U.K., Switzerland, South Africa, Turkey and Norway. The latter is expected to actually raise rates this morning, and to confirm another hike for December, followed by more increases next year. It'll be the first such post-pandemic tightening among nations with the world's 10 most-traded currencies. No change to rates or asset purchases is expected from the Bank of England, though at least one monetary policy committee member is likely to vote for an early end to asset purchases.
mRNA-based vaccines like Pfizer-BioNTech and Moderna's are likely to come in three-shot regimens in the future, the U.S.'s Anthony Fauci said, just before the country's regulators authorized a third Pfizer shot for people 65 and over. Europe's already embarked on a booster vaccine effort, with Britain declaring it'll offer such shots for over-50s and similar offerings underway in countries including Germany and Italy.
The wave of failing British energy suppliers is starting to arrive in people's radiators. More than 1.5 million U.K. households are being forced to switch energy suppliers after two more retailers collapsed on Wednesday, bringing the tally of companies going out of business to seven since early August. Companies have been asking for the price cap on default tariffs to be lifted to allow them to shift some of the pain onto consumers, but the government has stated that this won't happen. Instead, state-backed loans are being considered to help ease costs for larger firms to take on the customers of failed companies.
The rebound in global markets continues, with the FTSE 100 in particular having recouped all its losses from earlier in the week. The US Federal Reserve has laid out its plans for tapering its asset purchase programme, but has been keen to stress that there is no rush to raise interest rates. Today sees a much busier day for economic data, with flash PMIs from around the globe providing insight into the world economy. The Bank of England also issues its latest decision today, and while no changes in policy are expected the discussion around the UK economic outlook may provide some volatility in sterling.
Data Today
8.15am – French, German, eurozone mfg & services PMIs (September, flash): eurozone services PMI to fall to 59 and mfg PMI to fall to 60.4. Markets to watch: eurozone indices, EUR crosses
9.30am – UK mfg & services PMI (September, flash): mfg PMI to fall to 59, and services to rise to 55.1. Markets to watch: FTSE 100/250, GBP crosses
12pm – BoE rate decision: no change in rates expected, but recent inflation data may prompt a discussion on policy. Markets to watch: GBP crosses
1.30pm – US initial jobless claims (w/e 18 September), Chicago Fed nat'l activity index (August): claims to fall to 310K and Chicago Fed index to drop to 0.4. Markets to watch: USD crosses
2.45pm – US mfg & Services PMI (September, flash): mfg PMI to fall to 60 and services PMI to fall to 54. Markets to watch: US indices, USD crosses
Gun to head challenge – Update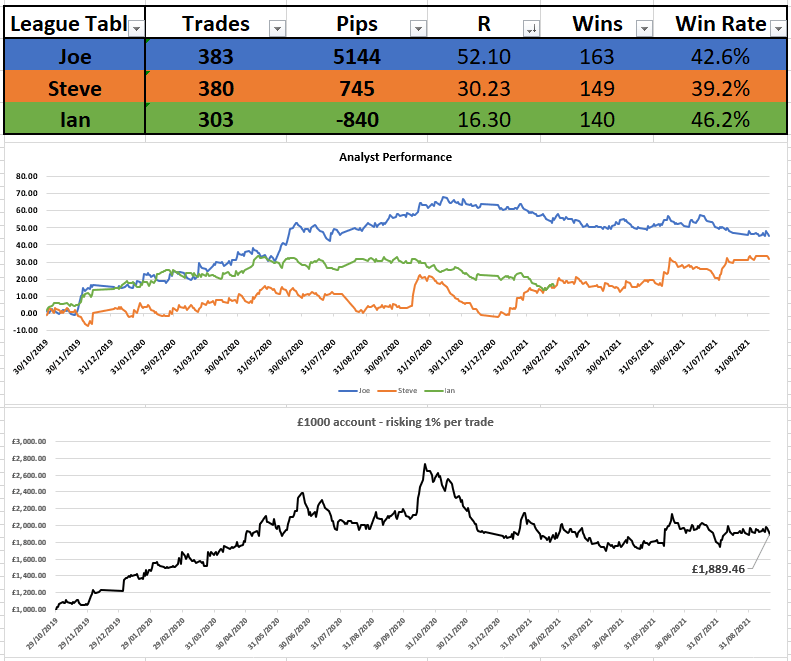 Today's trade idea

Have a great week everyone.
Get award-winning FCA regulated signals and levels on over 30 markets, as well as education resources so you never trade alone.