Good morning and welcome to episode 525 of 'Talking Bull'. In this video/podcast we cover the main headlines and what to expect from the day ahead. 
We take a technical look at key markets that are likely to be impacted by today's events. Also, we participate in a 'Gun to the head' challenge where each of us calls a live trade. These will expire at 9pm tonight and we will keep track of the progress over time.
We hope you enjoy it!
Show notes:
Steve made 1.24R on Oil. Joe was stopped out on AUDUSD.
We have included an illustration based on a £1000 account. This will follow the combined return of our morning trades by risking 1% of the trading capital per trade. The 1% risk is a variable monetary amount and will rise and fall based on the success of the calls.
We are currently up 85.18% collectively since we began recording Talking Bull on the 30th October 2019.
News
Federal Reserve Governor Lael Brainard said tackling inflation and getting it back down to 2% while sustaining an inclusive recovery is the U.S. central bank's most pressing task. "Inflation is too high," Brainard said in remarks prepared for a confirmation hearing before the Senate Banking Committee. If confirmed by the Senate, Brainard will be Chair Jerome Powell's closest team member on monetary policy and strategy alongside New York Fed President John Williams.
Boris Johnson bought some breathing space by apologizing for attending a party at his Downing Street office during the first pandemic lockdown, but anger in his ruling U.K. Conservative Party means his grip on power is precarious. Opposition politicians repeatedly called on him to resign during a heated session of Prime Minister's Questions in Parliament on Wednesday. Tory benches were subdued.
The U.S. is seeking to reassure European allies that any potential sanctions against Russia if it attacks Ukraine won't disrupt short-term energy supplies on the continent. The U.S. is said to be working to come up with contingency options in case President Vladimir Putin decides to cut energy supplies to Europe in response to Western nations pressing back on an invasion of Ukraine by limiting the sale of technology Russia needs for its energy sector. European gas prices slumped after the news.
Bitcoin is slightly lower after it climbed above $44,000 for the first time in a week as the most U.S. inflation in four decades revives the debate about whether the cryptocurrency is a hedge against rising consumer prices. Crypto proponents have long argued that Bitcoin and other digital assets, on account of their being an idiosyncratic asset class, could act as hedges against swings in other areas of the financial market.
A more positive tone prevailed yesterday, both in Europe and in the US, even as US CPI once again grew strongly. But markets are more bothered by the pace rather than the direction, and with price increases coming in line with forecasts a more sanguine outlook seemed to take hold. Equities have risen off the lows of the week, with European stocks outpacing the US for a change, as investors contemplate the growing gap between the Fed and the ECB on monetary policy. There is still an abundance of Fed speakers determined to pronounce on how many hikes we will get this year, but each additional comment seems to carry less weight. Tightening, it seems, is now an established fact, and investors now begin to look at which sectors will do best in such an environment.
Data Today
1.30pm – Initial jobless claims (8 January), PPI (December): claims expected to rise to 215K from 207K. PPI expected to rise 0.4% MoM. Markets to watch: USD crosses
Gun to head challenge – Update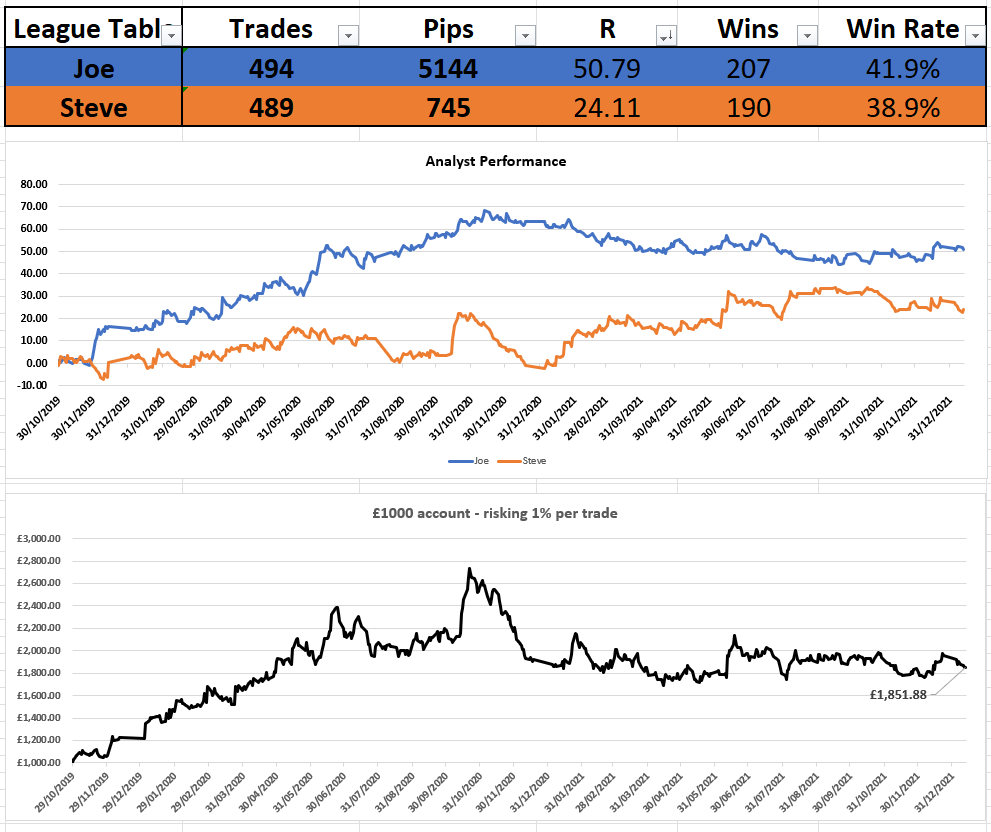 Today's trade idea

Have a great week everyone.
Get award-winning FCA regulated signals and levels on over 30 markets, as well as education resources so you never trade alone.