Good morning and welcome to episode 799 of 'Talking Bull'. Here are the latest headlines today, US services data remains firm, Fed inflation warnings continue… but US yields edge lower, Tentative Wall Street gains, Dollar drifts lower, RBA rate decision Tuesday & Fed testimony Tuesday.

We take a technical look at key markets that are likely to be impacted by today's events. Also, we participate in a 'Gun to the head' challenge where each of us calls a live trade. These will expire at 9pm tonight and we will keep track of the progress over time.
We hope you enjoy it!
For a selection of free educational content, join our Discord server at – https://discord.gg/Db4UWVFvF6
Show notes:
Joe and Steve hit target on NZDJPY & S&P500. 2.84R & 2.31R.
We have included an illustration based on a £1000 account. This will follow the combined return of our morning trades by risking 1% of the trading capital per trade. The 1% risk is a variable monetary amount and will rise and fall based on the success of the calls.
We are currently up 207.19% collectively since we began recording Talking Bull on the 30th October 2019.
News
US services data remains firm
The US ISM non-manufacturing PMI index declined marginally to 55.1 for February from 55.2 the previous month, but above consensus forecasts of 54.5. There was a slowdown in business activity for the month while new orders increased at a faster rate on the month.
There was a stronger rate of growth in employment for the month while supply constraints eased slightly and the prices index retreated slightly to 65.6 from 67.8 previously. Although this was the lowest reading for two years, the overall rate of increase was still relatively high in historic terms.
Fed inflation warnings continue…
San Francisco Fed President Daly stated that the central bank would adjust the rate path higher and longer if the next inflation data is hot and further tightening will probably be necessary, but she added that anecdotes from business leaders suggest inflation is slowing more than recent data suggests.
… but US yields edge lower
Treasuries managed to regain some ground on Friday with the 10-year yield retreating back below 4.00%.
Tentative Wall Street gains
Wall Street indices managed to make gains on Friday despite persistent concerns over inflation and Fed tightening with some relief that yields edged lower.
Overall risk appetite held firm amid relief over US trends.
Dollar drifts lower
The slight decline in US yields and net gains in equities limited demand for US dollar on Friday and the currency index drifted lower.
RBA rate decision Tuesday
The Reserve Bank of Australia will announce its latest interest rate decision on Tuesday. Consensus forecasts are for a further 25 basis-point rate hike to 3.60%.
Forward guidance will inevitably be an important element.
Fed testimony Tuesday
Federal Reserve Chair Powell will testify to Congress on Tuesday with the comments extremely important for underlying Federal Reserve expectations and market sentiment.
Data Today
03.30 (Tues): Reserve Bank of Australia policy decision.
Key events over the next week
March 7th: Fed Chair Powell testimony
March 8th: Bank of Canada rate decision
March 10th: Bank of Japan policy decision
March 10th: US employment report
March 10th: Canada employment report
Gun to head challenge – Update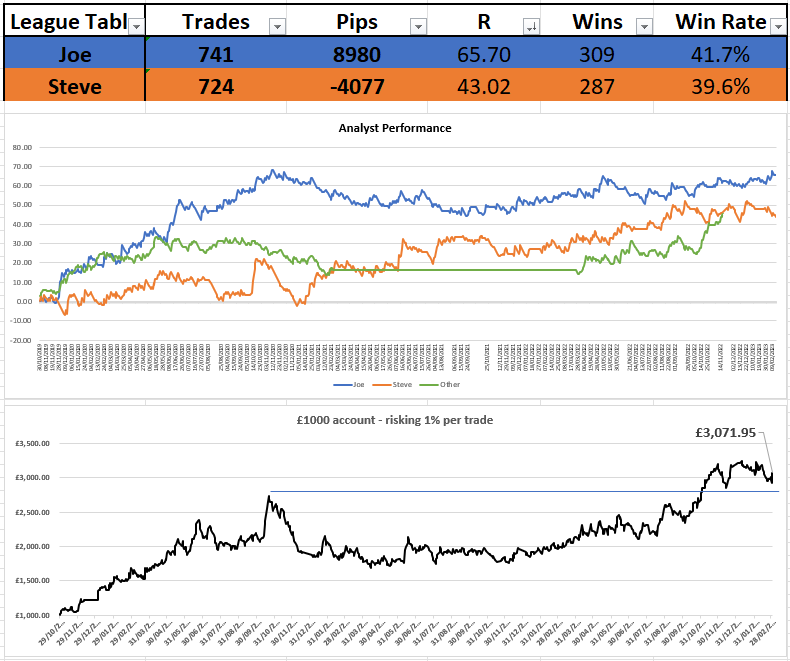 Today's trade idea
Have a great week everyone.
Get award-winning FCA regulated signals and levels on over 30 markets, as well as education resources so you never trade alone.