Good morning and welcome to episode 675 of 'Talking Bull'. In this video/podcast we cover the main headlines and what to expect from the day ahead. 
We take a technical look at key markets that are likely to be impacted by today's events. Also, we participate in a 'Gun to the head' challenge where each of us calls a live trade. These will expire at 9pm tonight and we will keep track of the progress over time.
We hope you enjoy it!
For a selection of free educational content, join our Discord server at – https://discord.gg/Db4UWVFvF6
Show notes:
Joe made 0.77R on EURCHF. Jamie was offside 0.15R on Litecoin. Steve was stopped on Natural Gas.
We have included an illustration based on a £1000 account. This will follow the combined return of our morning trades by risking 1% of the trading capital per trade. The 1% risk is a variable monetary amount and will rise and fall based on the success of the calls.
We are currently up 140.19% collectively since we began recording Talking Bull on the 30th October 2019.
News
German IFO data beats expectations
The August German IFO index edged lower to a 2-year low of 88.5 from a revised 88.7 previously, but significantly above consensus forecasts of 86.8. The current assessment edged lower at 97.5 from 97.7 with the expectations component marginally lower at 80.3 from 80.4.
The IFO stated that a recession is still on the cards with trade sentiment very negative given a burden from high inflation. The Institute forecast that GDP would decline 0.5% for the third quarter. It did, however, add that there was positive news with a significant easing of supply-chain bottlenecks.
Gas fears continue
There was a further increase in Euro-Zone gas prices during Thursday with wholesale electricity prices in continental Europe also surging again which maintained fears over the outlook.
US Q2 GDP still in contraction
US second-quarter GDP was revised slightly to a -0.6% from the flash reading of -0.9% and confirming a second quarterly contraction.
Initial jobless claims declined slightly to 243,000 in the latest week from 245,000 previously and below consensus forecasts of 253,000
Fed insists there is no room to relax
Kansas City Fed President George stated that rates should be increased until there is evidence that inflation is declining and that current rates are not restrictive. She added that it was not out of the question that rates would be pushed above 4.0%, although she also commented that it is too early to predict wat will happen in September with more important data due to be released soon.
Atlanta head Bostic stated that strong data may make the case for another 75 basis-point hike in rates with the Fed needing to make sure that inflation is well on the way to 2% before taking steps to ease policy.
Philadelphia head Harker stated that the Fed needed to shift to a restrictive stance and this would be in place by the end of 2022. He added that he would like to get rates above 3.4% and then potentially pause.
Key speech from Fed Chair Powell
Fed Chair Powell will deliver a keynote speech at the Jackson Hole Symposium on Friday.
The overall tone of his comments will be important for expectations surrounding the underlying Fed stance over the next few months and there will be choppy trading across asset classes.
Comments from ECB speakers will also be an important element.
UK retail sales resilience
The UK CBI retail sales index posted a strong recovery to a 9-month high of 37 for August from -4 previously and well above consensus forecasts of -8. Retailers also expect solid gains for September, although companies overall were still pessimistic over the outlook.
The immediate focus will be on energy prices with the price-cap announcement intensifying pressure for political action.
Data Today
13.30: US PCE prices index
15.00: Fed Chair Powell speech
Jackson Hole symposium Day 2
Key events over the next week
September 1st: US ISM manufacturing index
September 2nd: US employment report
Gun to head challenge – Update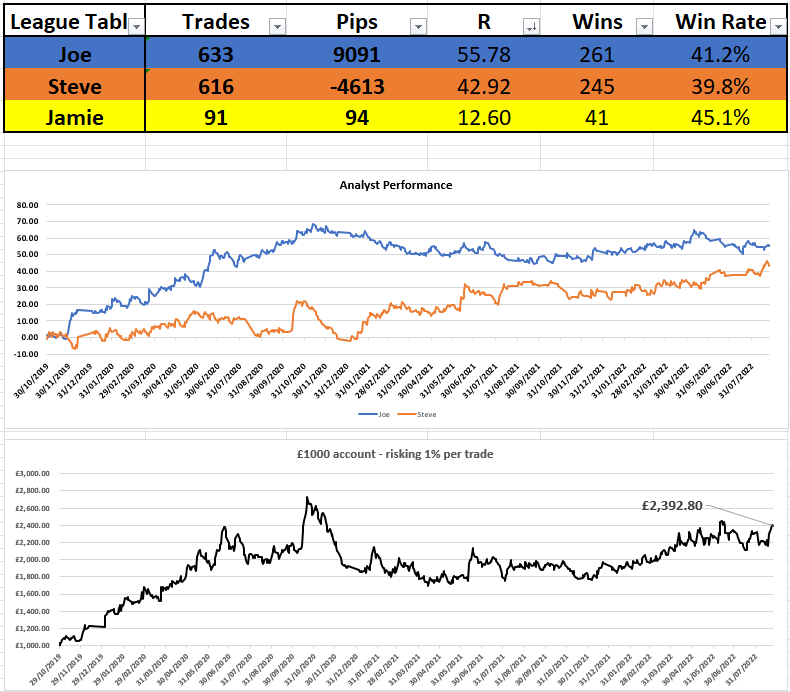 Today's trade idea
Have a great week everyone.
Get award-winning FCA regulated signals and levels on over 30 markets, as well as education resources so you never trade alone.