Good morning and welcome to episode 800 of 'Talking Bull'. Here are the latest headlines today, Euro-zone business confidence edges lower, Euro still posts net gains, dollar drifts lower, Weak Japanese wages growth, Stronger UK construction data, RBA hikes 25 basis points & Fed Powell testimony Tuesday.
We take a technical look at key markets that are likely to be impacted by today's events. Also, we participate in a 'Gun to the head' challenge where each of us calls a live trade. These will expire at 9pm tonight and we will keep track of the progress over time.
We hope you enjoy it!
For a selection of free educational content, join our Discord server at – https://discord.gg/Db4UWVFvF6
Show notes:
Joe and Steve were stopped out on CHFJPY & EU50.
We have included an illustration based on a £1000 account. This will follow the combined return of our morning trades by risking 1% of the trading capital per trade. The 1% risk is a variable monetary amount and will rise and fall based on the success of the calls.
We are currently up 207.19% collectively since we began recording Talking Bull on the 30th October 2019.
News
Euro-zone business confidence edges lower
The Euro-Zone Sentix investor confidence index dipped to -11.1 for March from -8.0 the previous month and contrary to expectations of a further limited net advance to -6.3.
According to Sentix, after several months of improvement in investors' assessments of the economic situation and expectations, there was a new headwind for economic development at the beginning of March.
Euro still posts net gains, dollar drifts lower
Despite the slightly weaker than expected data, the Euro posted net gains during the day.
The dollar was unable to make headway on Monday and the currency index drifted lower, primarily under the influence of a stronger EUR/USD rate.
Weak Japanese wages growth
Japanese cash labour earnings increased 0.8% in the year to January compared with expectations of 1.8%. The subdued data dampened expectations of Bank of Japan tightening.
Stronger UK construction data
The UK PMI construction index strengthened to a 9-month high of 54.6 for February from 48.4 the previous month and well above consensus forecasts of 49.1.
Overall business confidence continued to recover from the 31-month lows recorded in December.
There was a further easing of supply-side difficulties for the month while upward pressure on costs declined to the lowest level since November 2020.
RBA hikes 25 basis points
The Reserve Bank of Australia increased interest rates by 25 basis points to 3.60% which was in line with consensus forecasts.
There was a slight shift in forward guidance with the bank still expecting further rate hikes, but also suggesting that the timing was more uncertain.
Fed Powell testimony Tuesday
Federal Reserve Chair Powell will testify to Congress on Tuesday and Wednesday with an appearance before the Senate banking committee on Tuesday.
Although the prepared statement may be released ahead of the event, Powell's rhetoric will still be extremely important for underlying Federal Reserve expectations and overall market sentiment.
Data Today
15.00: Fed Chair Powell testimony
Key events over the next week
March 8th: Bank of Canada policy decision
March 10th: Bank of Japan policy decision
March 10th: US employment report
March 10th: Canada employment report
Gun to head challenge – Update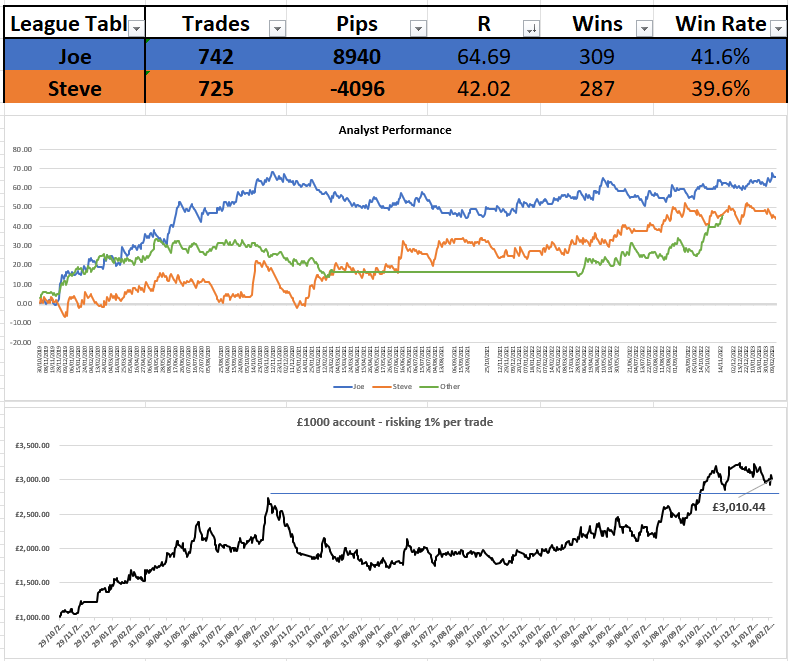 Today's trade idea
Have a great week everyone.
Get award-winning FCA regulated signals and levels on over 30 markets, as well as education resources so you never trade alone.