Good morning and welcome to episode 632 of 'Talking Bull'. In this video/podcast we cover the main headlines and what to expect from the day ahead. 
We take a technical look at key markets that are likely to be impacted by today's events. Also, we participate in a 'Gun to the head' challenge where each of us calls a live trade. These will expire at 9pm tonight and we will keep track of the progress over time.
We hope you enjoy it!
For a selection of free educational content, join our Discord server at – https://discord.gg/Db4UWVFvF6
Show notes:
All 3 trade ideas were stopped out yesterday.
We have included an illustration based on a £1000 account. This will follow the combined return of our morning trades by risking 1% of the trading capital per trade. The 1% risk is a variable monetary amount and will rise and fall based on the success of the calls.
We are currently up 129.47% collectively since we began recording Talking Bull on the 30th October 2019.
News
Powell notes slowing demand
In testimony to Congress, Fed Chair Powell stated that the central bank is strongly committed to bringing inflation down and he anticipates on-going rate increases will be appropriate. He added that inflation had clearly surprised to the upside and further surprises could be in store with the Fed needing to be nimble.
Powell reiterated that the pace of future rate increases will depend on incoming data and the evolving economic outlook. When asked whether a 100 basis-point hike was possible he stated that nothing is off the table, but it was unlikely.
Powell added that financial conditions have tightened significantly and investment growth appears to be slowing while the housing sector is softening. He also stated that it is possible that rate rises could cause a recession.
July rate decision still open
Philadelphia Fed President Harker stated that we need to get interest rates to 2.50% quickly and rates should be above 3.00% by year-end. He did, however, add that the bank was starting to see signs of softening demand and if there is a further slowdown it may be possible to limit the July rate increase to 50 basis points.
Chicago Fed President Evans stated that a 75 basis-point hike in July would be in line with continued concerns that inflation is not slowing.  He expects rates to be around 3.25-3.50% at the end of 2022 with the Fed hiking in 25 basis-point increments by then.
US longer-term yields moved lower following Powell and Harker's comments.
Yen recovers slightly from 24-year lows
Former Japanese official Nakao who was in charge of ordering currency intervention stated that the current yen weakness is detrimental to Japan's economy which triggered fresh speculation over intervention to curb yen losses.
USD/JPY lost ground with lows around 135.20 with lows US yields also sapping dollar support, although there was solid buying on dips.
SNB warns over further tightening
Swiss National Bank Chair Jordan stated that inflation is broader than just energy prices and the inflation data shows the need to tighten monetary policy further, although it was unclear when. In this context, interest rates may need to increase again.
Canadian inflation at 39-year high
The headline Canadian inflation rate increased sharply to 7.7% for May from 6.8% previously which was above expectations of 7.4% and the highest reading since 1983.
The underlying rate increased to 6.1% from 5.7% and also above expectations of 5.9%.
Norges Bank expected to raise rates
The Norges Bank has stated that it will raise rates at the June policy meeting with an expected 25 basis-point hike to 1.00%, but there has been some speculation that the bank will decide on a faster pace of hikes given inflation pressures and global tightening.
Data Today
08.30: Germany PMI index (flash reading)
09.30: UK PMI index (flash reading)
13.30: US jobless claims
14.45: US PMI index (flash reading)
15.00: Fed Chair Powell testimony
Key events over the next week
June 30th: US PCE prices index
Gun to head challenge – Update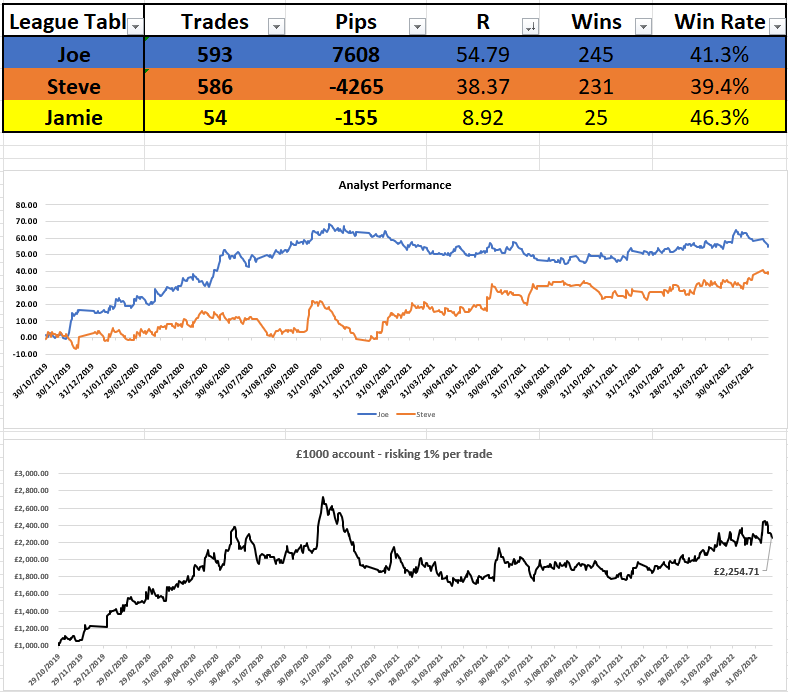 Today's trade idea

Have a great week everyone.
Get award-winning FCA regulated signals and levels on over 30 markets, as well as education resources so you never trade alone.