Good morning and welcome to episode 805 of 'Talking Bull'. Here are the latest headlines today,  Financial tensions ease for now, US Inflation data matches expectations, US and German yields recover, Fed expectations settle, Dollar still struggling, China data close to expectations & US retail sales data Wednesday.
We take a technical look at key markets that are likely to be impacted by today's events. Also, we participate in a 'Gun to the head' challenge where each of us calls a live trade. These will expire at 9pm tonight and we will keep track of the progress over time.
We hope you enjoy it!
For a selection of free educational content, join our Discord server at – https://discord.gg/Db4UWVFvF6
Show notes:
Joe was onside 0.47R on EURGBP, Steve was onside 0.08R on Gold.
We have included an illustration based on a £1000 account. This will follow the combined return of our morning trades by risking 1% of the trading capital per trade. The 1% risk is a variable monetary amount and will rise and fall based on the success of the calls.
We are currently up 202.55% collectively since we began recording Talking Bull on the 30th October 2019.
News
Financial tensions ease for now
There was still an important element of caution, but overall financial stresses eased during Tuesday with relief that there were no further banking casualties at this stage.
US Inflation data matches expectations
US consumer prices increased 0.4% for February which was in line with consensus forecasts and the year-on-year rate retreated to 6.0% from 6.4% which was also in line with expectations.
Underlying prices increased 0.5% on the month, slightly above consensus forecasts of 0.4%, although the year-on-year increase matched expectations at 5.5% from 5.6% previously. Used vehicle prices dipped for the seventh successive month with a 13.6% annual decline, but there was a strong increase in shelter prices as well as transport services.
US and German yields recover
Yields dipped briefly at Tuesday's European open, but there were significant net gains on the day following the he drop seen on Monday.
The US 2-year yield settled around 4.20%.
Fed expectations settle
There were still concerns surrounding core inflation trends, but expectations that the Fed would have to be more cautious given on-going financial-sector concerns.
There was, however, less volatility in Fed Funds futures with markets settling around a 70% chance that rates will be increased by 25 basis points next week with a 30% chance of no change.
Dollar still struggling
The dollar rallied at time during Tuesday, but was unable to hold the gains and the dollar index closed marginally lower on the day.
China data close to expectations
Chinese industrial production and retail sales data was close to expectations with annual growth of 2.4% and 3.5% respectively.
The statistics bureau stated that the economy is showing signs of stabilisation and recovery.
US retail sales data Wednesday
There are important US data releases on Wednesday with the retail sales and producer prices reports as well as the New York Empire manufacturing index.
Retail sales are expected to correct slightly after a surge last month.
Data Today
12.30: UK budget release
12.30: US producer prices
12.30: US retail sales
12.30: US New York Empire survey
14.30: EIA oil inventories report
00.30 (Thurs): Australia labour-market report
Key events over the next week
March 16th: ECB policy decision
Gun to head challenge – Update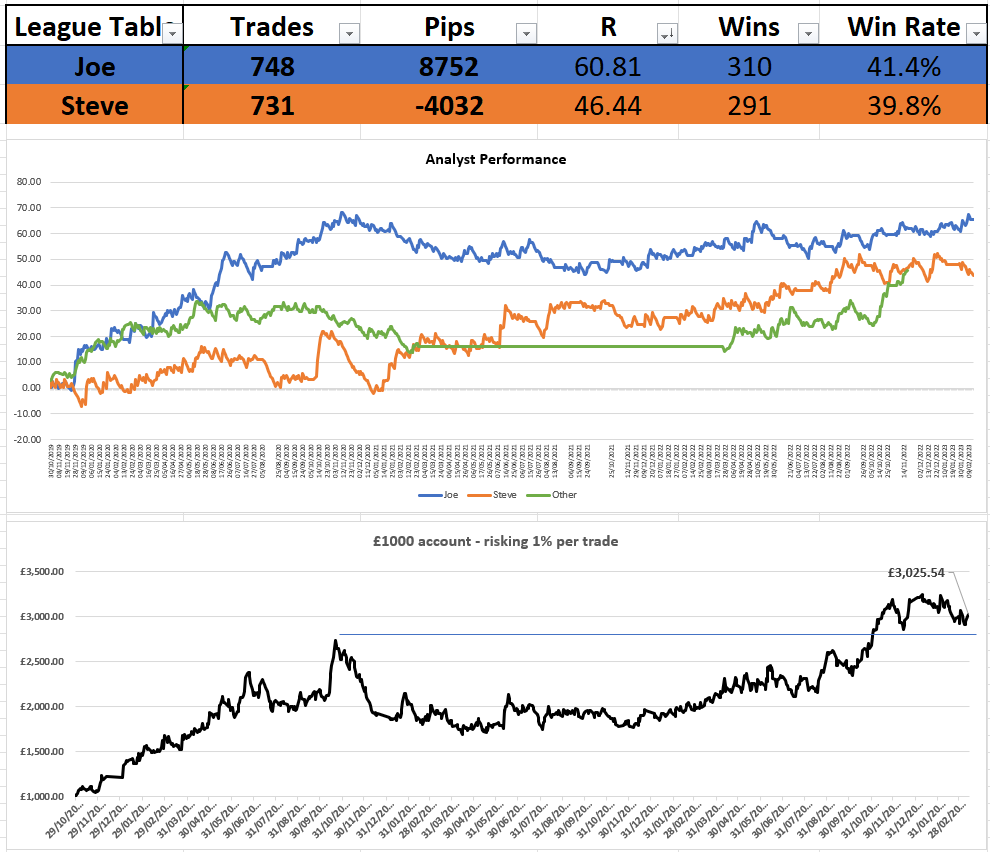 Today's trade idea
Have a great week everyone.
Get award-winning FCA regulated signals and levels on over 30 markets, as well as education resources so you never trade alone.