Good morning and welcome to episode 683 of 'Talking Bull'. In this video/podcast we cover the main headlines and what to expect from the day ahead. 
We take a technical look at key markets that are likely to be impacted by today's events. Also, we participate in a 'Gun to the head' challenge where each of us calls a live trade. These will expire at 9pm tonight and we will keep track of the progress over time.
We hope you enjoy it!
For a selection of free educational content, join our Discord server at – https://discord.gg/Db4UWVFvF6
Show notes:
Jamie hit target on Russell2000 for a 3R win. Joe and Steve were stopped out on NASDAQ and Gold.
We have included an illustration based on a £1000 account. This will follow the combined return of our morning trades by risking 1% of the trading capital per trade. The 1% risk is a variable monetary amount and will rise and fall based on the success of the calls.
We are currently up 162.60% collectively since we began recording Talking Bull on the 30th October 2019.
News
Fed rhetoric still broadly hawkish
Fed Governor Brainard stated that monetary policy will need to be restrictive for some time and that the policy rate will ned to be raised further, but there was no indication on the likely size of the rate hike this month. She reiterated that it was critical to guard against an increase in inflation expectations.
She did, however, note that global tightening may help to reduce US inflation pressures.
Some signs of an inflation peak
The latest Federal Reserve Beige Book stated that the rate of price increases had slowed in 9 of the 12 US Fed districts.
The New York Fed stated that global supply-chain pressures eased in August and US yields edged lower during the day.
Yen finds a reprieve
The yen remained under heavy pressure on Wednesday with USDJPY surging to a fresh 24-year high fractionally below 145.00.
There was a sharp correction later in the session as US yields edged lower.
BoE Governor on the defensive
Bank of England Governor Bailey stated that there are dollar specific factors behind Sterling weakness with the Fed much more focussed on bringing the demand shock under control, although he did admit that there is a UK story behind Sterling weakness as well.
Bailey added that the government's plan to cap surging energy costs could slow inflation, but it was too soon to say what that will mean for interest rates. He also expressed concerns over the potential risk of an increase in inflation expectations given the surge in the headline rate.
BoE's Tenreyro preaches caution
MPC member Tenreyro stated that the bank should proceed slowly when there is a lot of uncertainty and a gradual increase in rates reduces the risk of over-shooting. She added that without a rate hike in August rates were sufficient to return inflation to target.
Chief economist Pill expressed that there was a high degree of uncertainty which makes it difficult to have a strong view.
GBP/USD recovers from 37-year low
Sterling dipped sharply on Wednesday amid fears over the outlook. GBP/USD briefly dipped below the March 2020 flash-crash low for a 37-year low just above 1.1400 before a recovery to just above 1.1500.
The fiscal support package will be announced officially on Thursday.
Bank of Canada hikes rates again
The Bank of Canada increased interest rates by 75 basis points to 3.25% from 2.50% which in line with expectations and the highest level for 14 years.
The bank expects to increase interest rates further while growth in the economy is forecast to slow.
ECB rate decision Thursday
The ECB will announce its latest policy decision on Thursday with market forecasts split between a 50 and 75 basis-point rate hike, but with a majority backing a 75 basis-point increase.
As well as the rate decision, markets will be watching forward guidance from the bank closely.
Data Today
13.15: ECB policy decision
13.30: US jobless claims
13.45: ECB President Lagarde press conference
14.10: Fed Chair Powell speech
16.00: EIA crude oil inventories
Key events over the next week
September 9th: Canada employment report
September 13th: US consumer prices
September 14th: UK consumer prices
September 15th: Bank of England monetary policy decision
Gun to head challenge – Update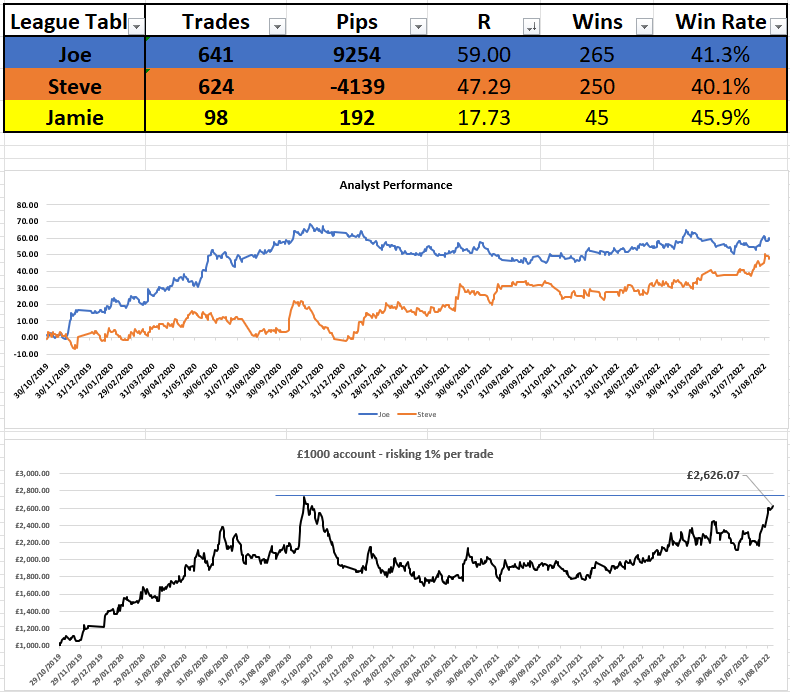 Today's trade idea

Have a great week everyone.
Get award-winning FCA regulated signals and levels on over 30 markets, as well as education resources so you never trade alone.