Good morning and welcome to episode 656 of 'Talking Bull'. In this video/podcast we cover the main headlines and what to expect from the day ahead. 
We take a technical look at key markets that are likely to be impacted by today's events. Also, we participate in a 'Gun to the head' challenge where each of us calls a live trade. These will expire at 9pm tonight and we will keep track of the progress over time.
We hope you enjoy it!
For a selection of free educational content, join our Discord server at – https://discord.gg/Db4UWVFvF6
Show notes:
Steve made 1.73R on Hold yesterday. Jamie was offside 0.43R on ChinaA50 and Joe was stopped out on AUDCAD.
We have included an illustration based on a £1000 account. This will follow the combined return of our morning trades by risking 1% of the trading capital per trade. The 1% risk is a variable monetary amount and will rise and fall based on the success of the calls.
We are currently up 130.20% collectively since we began recording Talking Bull on the 30th October 2019.
News
Fed hikes 75 basis points
The US central bank increased interest rates by a further 75 basis points to 2.50% which was in line with consensus forecasts and the policy decision was unanimous.
According to the Fed, recent indicators of spending and production have softened, but job gains have been robust and inflation remains elevated.
The Fed stated that it is attentive to inflation risks and expects further rate hikes will be appropriate. It will, however, be prepared to adjust strategy if risks emerge that could jeopardise its goals.
Mixed bag from Powell
Fed Chair Powell stated that job growth is slower, but still robust. Although commodity prices have fallen, there is still additional upward pressure on inflation and the Fed wants to see compelling evidence of inflation coming down over the next few months. Powell also commented that another unusually large increase in rates could be appropriate and would depend on the data.
He did, however, add that it is likely to be appropriate to slow the rate of increases at some point and the Fed is aiming for a range of 3.00-3.50% at the end of this year. According to Powell, there is also some evidence of a necessary slowdown in activity.
Fed expectations called back slightly
Following Powell's comments, there was a shift in market pricing with traders now seeing a 50 basis-point rate hike as the most likely outcome for the September meeting. There were also hopes that there will be a slightly earlier and lower peak in rates.
Dollar dips on Powell's comments  
There was inevitably choppy trading after the Fed decision with Powell's comments in particular leading to sharp currency moves. There was significant relief that the comments were not even more hawkish.
The dollar eventually posted significant losses amid hopes that there will be a slightly less hawkish stance.  The US dollar trade-weighted index also dipped to near 3-week lows.
Equities rally strongly
Wall Street indices also rallied strongly after Powell's comments with markets focussing on hopes for a slightly less hawkish stance rather than fears that the inflation data will force the Fed to be more aggressive.
The Nasdaq index posted a gain of just over 4.00%, the strongest daily advance for over 2 years.
US GDP data due on Thursday
The latest US GDP data will be released on Thursday with expectations of small net growth of 0.4% after a 1.6% decline previously.
Another negative reading would technically put the US in recession and reinforce expectations of a more measured Fed stance, although there will inevitably be revisions to the data.
Data Today
13.30: US GDP (Q2 advance reading)
13.30: US jobless claims
Key events over the next week
August 1st: US ISM manufacturing index
August 2nd: Reserve Bank of Australia policy meeting
August 4th: Bank of England policy decision
August 5th: US employment report
August 5th: Canada employment report
Gun to head challenge – Update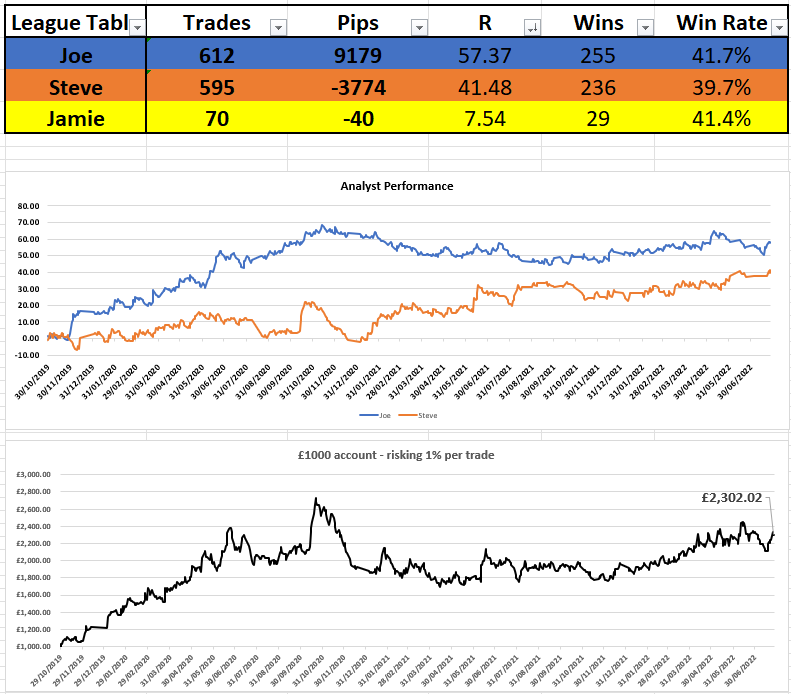 Today's trade idea

Have a great week everyone.
Get award-winning FCA regulated signals and levels on over 30 markets, as well as education resources so you never trade alone.